Here is the best recipe for BLT Sandwich. There are many easy BLT Sandwich Recipes and these are the 4 best ways to make them. Keep reading. This is part of our Sandwiches Recipes Category.
Here are the BLT Sandwich Recipes best ways to make on bread or toast. Step-by-step gives you each way as an added option along the way. It includes classic through supreme loaded BLTs.
What is the BLT Sandwich?
The recipe for a BLT sandwich is the 6th most popular sandwich in the United States. So, what's a BLT sandwich? It's a sandwich that has BLT ingredients. BLT stands for Bacon, Lettuce, Tomato. So, the idea is that a BLT sandwich recipe has those 3 classic ingredients, as a minimum.
The Classic BLT sandwich ingredients are bacon, lettuce, and tomato. It doesn't have to have anything beyond that to be the classic. But, most will contain mayonnaise as the base condiment, as well as, of course, "bread" because it's a sandwich. But, what's the best bread for a BLT? Continuing forward, we address this next.
What is the best bread for BLT Sandwich?
What is the best bread for BLT sandwiches is a very good question for building on the core of this classic recipe. The most common BLT bread for the classic BLT is basic white sandwich bread (untoasted).
Classic is the starting point so now, it's up to each individual to expand beyond that for their own personal improvement. Some use a popular hone wheat bread. Others may use their own homemade bread and we have used one as shown in this recipe.
What are the Best BLT Sandwich Recipes?
We feel the best BLT sandwich recipe is included above. That's because there are listed a lot of the different ways that people make it.
We've managed to present the above recipe in such a way that it illustrates BLT Sandwich Ideas by starting with the classic way of how to make a BLT sandwich. And then, it addresses the different options that people have chosen in an effort to make the perfect BLT.
So, in constructing the best B L T Sandwich, we offer the above best BLT recipe, inclusive of the most frequent options of enhancements that individuals have chosen over the decades.
FAQ About Best BLT Sandwich Recipes
How do you layer the BLT?
This answer comes from decades of experience in a commercial (and home) environment. You first add the condiment of choice (usually mayonnaise) on the bread. This is followed by bacon. The middle layer is the tomato and it's followed by lettuce and the other slice of bread. Most others won't have the tomato in the middle.
Most recipes will call for either bacon, lettuce, then tomato. Or, they'll call for lettuce, bacon, and then tomato. However, the desire to have it this way is through habits of making burgers with meat, lettuce, and tomato. That's because it looks better and makes for a great photo.
But, it's best if the tomato goes on the middle because it has the highest level of moisture. Having it in the center will keep the bread from becoming soggy.
Does a BLT have cheese?
The classic BLT does not. The supreme, loaded BLT does. The types of cheese vary and usually embrace American, provolone, mozzarella, and lastly swiss. If having a grilled BLT, the cheese of choice is American.
While some choose Mozzarella, it's the least recommended due to its stringy behavior on a heated sandwich.
Should a BLT be toasted?
The classic BLT is not toasted. However, it's extremely popular to be toasted these days as it adds some extra crunch and it tends to hold everything together better while being consumed.
What can you put on a BLT instead of Mayonnaise?
There are a few options that people use. Some will make it with no mayonnaise and they might increase the tomatoes layer to add moisture in its stead. But, regarding alternatives, some have replaced mayonnaise with avocado, guacamole, sour cream, and olive oil.
There are others but they're not as common. And yes, you can use Miracle Whip or other kinds of similar salad dressings instead.
There are many recipe ideas on the Internet about different kinds of custom sauces and spices to apply in place of mayonnaise or black pepper but those veer significantly enough away to not qualify under even the supreme, loaded BLT classifications.
What kind of lettuce is good for a BLT?
Most often, it's going to be the kind of lettuce you already use in your home. You don't need any kind of special lettuce just for one type of sandwich. However, the type of lettuce is going to usually be a leafy, crunchy type like Romaine.
There are other types of lettuce or greens that are popular like arugula, endive, butterhead, red leaf, and the ever classic iceberg. Some have also used spinach leaves.
What goes good with a BLT Sandwich?
Well, the perfect BLT Sandwich doubles as a main course, as well as a lunch-type focus. So, it can serve as a fast food sandwich that goes with fries, tots, or onion rings. But, due to its unusual diversity, it can be dinner as the main course and will pair well with a light clear type of soup, like celery soup (not cream of celery). It can also do well with a light salad or fruit dish like cut up cantaloupe.
What's the origin of the BLT Sandwich?
While there are many tales covering numerous countries of sandwiches with herbs and meats, none come closer than the discussion here via Wikipedia. In 1903, a Good Housekeeping book referenced the club sandwich but, even then, it also included a slice of turkey.
So, this was closer but not just the BLT per se. It was years later when it eventually became a popular classic addition to the American food culture.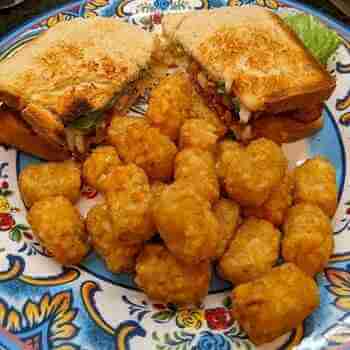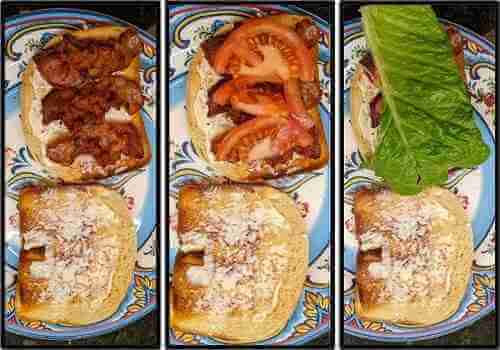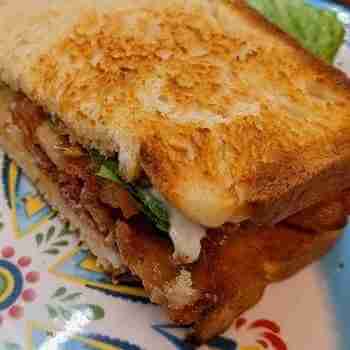 Related Recipes and Articles
Conclusion
The BLT recipe is extremely easy to make and it has some fresh veggies on it as well. It's also good for special celebrations and game day. Here are some other related recipes you might like:
Recipe for BLT Sandwich
Here are the BLT Sandwich Recipes best ways to make on bread or toast. Step-by-step gives you each way as an added option along the way. It includes classic through supreme loaded BLTs.
Print
Pin
Rate
Recipe Resizer
Tap to reduce/increase Servings
Keep Screen Active
Ingredients
2

slices

bread

Options 1: choose regular or homemade bread. Choose to toast it or not. Toasted (homemade) is shown. Regular bread (untoasted) is classic.

1½

tbsp

mayonnaise

2

slices

bacon

Options 2: choose regular sliced or thick sliced bacon; choose regular bacon or turkey bacon. Thick sliced regular bacon is shown. Regular sliced bacon is classic.

1

leaf

Romaine lettuce

romaine (best choice), iceberg, or leaf lettuce

2

slices

tomato
Supreme, Loaded Options (not used when Classic)
1

slice

American cheese

Options 3: choose none, American, or provolone. No cheeses are used when classic.

1

slice

onion

Options 4: choose sweet or purple onion; choose sliced, rings, or diced. No onions are used when classic.

⅛

tsp

Ground Black Pepper

No spices are used when classic.
Notes
Nutritional Values are for the classic recipe ingredients and don't include supreme, loaded options added such as onions, cheese, and spices.
If you are going to plan to grill it, then, when you toast the bread, ensure it's only very lightly toasted so it can handle grilling later in the process.
Nutrition
Calories:
470
kcal
|
Carbohydrates:
32
g
|
Protein:
16
g
|
Fat:
31
g
|
Saturated Fat:
9
g
|
Polyunsaturated Fat:
12
g
|
Monounsaturated Fat:
8
g
|
Trans Fat:
0.3
g
|
Cholesterol:
46
mg
|
Sodium:
1023
mg
|
Potassium:
412
mg
|
Fiber:
4
g
|
Sugar:
6
g
|
Vitamin A:
3109
IU
|
Vitamin C:
10
mg
|
Calcium:
312
mg
|
Iron:
3
mg
SOURCE: DarnGoodRecipes.com™