Crab Salad for Sandwiches in 12 Minutes
This easy crab salad for sandwiches is also great as a side salad or as an appetizer. There are loads of flavorful variations shown for how you can serve it.
Homemade Imitation Crab Salad for Sandwiches, Salad, or Appetizers
This simple recipe for crab salad sandwich is perfect also as the main salad or as an appetizer. It is one of those rare diverse recipes that has many forms for serving and doesn't require heating up. Also, it's flexible in some of its ingredients.
This delightful crab salad has fantastic flavors, even with all imitation crab meat. It is good as a seafood salad, sandwich, and even as an appetizer atop crackers.
Easy Crab Salad for Sandwiches, Salad, or Appetizer
This delightful crab salad has fantastic flavors, even with all imitation crab meat. It is good as a seafood salad, sandwich, and even as an appetizer atop crackers.
Ingredients 
14

oz

Imitation Crab Meat

or real crab meat lump in 6 oz cans

1

tsp

Lemon Juice

1½

stalks

celery

chopped fine

1

tsp

Dijon mustard

or yellow mustard

1

tsp

tarragon

¼

tsp

salt

¼

tsp

Ground Black Pepper

4

tbsp

mayonnaise

4

tbsp

sour cream

or Greek Yogurt, plain

3

stalks

green onions

chopped well
Notes
Ensure the real crab meat is cooked before using.  The pre-packaged imitation crab meat usually comes that way. 
Can also be served as a sandwich or as an appetizer topper for crackers, toast triangles, or bagel chips.
SOURCE
DarnGoodRecipes.com™
Variations of this Recipe for Crab Salad Sandwich
Crab Salad for Sandwiches
It's easy to make this crab salad for sandwiches recipe. There are several ways you can make them as sandwiches. Here are some of them you may like:
Use regular hamburger buns.
Regular or homemade sandwich bread, white, wheat, or honey wheat
Toast the sandwich bread slices first. Then add a lettuce leaf as well for the sandwich.
Make some foldable sandwiches using Pita bread. As a twist, heat and butter the Pita bread and sprinkle lightly with garlic powder and a hint of salt.
A creative, flavorful way is to make a sandwich out of Texas Toast or Toasted Garlic Bread slices.
Another ingenious way is having it on a sub roll. You can sprinkle it with Old Bay seasoning for added spices. Then, add lettuce, tomato, and top with either some granulated parmesan cheese or 1-2 slices of provolone cheese. You won't need onion as it has that in it already.
You can also check out this recipe for crab dip as another option or as an appetizer for this sandwich.
---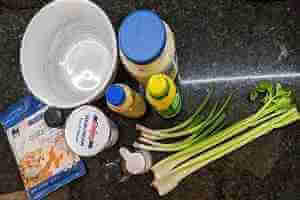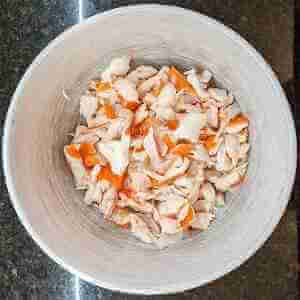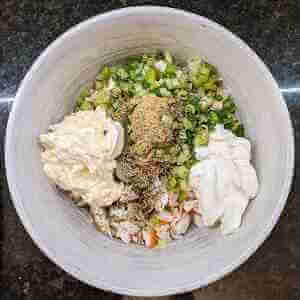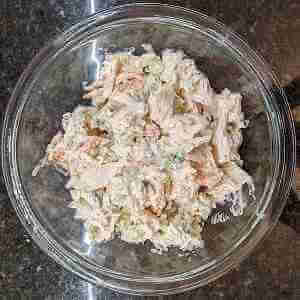 ---
Imitation Crab Salad with Greek Yogurt
If you want it a bit healthier, skip the sour cream. You can replace it, as is shown in the ingredients listing, and make your imitation crab salad with Greek yogurt. And, to be more daring, try it with replacing the mayonnaise as well with Greek yogurt. I've made it with about 1 Tbsp of mayo and 1 Tbsp of sour cream, and then replaced the rest of those 2 amounts with Greek yogurt. However, to be fair, I used the full yogurt, instead of the low or non-fat kind.
Crab Salad Recipe with Real Crab Meat
Just as in our crab dip recipe, you can have a mixture between imitation and real or you can use all real. While the real deal comes in many forms, the popular one is real crab meat in the can. It might be labeled as "crab meat lump" in 6 oz cans. There are other types in cans and fresh but the canned lump is the most affordable usually. However, keep in mind that you might see "white crab meat" in cans cheaper than lump; those might be kind of mushy for your usage.
Food articles indicate that canned crab meat have already been pasteurized and cooked. We always recommend you review the can or ask your seafood department clerk for confirmation. Another option, if you're at home, search the Internet for your canned brand of crab meat.
Lump Crab Salad Appetizer
The variations continue as you can use this also as a lump crab salad appetizer. Here are some of those ideas you can use to get started with. All of these are quick and easy to produce.
Crab Salad Triangles: Make some toast, butter the slices well, make the sandwiches, and cut them into 4 triangles.
Serve the crab salad atop bagel chips or crackers. Or, have a serving bowl out with the bagel chips and crackers on the side. Let everyone serve themselves for this delightful duo treat.
Roll the crab salad into large lettuce leaves and close them with toothpicks.
Crab Salad Cheddar Squares: Use regular sandwich bread and make sandwiches. Cut them into 4 squares. Add a modestly thick sharp cheddar slice in each square.
Crab Salad Easy Recipe – Easy Storage
This has been a tremendous list of various ideas for your adventure with this crab salad recipe for sandwiches. It's remarkably easy to make the crab salad first. And then, you have the massive variety of options of what to do with it. It stores well in the fridge. The imitation crab salad will last about 3-5 days. If any real crab meat was used, you probably are looking at 2-3 days. If you've taken it out of the fridge frequently or have left it out a few times, the shelf life will shorten of course.
Can you freeze crab salad?
That's a good, popular question. It's usually not recommended for this kind of seafood salad but you can try it. First off, if you do freeze it, ensure it's in a food storage bag or container designed for freezing. Otherwise, just double-bag it. For thawing it out, it's best to do it in the fridge overnight. Because of its contents, leaving it out to thaw for a few hours can be a food safety issue for you. Also, trying to use the defrost cycle of a microwave isn't good for this seafood salad.
Once it's thawed out from the fridge, you'll discover the texture is not near as good as it was when made. However, if you used a salad dressing instead of mayonnaise, you'll find it will taste better than if you had frozen actual mayonnaise. A final note on freezing and then thawing it out is this. Plan on the thawed day to be the final one for consumption.
---