Stroganoff Ground Beef Recipe
Rich flavored, easy to make, best homemade ground beef stroganoff recipe over egg noodles. Shortest steps ever.
About This Stroganoff Ground Beef Recipe
This is a much more tasty from scratch recipe than making it from a boxed package. It's a little different in that you get to control what goes into it, while using some fresh ingredients. We've made it many times and have changed out the steps to be much more efficient than most other recipes you'll read. We focus on cutting back on total time spent.
This easy Hamburger Stroganoff recipe is a great change from regular dinners. And it tastes so much better with fresh ingredients.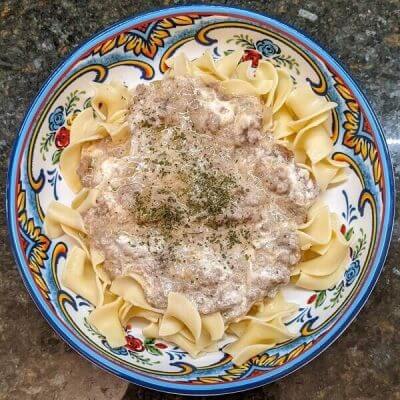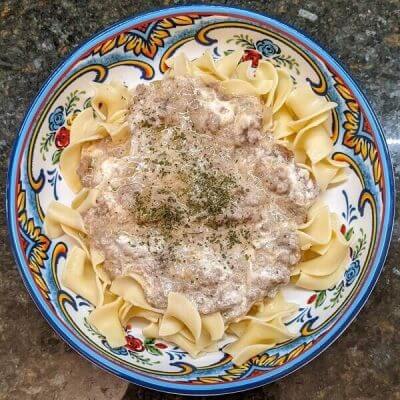 Stroganoff Recipe with Ground Beef
This easy Hamburger Stroganoff recipe is a great change from regular dinners. And it tastes so much better with fresh ingredients.
Ingredients
10

cups

water

only for cooking noodles

6

cups

extra wide egg noodles

uncooked (6 cups = about 10-12 oz)

1½

lbs

ground beef

½

cup

all-purpose flour

1

tsp

minced garlic

or 1/2 amt garlic powder

4

tbsp

olive oil

or vegetable oil

2

tbsp

butter

½

lbs

mushrooms, sliced

or small can sliced mushrooms, drained

2

medium

sweet onions, diced

or 1 heaping tbsp. onion powder per 2 onions

1

can

cream of mushroom soup

2

cups

beef broth

½

tsp

Ground Black Pepper

¼

tsp

paprika

8

ozs

sour cream

1

tsp

parsley flakes

optional
SOURCE: DarnGoodRecipes.com™
Stroganoff Ground Beef Recipe Ingredients
Here are some noted areas of some of the key ingredients.
Hamburger Meat Stroganoff
The recommended hamburger meat is an 80/20 meat/fat mixture.
Ground Beef Stroganoff Mushroom Soup
This uses the cream of mushroom soup. You can also use the golden mushroom soup. And, when it comes to mushrooms, if you used canned mushrooms, you'll want to ensure you drain it before adding it in, before the beef mixture.
Ground Beef Stroganoff Beef Broth
We've made it with several variations of beef broth. We've used the boxed and canned premade beef broth and the low-sodium broth. We've also used the cubes and granules you need to add to boiled water. I always keep a jar of granulated beef broth handy. I can easily microwave a cup of water, add a teaspoon of granules, and I then have 1 cup of beef broth.
Ground Beef Stroganoff Recipe with Sour Cream
Regular sour cream gives it that unique creamy flavor. There are some alternatives mentioned later; however, the basic recipe calls for regular sour cream. The section on variations lists some substitutions and different options.
Hamburger Noodle Stroganoff
This great recipe uses an initial bed of egg noodles on a plate. The meat mixture is layered on top before serving.
Ground Beef Stroganoff SPEEDY
Because we've reorganized the preparing and cooking steps, this quick recipe is much faster than a classic stroganoff recipe.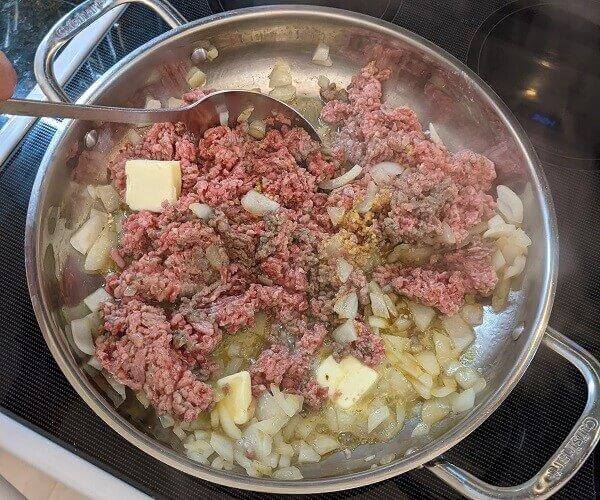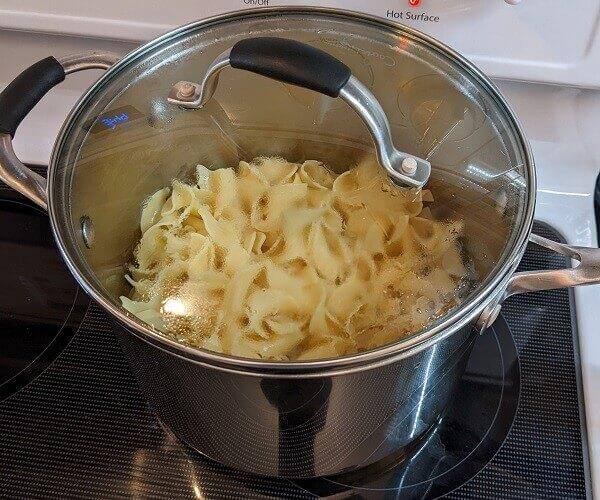 Can I prepare ground beef stroganoff in advance?
If you're going to make it about an hour or two in advance, you can keep the meat mixture (minus the sour cream) on a low heat. Shortly before meal time, the noodles can be cooked in under 10 minutes.
If you're wanting to prepare it a day in advance, you can prep and cut ahead of time and store in the fridge. I don't recommend adding the flour to the meat until you're about ready to cook though. Another alternative for a day in advance, is to cook the meat mixture but leave out the sour cream. Then, you can store it in the fridge. The noodles are best when they're cooked just prior to mealtime.
Can I freeze this ground beef stroganoff for leftovers?
After it's cooked, yes. Any noodles might not do as well and might be a bit mushy so, some fresh noodles might be better.
Ground Beef Stroganoff Recipe EASY
Here's why this is an easy to make recipe. The steps, of course, are specifically ordered to save you time overall. Also, some recipes might suggest to sauté the onions separately, as well as the mushrooms, in their own skillet. We've learned how to do it all in the same pan. Using a bag for flouring the meat makes it easy to set the meat aside until ready to cook. You can toss the ingredients into the pan as the onions are being sautéed. All of these reasons are why it's such an easy recipe.
Ground Beef Stroganoff TASTY
This is what makes this a very tasty recipe. With the nature of it being homemade, and you're using fresh onions and mushrooms, you're on the road to great flavor. Using minced garlic instead of garlic powder, will add to that melding of tastes. Also, you cook egg noodles and meat mixture separately to to have a distinctness that adds to the individual flavors and textures in each bite. And, finally, with all the recommended ingredients, combined with the low simmering of 20-25 minutes, you'll get that gourmet flavor from this good recipe. It's much better tasting than hamburger helper.
Just remember that you don't stir in sour cream, you "fold" it in. This means you do spread it around but you want to retain the distinct white coloring and avoid mixing it in thoroughly. It's better with the separation of its flavor.
Variations of Hamburger Stroganoff
Whether you're out of one of the ingredients or if you have other preferences, there are a lot of changes you can make for this recipe. If you don't want to add mushrooms, you can just skip that item and keep the mushroom soup. Some people will add in a can of cream of chicken soup to this recipe.
If you are out of onion and garlic, you can of course, opt for the powdered versions of those 2 ingredients. Regarding the olive oil, you can use regular vegetable oil instead. Some will, due to its French influence on this Russian recipe, will replace all the oil and use only butter instead. And lastly, as some recipes of this will have Worcestershire sauce, you can opt to add in 1 teaspoon.
What Sides to Serve with Stroganoff Ground Beef Recipe
You can serve a lot of different sides with this dish. However, here are some that go exceptionally well.
cottage cheese with pineapple
glass of wine
Leftover Beef Stroganoff
With leftovers, you can often just reheat the meat mixture, add a little water to it, and serve on a bed of fresh egg noodles or rice.
Ground Beef Stroganoff Calories
The nutritional values are shown in the <Print Recipe> option. And, you'll notice, it wasn't made using any salt addition.
Healthy Hamburger Stroganoff Recipe Variations
Here are some substitutions to make that can improve the nutritional values even further. You can replace the sour cream with a low-fat sour cream. Alternately, you can replace half of the sour cream with plain Greek yogurt. Or, instead of sour cream at all, you can replace it with half the amount of plain, unflavored almond milk.
Regarding the beef broth, you can opt for the low sodium beef broth. With the ground beef, you can replace half with ground turkey or ground chicken. Out of noodles? Try it on a bed of white rice. Or, over a split baked potato! And, on an extreme variation, you can skip the meat completely, and just enjoy the broth instead of beef being added.
Conclusion
This follows a somewhat classic beef stroganoff endeavor but it ends up as the ultimate quick, comfort food you can make with lean ground beef, fresh mushrooms, and easy-to-follow steps to definitely make this new recipe. I've made many variations over the decades, and I hope you make and love this recipe too.
It has an interesting story about a French chef who made it for a Russian leader. Here's a good write-up about the history of beef stroganoff from forknplate.com.