BEST Ways How To Use Weber Performer Charcoal Grill
While this covers how to use Weber Performer Charcoal Grill (22-inch), you can use it also for other Weber Charcoal Grills. This is listed in our "Complete Guide to Grilling on Charcoal" and is a part of our Food Equipment & Tools category.
Overview of How To Use Weber Performer Charcoal Grill
This is how to use Weber Performer charcoal grill. The grill features listed here also included in the regular, premium, deluxe, and some other Weber charcoal grill models. So, you might gather some useful information to make grilling easier for your first few times or later on.
I'll be covering from start to finish these aspects of common usage, along with advice and tips.
Preparing the grill
Lighting the grill and timings
Grilling and Smoking
Closing down the grill
Vents usage
Accessories
Recipes using the Weber Grill
Preparing the Weber Performer Charcoal Grill
These are the steps of preparing how to use Weber Performer charcoal grill before lighting. Keep reading to understand venting and prepping this grill.
Open up both vents
You will, of course, remove any grill cover you used, if any. Then, follow these simple steps.
You'll want to open up the top vent on the grill covering lid.
Remove and set the grill covering lid on its holder so the grill is open to full air. Brush the grill with a grill scrubber.
Finish by opening the bottom vent by moving its handle rightward.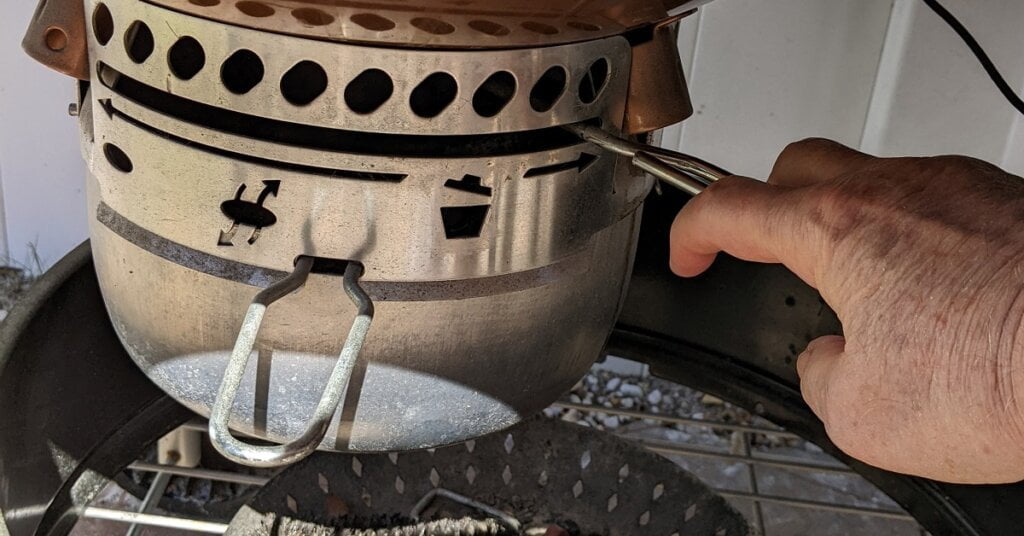 Fill the Charcoal (bins or bottom grate).
Now it's time to fill up the charcoal bins or put a little more than enough charcoal on the bottom grate, whichever you're using this time. Just shake or tap the bins or grate to let any loose ashes fall to the bottom. You can then work the One-Touch cleaning system handle to push the ashes into the bottom ash catcher bucket. You're now ready to light it.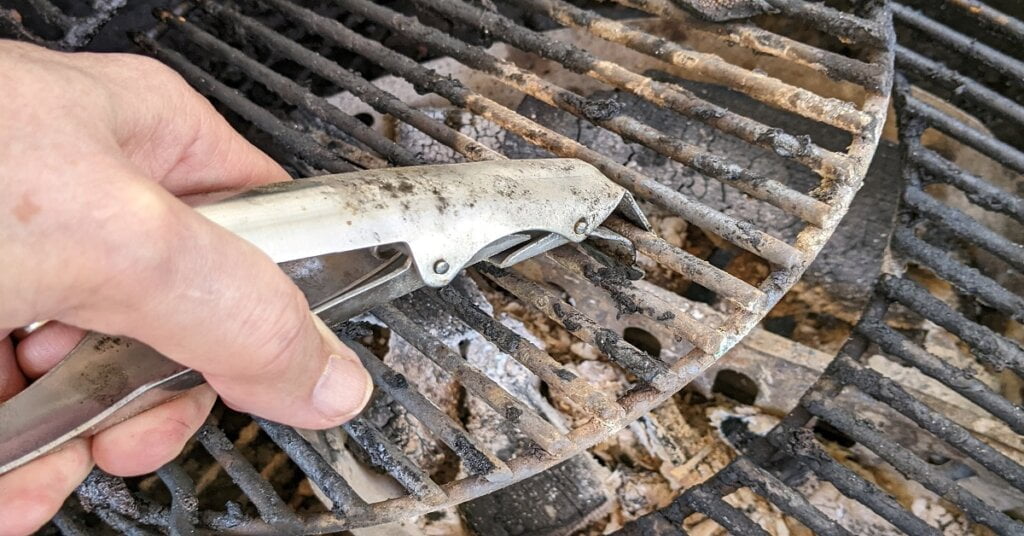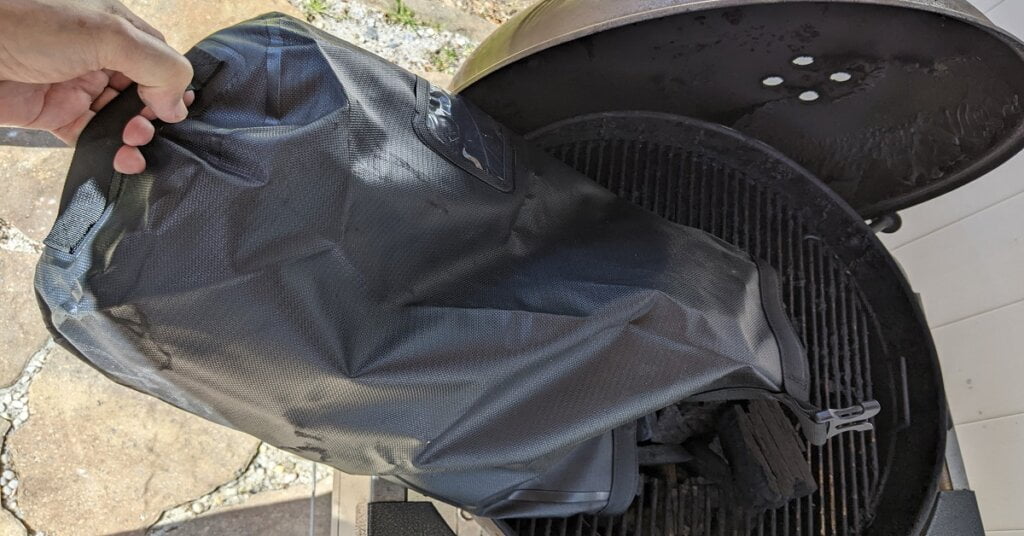 How To Use Weber Performer Charcoal Grill Touch n Go Lighting
This is how to use Weber Performer charcoal grill automatic lighting. If you have the Performer Deluxe grill, you have the auto lighter known as Touch n Go gas ignition system. Here are the steps to follow. As for all safety, follow the instructions advised by both Weber in the instruction manual as well as safe practices for handling gas and lighting.
Double-check to ensure the lid is not over the grill grates. It's either sitting on its side on the lid's rest (aka "Lid Bail") or it's removed elsewhere.
Double-check to ensure all vents are wide open.
Open the Touch n Go ignition system front cover by depressing both bottom edges inward and lifting up.
Turn the gas flow knob to the left (counter-clockwise) at least one full turn.
Without waiting, press-and-release the ignitor button. Typically, the flame will light after one attempt.
After the gas flame has lit, leave the grill cover off, and check back in about 5-10 minutes.
After you've visually come back to check and the charcoal is somewhat lighted (red), turn the gas off by turning the gas flow knob rightward (clockwise) until it stops. You'll hear the gas flame cut off.
After Gas is Off, Lid on the grill, and Wait
After ensuring the gas is off, and your charcoal is somewhat lit (showing some red), you then place the grill cover lid over the grill (all vents remaining open). It takes about 10-20 minutes later to ensure the entire grill grate is hot and a majority of the charcoal is now lit. Another factor of ensuring it's hot enough for grilling is if the cover lid temperature gauge is showing between 400 to over 500⁰F.
How To Use Weber Performer Charcoal Grill for Grilling
You can remove the grill's cover lid and begin your grilling. You can have a water spray or drip bottle handy for managing any excessive flaming. Also, you will be managing any vent adjustments during your cooking.
How To Use Weber Performer Charcoal Grill for Smoking
Now you're ready for Smoking on the Weber Performer Charcoal Grill. If you're planning on smoking instead of grilling (or after searing), that's best done using indirect heat, i.e., not directly over the coals. And you might be using a rotisserie for some types of smoking with this grill. You'll need to ensure the top grid is turned so you can refill charcoal easily by the handy lift-up panel portions of the top grate. And, if you're using the charcoal bins, you'll want to position them under those lift-up grill sections.
If using the charcoal bins, I've found I need to refill them about every 1 to 1-1/2 hours when using lump charcoal. If using regular charcoal, it's every 30-60 minutes. Here's our article on "How To Keep The Charcoal Grill Hot" while grilling or smoking on a charcoal grill for long periods of time like for chicken breasts, ribs, pulled pork, and others.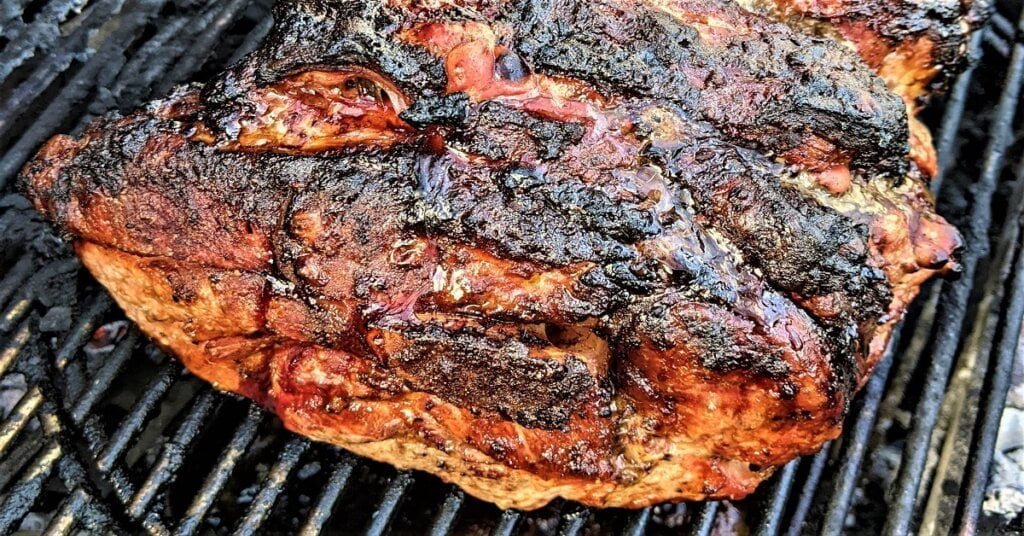 Closing Down the Weber Performer Charcoal Grill
This is the shutting down process for how to use Weber Performer Charcoal Grill when done for the day, it's an easy process to follow. You just close all vents, cover the grill with its lid, and wait about an hour or two. Keep reading for the final steps.
Then, you cover the grill with your grill cover, assuming it's designed to handle the heat but that's your decision of when it's safely ready for covering. I check the grill's cover lid temperature gauge and when it gets down to around 125⁰F, I cover it. The grill's cover lid seals pretty good and it shuts off the air exceptionally well to lower the temp fast. And you have good coal reserves for next time.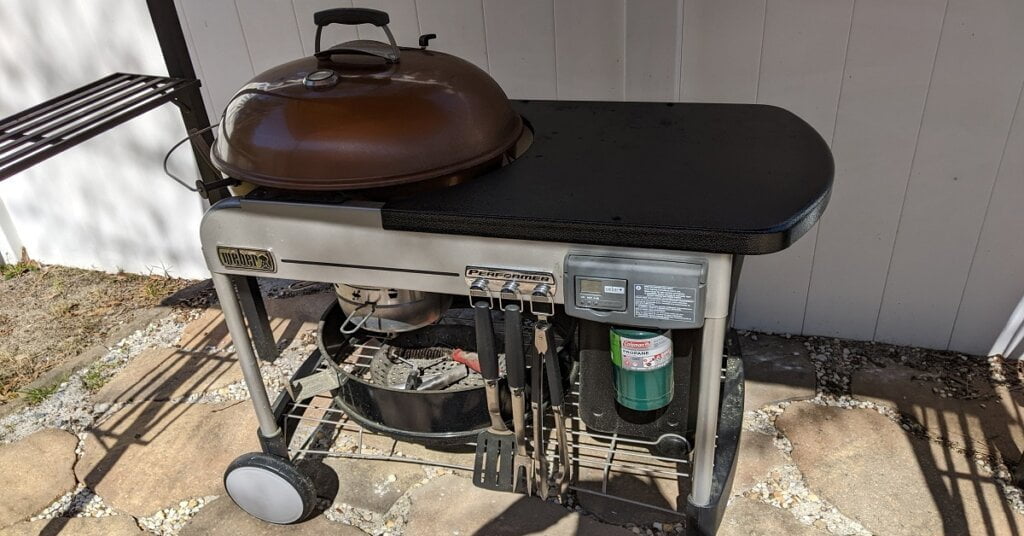 How To Use Weber Performer Charcoal Grill Vents
This is how to use Weber Performer charcoal grill vents. It's also good for other Weber models. A very, very old Weber guide stated to use the bottom vent for temperature control. And the top vent is used for extra air for higher temps and is also used for managing flareups for short term control. Read further for how to use them specifically.
Using Weber Top Cover Vent – Fast Changes
How to use weber performer charcoal grill top cover vent is very important to learn first. This top vent is for adding typical extra air for higher temps when using the cover lid. But it's also for reducing air to reduce flareups. If I have a large flareup, I'll grab the lid, cover the grill, and close off the top vent fully closed. It has always snuffed out flareups within about 5 seconds. Of course, this is a temporary workaround until the cause of the flare up is resolved.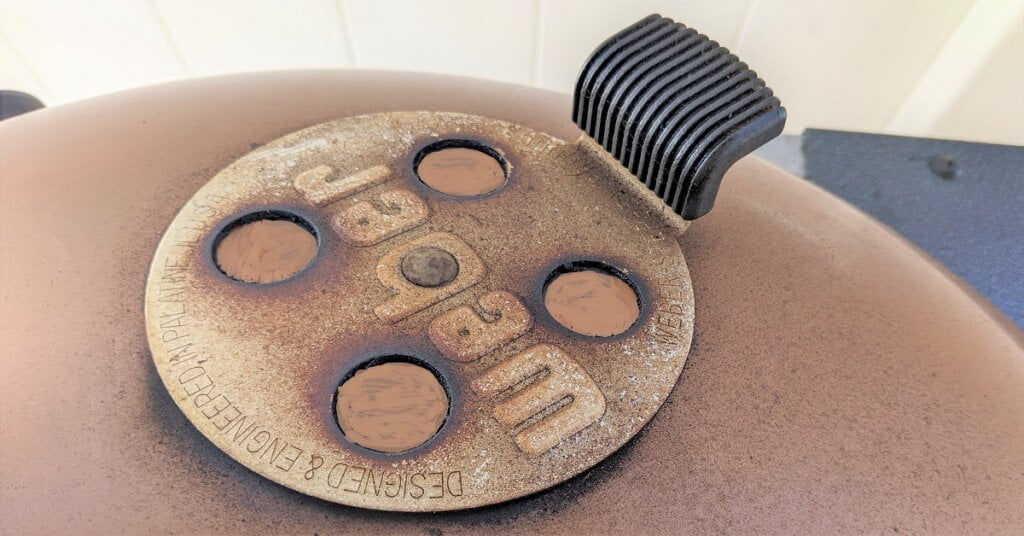 Using Weber Bottom Vent – Temperature Control
How to use Weber Performer charcoal grill bottom vent is important for long term cooking. Since the kettle does not involve the lid and the bottom vent openings are very large, it's much easier to ensure a consistent temperature if you learn to master this set of 3 vent holes.
If you've got something that's supposed to cook around 350⁰F and it's showing around 400-450⁰F, for example, you can reduce the bottom vent down to about 50%, i.e., half-way closed. Then, you can check it in about 10 minutes. If it gets too low, you can readjust it up to where it's about 3/4 open, so it gets a little more air. Tweak it as needed.
If you need to reduce an extremely high temp right away, you can lift the cover lid to release the excess heat. Then, you'll still want to adjust the bottom vent to get it ultimately to the desired temp.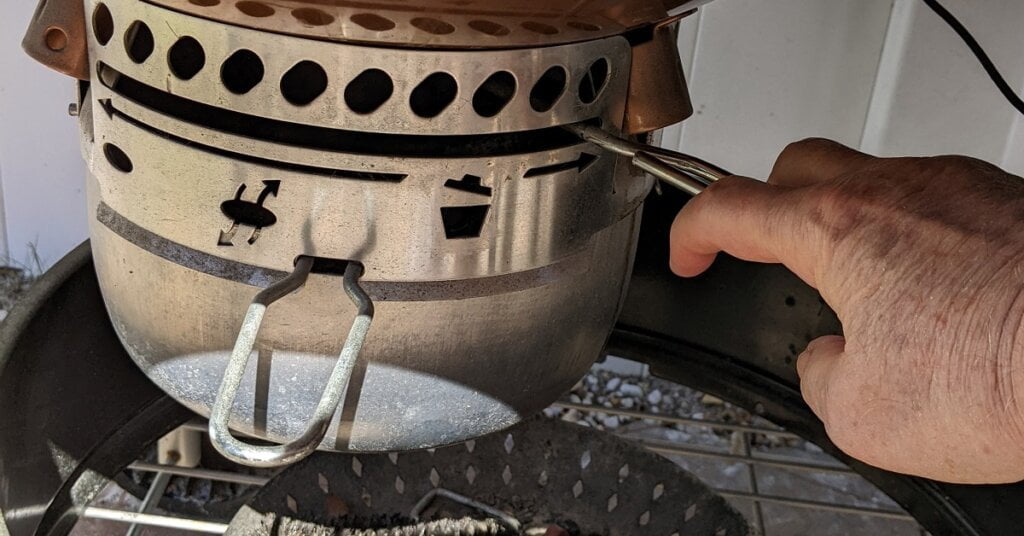 Marking Your Bottom Vent Openings
The key here is not to think it's at 50% open when that bottom vent handle is halfway between full open and full closed. It wasn't built anywhere near that way for that kind of accuracy for any settings whatsoever. The only handle setting you can count on is all the way to the left is fully closed and all the way to the right is fully open.
So, with everyone's own individual grill, before it's lit up, you'll have to make your own markings to know where halfway is. The way you do that is to peer into the inside bottom of the kettle and move the handle (from fully closed on left side) toward the right side until those 3 vent hole slots are showing half open. Then, mark the handle location with the magic marker denoting 50% or 1/2.
You can, of course, repeat the process, for 1/4 and 3/4 settings as well. And, just to be consistent, always start all your calibrations from fully closed. Mark it when you hit the very first 1/4, 1/2, & 3/4 opening. This is because these same openings occur twice through this handle moving procedure.
Consumables for the Weber Charcoal Grill
So, consumables for a Weber charcoal grill are those things that you will use routinely and repeatedly and it has nothing to do with wear-and-tear. That's like windshield washer fluid and tires for a car. So, the main items are going to be fuel related. Here they are:
Charcoal briquettes or Lump Charcoal

Read this article on Briquettes vs Lump Charcoal
I've tried various lump charcoals on cost vs performance. I've settled with Royal Oak 100% Natural Hardwood Lump Charcoal and it's available in lots of places, including Wal-Mart. I tested this for 2 years. For every 1 bag of this lump charcoal, I've used the equivalent of 2.5 bags of charcoal briquettes. I have far less ash because of this and empty the ash canister hardly that much anymore.

Weber Performer Deluxe Gas Canister

While you don't have to use this feature, you will need a method to fire up the charcoal. If you use the igniter system, here is what I read. Use disposable propane cylinders with a capacity of either 14.1 oz. or 16.4 oz. equipped with a CGA #600 connection. So, I've used either Coleman or Bernzomatic 16 oz. LP (Liquid Propane) Gas Camping cylinders.
Accessories for the Weber Charcoal Grill
Here are some ideas for optional accessories that might not come with your Weber grill but are very helpful. Also, some will help in ease of cooking and others will increase safety. I got most of mine over a period of about 4 years.
Grill scrubber
Cooking Utensils
Grate lifter
Perforated pan with removable handle
Charcoal bag (fits into the charcoal bin)
Smoker box
Heat resistant gloves (long length)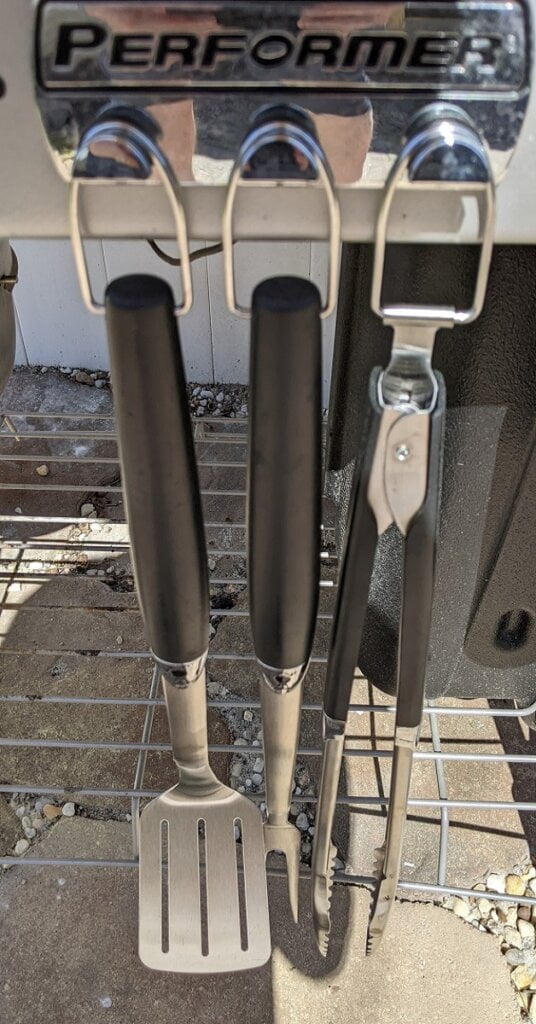 Weber Performer Charcoal Grill Cover for Weather Protection
The Weber Performer Charcoal Grill Cover is reasonably good. However, others have made strong recommendations leading towards other brands, particularly the King Kong grill cover brand. I do use this one. You'll want to confirm your grill size specs to ensure it fits. You can see the manual's links in this article to find yours but they seem unchanged for many years for the Performer Deluxe model. The Weber Performer Deluxe charcoal grill size specifications are: 43.5″H x 48″W x 30″D.
Replacement Parts for the Weber Performer Grill
Here are some items that you might have to replace over time. Some people have never had to replace these items so your usage scenario and atmospheric conditions will vary on times of needed replacement.
Also, check the warranty details of the product because there are a variety of warranty durations for various components. In mine, it varied from 2 to 10 years for different parts.
Char-Baskets (Charcoal bins last about 4-7 years)
Touch n Go Ignition System (widely varies)
One-Touch Cleaning System for 22″ Grills (6-12 years; 3 bladed vent controls double as ash shifters)
Weber Performer Premium vs Deluxe
What's the difference between how to use Weber Performer Charcoal Grill models Deluxe vs Premium? And, which is the more "premium" between the two? Well, actually the Deluxe is higher on the scale of features. But it appears to have only 1 add-on between the two models. However, it's significant.
The Deluxe model comes with the automatic One-Touch ignition system. It's great to have that feature of being able to start igniting the charcoal with a gas cylinder after just turning a knob and pressing a button. I haven't had to replace mine after 4 years; however, sometimes owners have reported some issues. Read further to check them out.
Weber Performer Deluxe Ignition Problems
The Weber Performer Deluxe Charcoal Grill Ignition Problems are bound to happen. I've seen and have read all sorts of issues with other brands automated lighting systems as well. For the most part, the Weber system is a good one although there are times where it's a bit finicky (technical for "it don't always do right").
The owner's guide has some tips but here are mine when things go awry.
The gas flow knob hasn't been turned open enough. Turn it several times to the left to be sure (counter clockwise).
It's excessively windy and ain't gonna work anyway.
The gas tank is empty.
The gas tank isn't screwed on properly or securely (tight) enough.
The ignitor tube slit openings (around the charcoal you're trying to light) are blocked too much.
There's a leak in the gas line.
The ignitor battery needs replacement. You just unscrew the push button to replace it.
The ignitor system needs replacement.
And, believe it or not, mine would start up after jiggling or lifting the gas tube line and holding it up for a few seconds. This is, of course, a signal to replace the ignition system.
Instructions For How To Use Weber Performer Deluxe
The Weber performer deluxe instructions are online. Although this article may present more insight and real world usage, it's best when combined with the actual manufacture's manual. Here's a link to some Weber docs that also have specific information on replacement parts, assembly, dimensions, and so on.
Recipes for the Weber Charcoal Grills
Here are all kinds of recipes for the grill. You might add some to your favorite grilling list.
Related Posts
Conclusion
Now that you've seen my guide on how to use Weber Performer Charcoal Grill. So, you might want to save this link for future reference. Let me know what kind of Weber grill you use and what you like about it. Also, I'd love to hear any grilling tips you might have to offer. We all learn from each other.
And, if you're looking to replace your grill, here's our good article on "How To Choose Charcoal Grill".