Open Faced Kielbasa Sandwich
Make this delicious open faced kielbasa sandwich with cheese. It's a simple sausage sandwich for your next dinner.
About This Open-Faced Kielbasa Sandwich Recipe
This is one of the fastest, easiest, and more delicious sandwich recipes to put together. The ingredients don't require much prepping and it all pulls together rapidly. Read further for seeing how fast it can be made.
This is a perfect, extremely fast dinner sandwich to make using kielbasa and cheese(s) on a garlic toasted bread roll.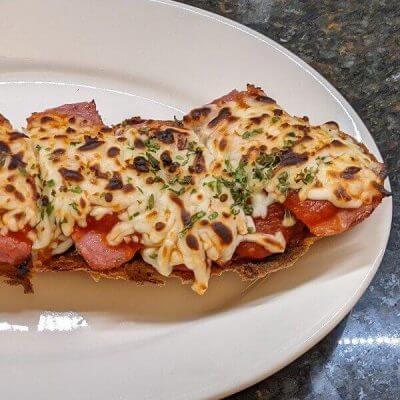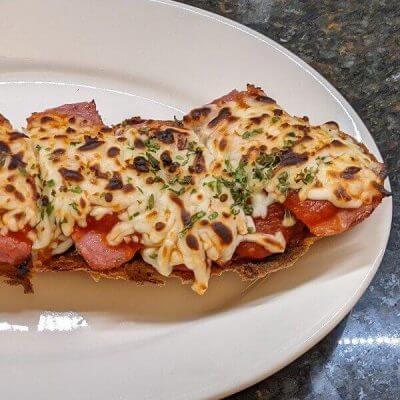 Open Faced Kielbasa Sandwich Recipe
This is a perfect, extremely fast dinner sandwich to make using kielbasa and cheese(s) on a garlic toasted bread roll.
Ingredients
2

lbs

kielbasa

or smoked sausage or turkey sausage links (precooked)

2

rolls

sub rolls

or French bread or Italian bread

2

tbsp

butter

1

tsp

salt

1½

tsp

garlic powder

1½

tsp

onion powder

2

cups

tomato-based sauce

such as spaghetti sauce, Ragu, tomato sauce, pizza sauce, or marinara

1

tbsp

Italian seasonings

or oregano

8

ozs

mozzarella cheese

shredded

2

tbsp

grated parmesan cheese

1

tsp

parsley flakes
SOURCE: DarnGoodRecipes.com™
Is Kielbasa the Same as Polish Sausage?
Actually, the word "kielbasa" means "sausage". You can read more about this naming reasoning as well as how it's made at "What's the difference between bratwursts, sausage, and kielbasa?".
Broiled Open Faced Sausage Sandwich
While this sandwich is broiled, the meat must be cooked or heated beforehand. That's because the broiling of the meat would exceed the sandwich roll's capability. So, the broiling is mainly to melt the cheese.
How to Cook Kielbasa for this Sandwich
You'll want to use a knife to first split it lengthwise down the middle and also cut it into sections of about 3-4 inches long. Although kielbasa's already cooked, you can heat it up separately in the microwave, air fryer, or oven. It will only take about 1 minute in the microwave, 5 minutes in the oven on a baking sheet, and about 5-7 minutes in an air fryer. Or, you can fry it in the skillet (no oil).
Kielbasa and Cheese
With this open-faced kielbasa sandwich and cheese recipe, you can use multiple cheeses if you want.
What cheese goes with kielbasa?
Just about any kind of cheese for a pizza will work well on this. The primary one to use will be Mozzarella cheese. The key extra one will be Parmesan cheese. Beyond that, Provolone, Asiago, and Swiss cheeses are good.
Is kielbasa fully cooked?
The ones prepackaged in the store are typically cooked already.
Can kielbasa be frozen?
Yes, just like most meats, it stores well in the freezer if it's packaged good in a food storage bag.
What about the onions and bell peppers?
You can add this if you want, although this particular recipe doesn't have them, as this is a very, very fast sandwich outcome. This will add about 10-12 minutes time, if you want to proceed. So, you can sauté in a skillet, some separated rings of onions and strips of bell pepper in 1-2 tbsp of olive oil and a little garlic for about 5-7 minutes. Just toss these sautéed veggies on the sandwich just before the cheese(s).
What to serve with this open-faced Kielbasa sandwich
You have a lot of sides you can choose from to serve with this open faced sausage sandwich. It will go perfect with French fries, potato chips, dill pickle spears are for some common ideas. I can attest it goes extra good with a beer. Here's a few other ideas for sides.
---
Kielbasa Sandwich Nutrition per Serving
The nutritional values are shown in the <Print Recipe> option. You can tweak your ingredients to meet more healthy values if you want to use low-fat cheeses or turkey sausage.
Other Kielbasa Recipes
---
Other Sandwiches you might like
Conclusion
Now you can make this for a fast dinner meal or a tailgate get together. Planning it out is extremely easy. Did you make it? Let us know and share it!