Ribeye Steak on Grill
This recipe is of a lightly seasoned, tender, juicy Ribeye Steak on the grill. Details of times, temps, and tips given.
Ribeye Steak on Grill Overview
This is an incredibly good tasting All-American Ribeye Steak on Grill recipe. Whether you've cooked steaks before or not, this will give you a fresh look on how to grill them in the future.
This is a lightly seasoned Ribeye Steak on Grill recipe, an American Favorite. You can't touch this hint of enhancement to the Ribeye Steak on the Grill.
Ribeye Steak on Grill
This is a lightly seasoned Ribeye Steak on Grill recipe, an American Favorite. You can't touch this hint of enhancement to the Ribeye Steak on the Grill.
Ingredients 
1½

lbs.

Ribeye Steak

Better if you can get about ¾ or 1-inch thick.

½

tsp

salt

½

tsp

Ground Black Pepper

⅛

tsp

garlic powder

just a pinch

¼

tsp

onion powder
Instructions 
Cut: For 1½ lbs of ribeye steak, cut it in half. This is about 12 ozs each steak.

Rub: Mix the seasonings in a small bowl or dish. Rub onto each steak. If enough remains, rub on both sides of each steak.

½ tsp salt,

½ tsp Ground Black Pepper,

⅛ tsp garlic powder,

¼ tsp onion powder

Sear: Prepare a hot grill. Place the meat on direct heat initially for about 1-3 minutes, avoiding excessive charring. Flip it over, remaining on direct heat for another 1-3 minutes. For example, thin steaks are for 1 minute; thick (like 1-inch) are for 3 minutes.

Finish: Check internal temp of the meat. If it needs further cooking, perform that now for steaks ½-inch or less, and remove when done.

For thicker steaks, ¾-inch or more, position the meat on indirect heat (off to the side, not over direct heat) and close the grill cover. Check in about 5 minutes. When at 135°F, or your desired temp/doneness, remove and let them set for at least about 5-10 minutes before serving for cutting into them.
Internal Temperature List for Doneness

Rare=125°F MEDIUM-RARE (Recommended)=135°F Medium=145°F Medium-Well=155°F Well-Done=165°F
SOURCE
DarnGoodRecipes.com™
How to Grill a Ribeye Steak
There are a few key things to know and do for this recipe for ribeye steak on the grill. There are a few changes, but not much, when cooking a steak on charcoal grill or gas grill. And we'll cover those. First off, we'll talk about the spices. These are some commonly classic spices in every home.
How to Apply the Seasoning for Steak on the Grill
The amounts were chosen in order to ensure the flavor of the steak itself remains dominant while the seasonings beyond the salt and pepper will remain subtle. Even the amount of salt is low. When you apply this recipe's spice mix (the rub), you definitely and literally rub them into the meat's surface. You just sprinkle some of the spice mixture onto the meat and then rub them a bit deeper inward back-and-forth about 3 or 4 times. Then, flip them over and repeat with whatever remaining seasonings you have left over. It's not a marinade but it's good if you can apply the rub about 15 minutes before it goes onto the grill. The best time to do the rub is before you go outside to ready the grill. That way it's doing its work while you're prepping and preheating the grill itself.
The Searing of the Ribeye Steaks
This next step is the initial high heat cooking phase of searing the steaks. There are 3 things that determine the length of time for searing the ribeye steaks:
Thickness of the ribeye steaks
Temperature of the Grill
Distance from the direct heat source (e.g., charcoal or gas)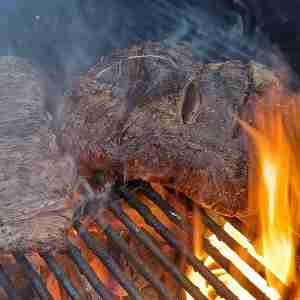 If the ribeye steak is about 1/3-inch to 1/2-inch thick, it should be seared for just about one minute on each side. If it's in the range of 3/4-inch to a little over 1-inch thick, you'll be searing for about 2 to 3 minutes on each side. However, if your distance is extremely closer to the heat source, or if the temperature is much hotter, you'll need to adjust the searing time down a bit so they don't get excessively charred.
Steak on Grill Time and Steak on Grill Temperature
After searing, this is where the biggest changes take place. Grill Time remaining and Grill Temperature are the 2 factors that you now must individually decide every time you grill. And both are still dependent on the steaks' thickness.
Steak on Grill Time
So, usually the thinner steaks (1/3 to 1/2-inch) will sear for 1 minute each side and finish grilling on direct heat for about 2-3 minutes on each side. The remaining cook time can still be done on direct heat but you are bound to closely check the internal temperature so avoid over cooking. Often, the final cook duration is about 2 to 8 minutes total. Also, this involves periodic turning the steaks over to prevent burning.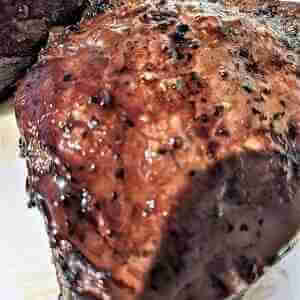 The average thick steaks (3/4-inch to 1-inch) will sear on direct heat for about 2-3 minutes on each side. They are then finished out for cooking time on indirect heat with the grill lid cover on. The remaining cook time varies but is about 8 to 15 minutes often.
Steak on Grill Temperature
Your grill temperature for preheating will nearly always be extremely high, while the grilling temperature will end up being lower. While it may require special gear to determine the grate temperature, overall, most grills only show the grill temp when the lid is covered.
Overall, you'll be searing at the higher temps of 400 to 500°F. The thinner steaks will cook quickly on direct heat of around 400°F. You'll be cooking the thicker steaks at a manageable temp within the range of 350-400°F with the lid covered. There might be times where it goes higher so you'll want to "manage" that to get it at 400°F or below.
Better Homes and Gardens has more info on grill temperature control tips.
Ribeye Steak on Gas Grill
Cooking a ribeye steak on gas grill is actually much easier to manage than a steak on charcoal grill. Here are the changes you might need to undertake with this recipe. When indirect heat is mentioned, your gas grill might not have any grill space to set the steak aside to avoid being directly over a gas flame. So, the solution for indirect heat being unavailable is one or more of these three options:
You can cut the gas flame down lower.
You can place some or all of the steaks on an upper shelf (e.g., the warming shelf), if you have that.
Although not usually needed, another option is that you can consider leaving the lid open or partially open.
Side Dishes for Ribeye Steak
Here are some classic ideas of side dishes for ribeye steak. As the steak is a heavy main course, this is where you can either keep going lavishly heavy or you can balance it a bit with some lighter side dishes. These will also have our recipe links for your convenience.
---
---
Nutritional Values of Ribeye Steak
Nutrition Facts
Ribeye Steak on Grill
Amount per Serving
% Daily Value*
* Percent Daily Values are based on a 2000 calorie diet.
Nutrition Facts
Other Related Grill Recipes and Conclusion
If you want to try an excellent marinated steak recipe, it's here on this list. It uses a separate marinade recipe, also shown. Also, see the other related recipes you might enjoy.