How To Grill Burgers and Hot Dogs Together
Here is your complete meal plan when grilling hot dogs and hamburgers together at the same time. You'll be busy managing the time and temperature of two different meat items so, it's a good idea to go over the brief plan first. This is listed in our Grilling on Charcoal article and also is a part of our Food Guides & Resources category.
We also have included 2 links in this article to give further grilling details individually to hamburgers and hot dogs. And, links for some popular sides recipes are also included.
Let's get started!
PREPARE Hamburgers and Hot Dogs and Toppings
Make the Burger Patties
Make your hamburger patties in advance. You can put them on a plate or platter and optionally separate them with waxed paper or patty papers, if you have them. You can also read our article "How To Form Hamburger Patties".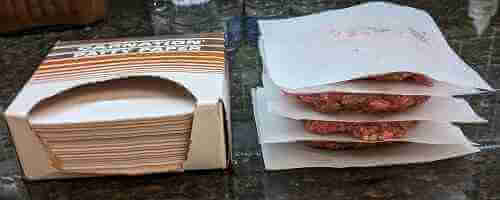 Get Hot Dogs Ready
If your hot dogs are frozen, you can thaw them a bit in the microwave. Or, run them over some hot tap water until they can bend or flex a bit. This doesn't take long because hot dogs are somewhat porous.
Prepare the Toppings and Organize the Condiments
You'll definitely want to go ahead and slice any onions and prep any lettuce leaves or cutup lettuce. And any other toppings to be readied. Then, put them in the fridge, ready to be pulled out easily when nearing grilling completion time. Also, you'll want to ensure you've got the condiments available (e.g., ready to replace near empty ones).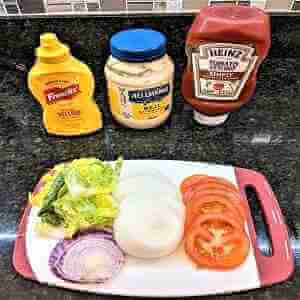 PREP the GRILL
If using charcoal, arrange it for these two different heating areas so that you'll have part of your grill directly over coals (for direct heat) and part of it not over any coals (for indirect heat).
Begin to preheat your grill now, if using a charcoal or wood source. For fast starting grills like gas, you can wait until just a couple of minutes before being ready with the burger patties and hot dogs.
When using a gas or electric grill, you have a lot more flexibility on direct and indirect heat because you can control the direct heat rapidly.
PREP the Sides
You'll want to have your sides already thought out and ready. Or, someone else might be prepping them while you're grilling.
What Sides Go With Burgers and HotDogs
What are the best sides to go with burgers and hotdogs on the grill? Check out our complete article on "Popular BBQ Burger Sides". After checking out that list, come back here and decide. You start your ideas with first think of sides you would like with just grilled hot dogs. Then, think of sides that would do well with just burgers. Then, the side dishes you thought of for both meat items are what will go excellent with both burgers and dogs.
Baked Beans
Potato Chips
Cole Slaw
Here are some popular recipes of sides for burgers and dogs together.
GRILLING Hamburgers and Hot Dogs Together
Which goes on the grill first? The burger or the hot dog?
And the answer is "It depends". It kind of doesn't matter but you'll need to know how to manage both items if you're limited on direct heat space you might have. So, now is a good time to look at the next item of how to grill both items together.
How to Grill Hamburgers and Hot Dogs at the Same Time
Grilling hamburgers and hotdogs on the grill cook at different times. Grilling Hamburgers takes about 8-17 minutes. Grilling Hot Dogs takes about 5-10 minutes. So, you can coordinate both based on your following options regarding how much direct heat grill space you have.
Grilling With Limited Direct Heat Space
If you're limited on direct heat space and can't grill both hamburgers and hot dogs at the same time over direct heat then, here are some options:
Option 1: Grill the hot dogs on direct heat, rolling about every 15-30 seconds for about 3-4 minutes. Then, move them to indirect heat and continue to turn by rolling once every 2-3 minutes. Cook your burgers on direct heat and manage as needed.
Option 2: Put the hot dogs on indirect heat, rolling once every 2 minutes. Grill the hamburgers on direct heat until done. Move the burgers to indirect heat and finish out the hot dogs on direct heat, turning by rolling every 15-30 seconds.
Grilling With Plenty of Direct Heat Space
If you aren't limited on direct heat and can grill both hamburgers and hot dogs at the same time, here is an option.
Option 1: Put both hamburgers and hot dogs on at the same time. Roll the hot dogs about every 15-30 seconds. Either about when your burgers are ready to be flipped or shortly after they are, your hot dogs might be done. When your hot dogs are done, move them to indirect heat and finish your burgers.
Option 2: Put hamburgers on the grill first. After about 2-3 minutes, put the hot dogs on. Roll the hot dogs about every 15-30 seconds. This timing is about right for both burgers and dogs to be done at the same time. However, if one is done first, just set the finished meat aside onto an indirect heat area.
What Temperature do you grill hamburgers and hot dogs?
Hamburgers can be grilled roughly between 375-450°F. Hot Dogs can be grilled between 300-400°F. Both can be grilled a bit higher but only if tightly managed.
Tips for grilling hot dogs and hamburgers
How to grill hot dogs the right way
Ok; so there are actually several right ways. That's because some people want their dogs charred more or less than others. And some don't want any grill marks on them. So, if you can handle the stress and timing of multiple ways of cooking them, here you are.
For minimal grill marks or blackening, you'll need to cook them on indirect heat only and ensure the temp is around 300-350°F max. And roll them once about every 15-30 seconds.
For common grilling and charbroiled appearance and taste, you can cook them alongside the burgers but you don't leave them on direct heat longer than usually 3-4 minutes. AND, you do need to turn them by rolling very often, about once every 15-30 seconds.
An alternate method is to grill them on direct heat, rolling every 15-30 seconds, for a total of about 2 minutes. Then, cook them the rest of the way to your desired level on indirect heat, rolling them every 2-3 minutes.
How to make grilled burgers juicy
The tips to getting a grilled hamburger juicy are several. One idea is that you never mash or press down on them while on the grill. Others say you can do it just once. Most will agree that when you remove them from the grill, you don't cut into them and you let them sit for at least 5 minutes before letting anyone use them to make their sandwich.
Announce the Grilling ETA
Yes, it's always a good idea to alert others who are helping (or consuming) what your Estimated Time of Arrival is for the final Grilled Burgers and Hot Dogs. It's good etiquette and it gives everyone a chance to get ready. It also announces a good timing for the toppings and condiments to be taken out of the fridge and laid out.
Details of a Grilled Hamburger Recipe and a Grilled Hot Dog Recipe
As promised, here are links to 2 detailed grilling recipes for burgers and hot dogs. They have a lot of information about some good practices, temperatures, and times. And, we added in a Brats grilling recipe as well, in case you're having that instead of hot dogs, as some people do.
SERVING and PRESENTATION of Burgers and Hot Dogs
How to keep grilled burgers warm
You can keep grilled burgers warm by setting them aside on indirect heat on the grill if you're waiting for hot dogs to cook. Another option is to wrap them in foil and be left on the warm side of the grill, avoiding the hot, direct heat side. You can also put them on the warming shelf, if your grill has that option. And still others will wrap them in foil and keep them in a warm preheated oven at 225°F. Here's an EHow article on keeping burgers warm after grilling.
Warming or Toasting Buns
Optionally, you can warm some of the buns using the grill, microwave, stove top, or oven. This adds an unbelievably good taste to your sandwiches. Putting a very thin slice of butter (and just a pinch of garlic powder) on them adds even more to the entire flavor.
Presentation for Self-Serving
If you choose to enhance the presentable appearance of anything, you can do it easily with the following examples. Sometimes I use one or more of these techniques; sometimes, I do none of them.
You can have a stack of plates and silverware readied on a table or countertop. Next to them, you can have the toppings and condiments readied, just like a buffet line.
You can place all the toppings onto platters for a good display and for easy grabbing to build a sandwich. Or, you can leave the toppings (arranged) on the cutting board, which still looks good.
You can open a mayo jar and place the lid upside down and use it as a spoon or knife rest for self-serving. You can do the same thing with a pickle jar and use a fork to rest on its own lid.
As crazy as it sounds, you can lay the burgers and hot dogs on a bed of full lettuce leaves on a platter. This is sometimes done in hotels for business dinner buffets. When dinner's done, you can then rinse the lettuce leaves, and use them the next day in a salad to prevent waste.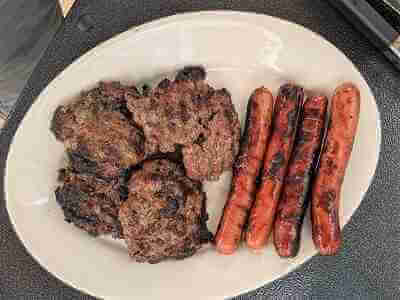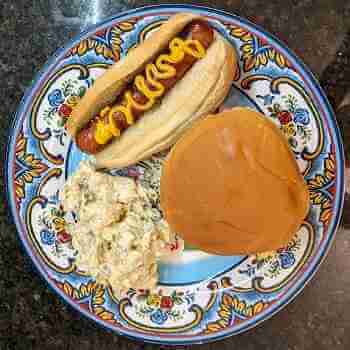 STORAGE and LEFTOVERS
Food Safety for Leftovers
How long have the hamburgers and hot dogs been off the grill and left out for self-serving? This is probably the number 1 concern of food safety in the home. It's when dinner has been cooked and removed from any heat. It sometimes feels like a Catch-22 as to know how long to leave out the meat or when to put it away in the fridge as leftovers. It easily becomes an issue if they're left out like that for an hour or more. The ill effects are felt on the next use of those as leftovers.
So, here's a food safety tip. Usually, within a half hour after coming off the grill and people started making their sandwiches, they will have already retrieved any "second helpings" of any meat. You can ask around and let others know you're going to put them in the fridge if they want any more.
Storing Leftovers in Freezer or Fridge
While you may put your leftover burgers and hot dogs in the fridge initially, you can put any items in the freezer on the same evening as they were grilled. If handled and stored properly, you can usually keep them in the fridge for 2-3 days or 2-3 months in the freezer. Here is a USDA article on the subject of food safety with cooked hamburgers storage.
Related Posts
Conclusion
I hope this helps you coordinate these two popular grilling items and gives you some more ideas or tips on planning them out. Also, if your patties happen to be frozen, here's how to cook frozen burgers on the grill. And, if you're having to cook several sets of burgers and hot dogs, here's our article on "How To Keep The Charcoal Grill Hot" while grilling or smoking on a charcoal grill for longer periods of time. Tell me your thoughts by submitting a comment. I'm very interested in what others do when they grill these 2 items!
Here are some other related recipes you might like: