This easy recipe for homemade fried mushrooms uses a Southern buttermilk batter. So, keep reading to see how easily you can make it and its matching dipping sauce. Also, we list this in our Vegetable Sides Recipes Category.
This southern, homemade fried mushrooms recipe is very flavorful.  It's seasoned and battered and can be an appetizer or side dish.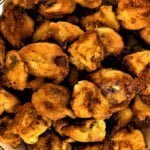 Easy Recipe For Fried Mushrooms
Having a great buttermilk batter is extremely important for this easy recipe for fried mushrooms. As a result, this recipe empowers you to have fried mushrooms twice as tasty as usual.
I've used this recipe in 4 ways: the deep fryer, pan fried, oven, and air fryer. After trying multiple cooking ways, the best has been pan fried (using less oil) and the second best is deep fried. So, the pan frying method is shown here.
How Do You Make Fried Mushrooms?
Here are the easy, step-by-step instructions on how to make homemade fried mushrooms.
When preparing to cook them, line up your items like an assembly line. Make each dipping step lead towards the frying pan. Then, after the pan, it goes into the paper lined serving bowl.
Rinse off the mushrooms to remove the basic dirt around them. There's no need to dry them because they're going into a batter. One less step!
Make the buttermilk fried mushrooms batter in a bowl and put all the mushrooms in it. If you don't have buttermilk, here are some substitutes for buttermilk.
You can deep fry or pan fry them. Here are the steps for pan frying. Heat a large pan or skillet to medium high. Pour a shallow layer of oil, like peanut oil. After hot, place the battered mushrooms in it, safely one at a time. Don't crowd them so, accept that you'll have to do this in at least 2 batches.
During the cooking process, because of the batter overlapping, keep the pieces pulled apart. This will significantly aid in the turning over process.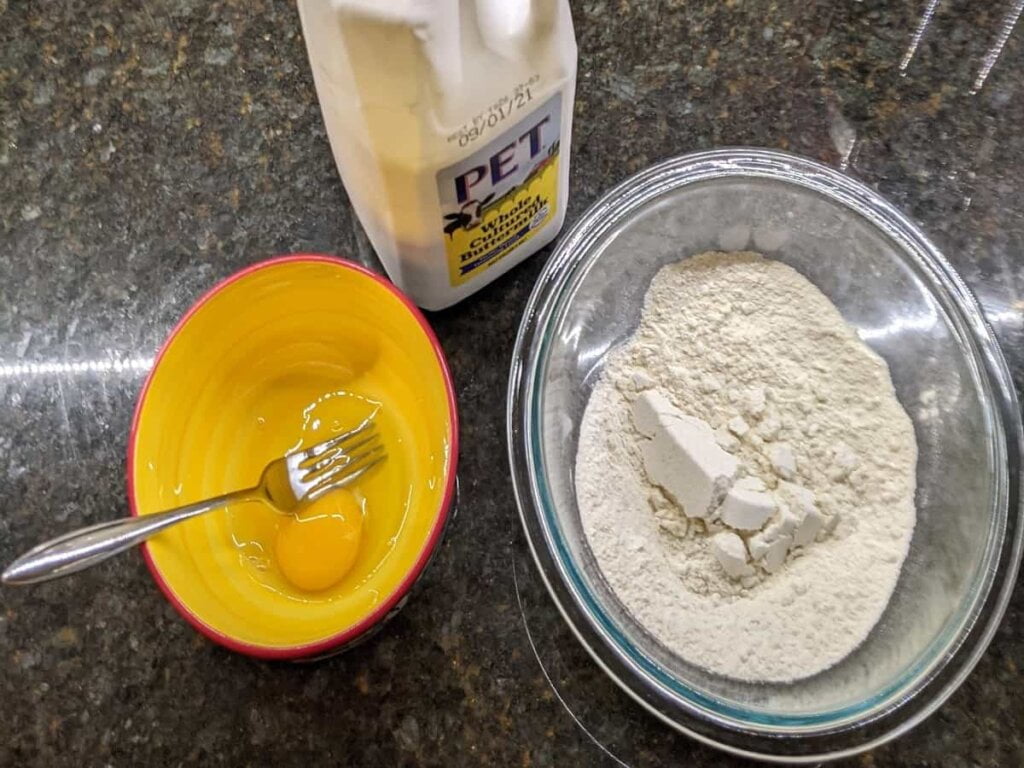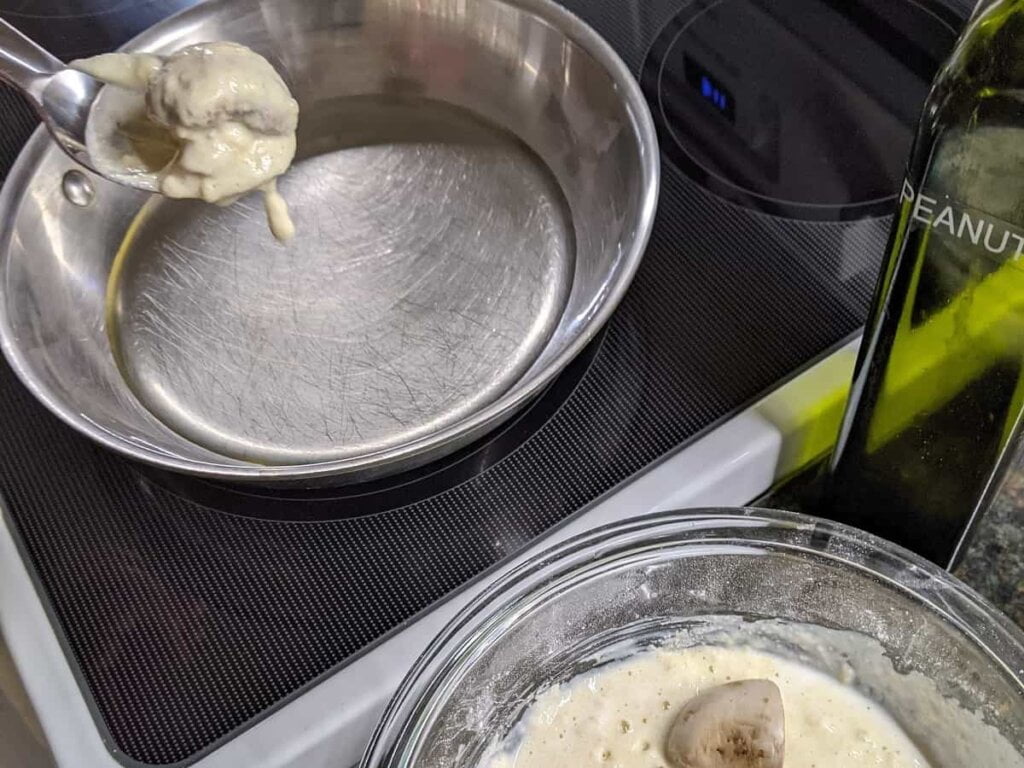 How Long To Cook Homemade Fried Mushrooms
Cooking fried mushrooms takes about 3-4 minutes per side for a total time of about 5-7 minutes. So, if you placed them going from one side of the pan to the other, you'll probably be ready to start turning them over in about one minute. If using a deep fryer, it usually takes about 4 minutes total.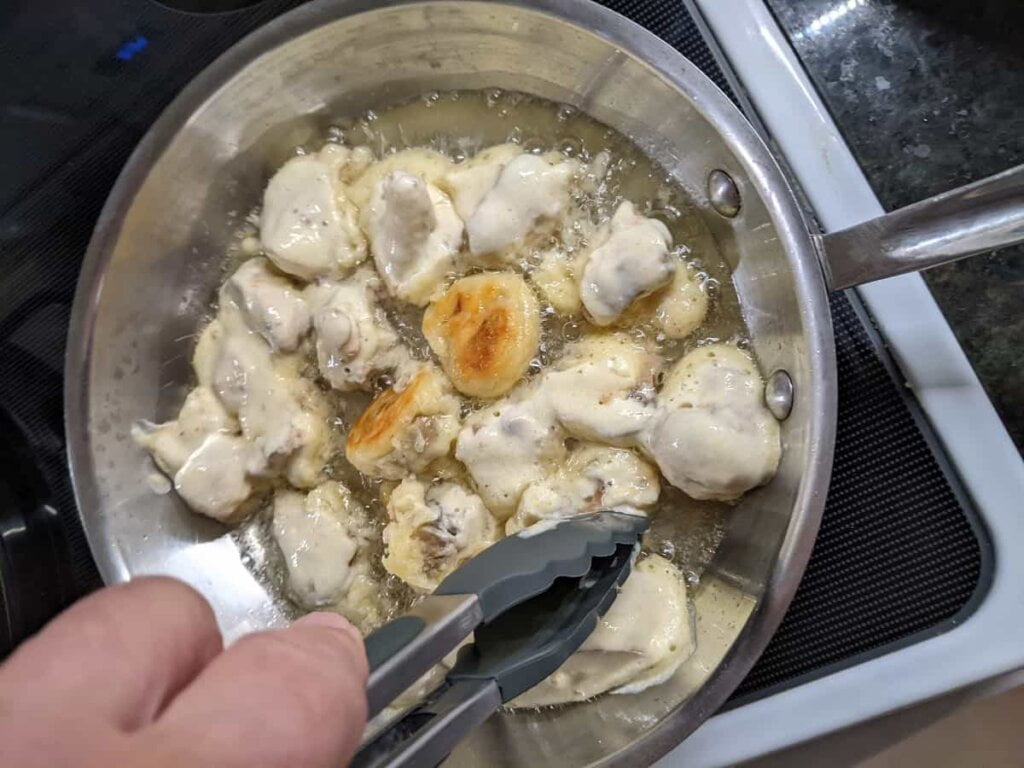 In the skillet or frying pan, use any tool to turn them over, such as a slotted spoon, tongs, or skimmer. A spatula assists if some of them stick to the pan.
Line a serving bowl with a paper towel. This will help absorb the excess oil when transferring them from the skillet to the bowl.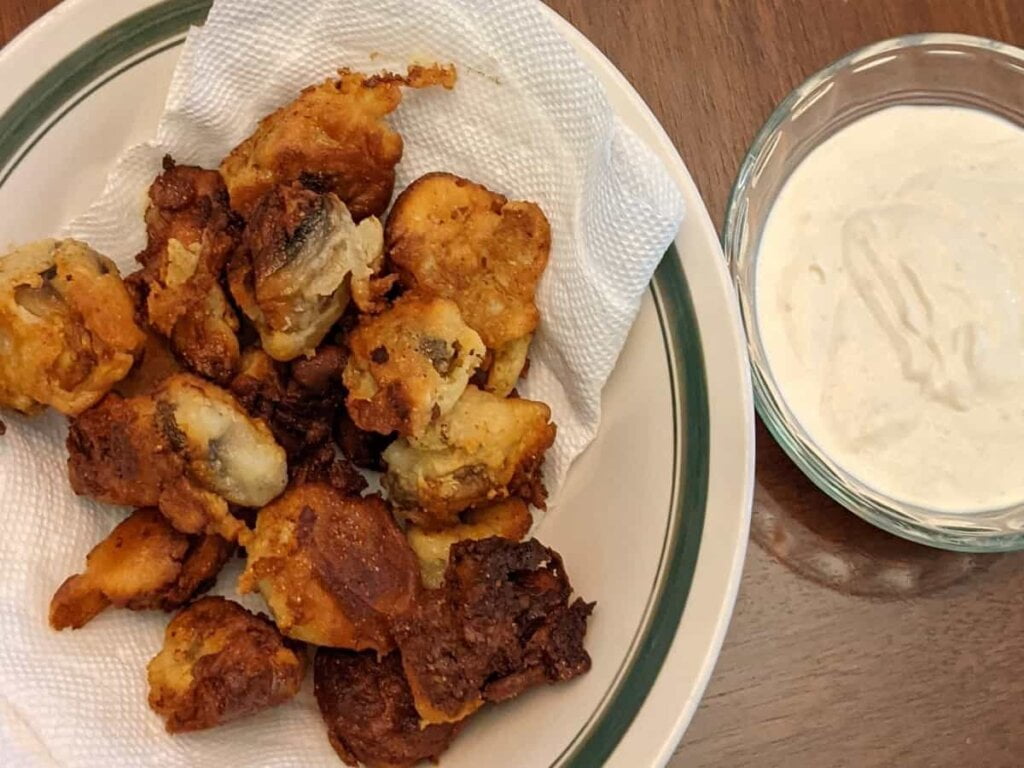 History of Fried Mushrooms
Did the original history of fried mushrooms start in America? According to some research, they started in other countries as well. No one has identified a historical origin from a single country. However, there are several sources referenced regarding fried mushrooms history.
Angela Hursh has found an old recipe for fried mushrooms circa 1764. That recipe discusses cooking the mushrooms in water first. It then involves a basic batter and concludes with frying them in butter. For extra ready, here is a little info on Fried Mushrooms on Wikipedia.
Related to Homemade Fried Mushrooms
Below is the horseradish dipping sauce recipe that is designed solely for homemade fried mushrooms. Also, other related recipes are listed.
Homemade Fried Mushrooms Nutrition
We show homemade fried mushrooms nutrition in the <Print Recipe> option. However, some of those nutritional values are 225 calories and 37 carbs.
Conclusion
This southern recipe for fried mushrooms is one of those rock solid, reliable classics you can always have in your own collection. Enjoy it and share it. Let me know your thoughts on fried mushrooms. I'd like to know. Leave a comment.
Homemade Fried Mushrooms Recipe
This southern, homemade fried mushrooms recipe is very flavorful.  It's seasoned and battered and can be an appetizer or side dish.
Print
Pin
Rate
Recipe Resizer
Tap to reduce/increase Servings
Keep Screen Active
Ingredients
Mushroom BATTER Ingredients
⅔

cup

all-purpose flour

½

cup

yellow corn meal

optional, white

1½

tsp

onion powder

1

tsp

salt

¾

cup

buttermilk

⅓

cup

water

as needed (or more) if batter is too thick

1

large

egg

optional
Remaining Ingredients
1

pound

whole mushrooms

rinsed, dried, and cut into bite-sized pieces
Nutrition
Calories:
225
kcal
|
Carbohydrates:
37
g
|
Protein:
11
g
|
Fat:
4
g
|
Saturated Fat:
2
g
|
Polyunsaturated Fat:
1
g
|
Monounsaturated Fat:
1
g
|
Trans Fat:
1
g
|
Cholesterol:
51
mg
|
Sodium:
655
mg
|
Potassium:
532
mg
|
Fiber:
4
g
|
Sugar:
5
g
|
Vitamin A:
142
IU
|
Vitamin C:
3
mg
|
Calcium:
70
mg
|
Iron:
2
mg
SOURCE: DarnGoodRecipes.com™