How to Cook Ground Beef Tacos
This is the absolute FASTEST, SIMPLE, BEST way of how to cook ground beef tacos homemade recipe to make.
How to Cook Ground Beef Tacos in under 20 minutes
Follow the recipe for understanding the entire recipe ingredients, amounts, and the cooking process. Read here further for some tips and questions answered. You'll find all the steps to take for making this Speedy and Easy. Make your Taco Night more enjoyable.
This is an extremely easy and healthy way to have a Ground Beef Taco at home.
Tacos Recipe with Ground Beef
This is an extremely easy and healthy way to have a Ground Beef Taco at home.
Ingredients
1

lb

ground beef

80/20 recommended

2⅓

tbsp

taco seasoning

¼

cup

water

8

each

Taco Shells

hard or soft

3

leaves

Romaine Lettuce

shredded

1

large

tomato

diced

8

tsp

salsa

optional

3

ozs

shredded cheddar cheese

8

tsp

taco sauce
Sour Cream Mixture
4

tbsp

sour cream

4

tbsp

milk
SOURCE: DarnGoodRecipes.com™
Make These SPEEDY, EASY Ground Beef Tacos
Quite simply, you follow these steps, which are super easy:
Brown the ground beef mixture (includes spices and water) until it's no longer pink.
While the meat is simmering, you prep the toppings which you can also portion them out if you want, although it's not necessary.
You build each taco starting with the ground beef taco meat mixture. Then, you add the toppings for tacos and conclude with the sour cream sauce. You can actually just use sour cream but the sour cream sauce goes on much easier and is a good more traditional topping.
Here's a visual on how to cook this simple, homemade tacos recipe with ground beef.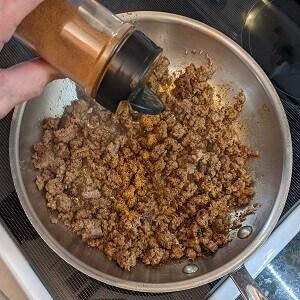 Taco Recipe Ingredients
What type of ground beef for tacos?
Recommended is a 80/20 mix, which is kind of lean but not 93/7. Anything with more fat, e.g., the cheaper 73% meat, will have more fat but, after you drain the fat liquids, it's shrunk in content overall and you end up with less meat per serving. You can, of course, use the typical kind of ground beef mix you're accustomed to using.
Can I use ground chicken, ground turkey, or ground pork?
Certainly, yes. It's flavor will match what you're accustomed to with these other non-beef ground meat products.
Can I boil the meat instead of frying it?
Yes! This is actually a far more healthier choice. It's also another reason that we have adding water to this meat browning process, a cross mix between frying and boiling.
Can I make my own homemade taco seasoning?
We have you covered on this! We have zero seasoning packets for anything in our home. It took a number of years but we're there. And we fully relate with busy lives and saving time and money because we've been through those decades and we agree with your need to buy the packets to get a quick dinner on the table.
So, when you're ready, you can easily make your own taco seasoning from scratch and keep it in an old spice jar, plastic food bag, or whatever you got. Here's our taco seasoning mix recipe that we've been using since 2016. It mainly involves some cumin and chili powder but there's a bit more included in it.
What are the right tortilla shells to use for these tacos?
You can use either the hard taco shells (made with corn) or the soft taco shells (made from flour) for any tacos. Either is perfect; we consistently use both for each taco meal.
Can I double, triple, or have this recipe amount just for me?
Most definitely, yes. Just use our Recipe <Resizer>. It's on every recipe. You just tap the amount you want to adjust the recipe. And, if the fixed amounts aren't good for your situation, just tap the <Resizer> button itself, and you'll be prompted for an exact servings amount you want!
Can you refrigerate or freeze leftover taco meat?
Absolutely, yes! It can keep about 3 days in the fridge and will be still flavorful in the freezer after about 3 months. Then, when you're ready for tacos, just reheat the leftover beef in the microwave. Or, optionally, you can reheat it in a pan after adding a small amount of water.
What kind of toppings can I use for this ground beef taco recipe?
Many options are shown in the recipe such as shredded lettuce, diced tomatoes, diced onions, salsa, shredded cheese, and taco sauce. However, there are some other specialty ideas that some have used such as avocado, guacamole, Pico de Gallo, and bacon bits.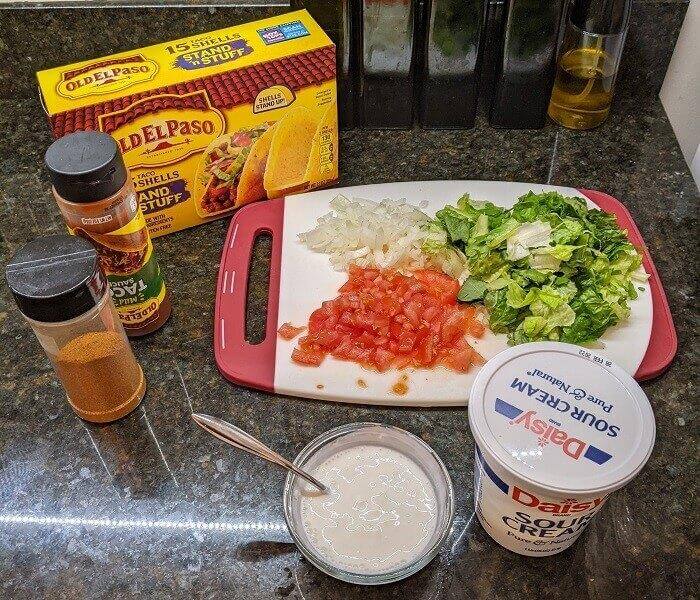 What can be made in advance to save even more time for these ground beef tacos?
Here are some super tips, based on my experience in fast food restaurant management. Here are the absolute key, fastest ways:
Prepare all your produce ahead of time. For example, shred the lettuce, diced the tomatoes, onions, etc. You can put them in either food storage baggies, cups, bowls, storage containers, or other containers, and store them in the fridge, ready to quickly pull them all out when you're ready to cook the meat later the next day.
Mix the ground beef with the seasonings and put it in plastic food storage bag, container, or wrap it in plastic wrap and place it in the fridge. You can actually choose now to either store it in the fridge or to cook it and store it in the fridge. When preparing tacos, just heat it up in the microwave if you've pre-cooked it.
How much taco meat is used per person?
We base this recipe on a per taco amount for the ground beef and other ingredients. So, it actually is how many tacos per person question. In our experience, it depends if you're serving other sides along with these tacos. So, if serving tortilla chips and salsa with these ground beef tacos, individuals will tend to eat one less taco. With that said, it's often that adults will eat about 3-4 tacos, teenagers about 3-5 tacos, and small children about 1-3 tacos. Small children generally will eat less tortilla chips and salsa but, will be more agreeable to tortilla chips and cheese dip. LOL!
Other Related Mexican or Tex-Mex Recipes
---
Tacos with Ground Beef Nutrition Information
The nutritional values are shown in the <Print Recipe> option, which includes all the toppings shown. Your nutritional values will, of course, improve if you use some substitutions of some toppings like using a low-fat sour cream or an alternate meat. Here's what LiveStrong.com reports on ground beef tacos and cheese nutritional information.
Conclusion
Now that you have this fast taco recipe with ground beef, and these ideas for changing it to fit your personal preferences, plan your next Taco night.