Best Over The Range Microwave
This the best over the range microwave. It also includes all the things to look for in your best over the range microwave. This is a part of our Food Equipment & Tools category.
What is an Over The Range Microwave?
An OTR (Over the Range) Microwave is a microwave that is over the stovetop. It replaces the vent hood because the bottom part of this kind of microwave has an exhaust fan built-in. Most common widths are 30-inches and most cabinets or vent hoods over the stove burners allow for putting in an OTR microwave. Adjust you width accordingly to match your needs. However, there are still some "off sizing" dimensions in peoples' homes so it's best to measure the width, depth, and height spaces you would have available if you removed the vent hood. Also, the OTR microwave requires a back wall to mount to so, if you have an island type of stovetop with no back wall, you'll need a specialty type of microwave instead of these standard fit OTR units.
Keep Reading. We have tips and reminders of what to look for in features and functions. Also, we have the best countertop microwave list at the end.
What do you look for in a microwave over the range?
This answer dictated the microwave over the range reviews process in selecting the best choice. Well over 100 microwaves were studied, including specs and customer opinions. While every individual has unique requirements, there is a set of specifications that are more popular overall than others. For example, a variety of colors was not considered a minimum requirement but, having a reasonably appealing design was considered very important. Some product links are affiliated; none were chosen until after the reviews were completed. It was decided there was no need to have 10 best microwaves on the list when there's only 1 "best" for each price range. So, in our microwave over the range reviews, here's what we considered:
Fan

it must be able to exhaust outside or inside
speed must be minimum 300 CFM (cubic feet per minute). 400 CFM is preferred
minimum 3 speeds

Width and Depth

It must be available in a standard width of 30-inches
It must not protrude out too far from wall (max depth 17-inches)

Power

Wattage: 900 – 1300 watts
Adjustable power

Turntable: minimum 12 inches
Control Panel & Lighting

Lighting over range
Lighting in cabin
Control Panel backlighting
Control Panel minimum options:

Reheat, Defrost
Baked Potato, Popcorn
+ 30 seconds (extended cooking time)
Sensor cook, reheat
Keep warm

Price Ranges: $300-$500, $500-$800
Cooking space interior: Minimum 1.5 cubic feet
Other additional features not listed on requirements can add weight to decision
Importance of the Fan Exhaust Speed
So, with the above minimums, it was discovered that many good microwaves number one issue was their weak Fan Speed. They were around 200 CFM. Those manufacturers seemed to focus on quiet fans and would say that they were powerful when, in fact, they might not be very powerful. This was a huge surprise so, in looking over the best microwave over the range reviews, at least look at the fan's CFM. Apparently, this must be a manufacturer's expensive option to include, as there were surprisingly other superior features in some otherwise very good microwaves.
Over The Range Microwave High CFM
By the time we went through over 100 microwaves, that's when this trend of low powered fans was observed. Due to marketing, an average consumer might be swayed to focus on the visible features and functions of the unit and not the fan. Since there are so many functions of today's microwaves, it's not easy choosing. We know from experience that 200 CFM is not enough to reduce smoking or smelly foods quick enough from the kitchen. This is one reason that lingering odors exist the following day so, it can be significant.
In reading through hundreds of microwave over the range reviews, it was noticed that many consumers wanted the quieter fans, and rightfully so. And then, in that effort being achieved, complained about it not being very powerful. It appears that the 300-400 CFM fans are going to be louder than the more common 200 CFM fans. If you insist on a quieter fan, you can always get the 300-400 CFM fan and just mostly keep it down to a quieter 200 CFM slower speed. It's nice to know those few times you need a powerful fan, it will be there.
Do I need a Charcoal Filter? Big surprise (keep reading)
Many manufacturers will talk up their feature of having a charcoal filtered filter. If you're over the range microwave is going to be used to exhaust the air outside, that internal charcoal filter isn't used. That is, of course, because the standard is the internal double filters over the cooktop are typically able to be cleaned with hot water spraying and reusable. The single filter that's often the charcoal one is for the top vent for when the air is exhausted back into the kitchen. That's the filter you have to replace once or twice a year if you don't exhaust to outside venting.
The Latest Trend in Control Panels: Backlit Display?
One of the recent trends is that the Control Panels either have limited backlighting or they'll have none. That's correct… None. But that's not all so, read further. We noticed that many models didn't mention anything about backlit displays so, if it was in the final selections, we spent time to download and read the user manual in case the marketing people didn't think to promote it. And yes, surprisingly, there were some.
Typically, NONE have a full backlit display! Of the few that had one, it was often minimal backlit items.
We saw several models that stated they had control panels with backlit displays. But, in downloading the user guide and reading through it, a surprise revealed that the thing with the backlit display was the clock and the cooking times and power. That was quite revealing to double-check what the marketing person's interpretation of backlit display was. Backlit displays is something that we think a lot of people tend to overlook until afterword (at night when the kitchen light's off), in reading loads of microwave over the range reviews.
Convection Feature
Some models have the convection oven as an added feature. Others show air fryer, broiler, and so on. There are pros and cons to having any of these. While it might be thought of as picking one unit over another to buy, you'll want to think it through and ask yourself how often will you use it.
So, continuing through this thought process, if you want to use the microwave function right after its convection oven usage, you'll need to wait awhile. You'll need to remove the hot metal shelf first and you might have to let it cool down, depending on the container you're wanting to microwave.
Another thing to think through on this, is that your next full-sized oven will potentially have this convection function so, do you need 2 convection ovens in the future? The current trend on kitchen full-sized ovens is an increase of having a convection and air fryer feature built-in.
Now, on the featured benefit side, having a convection oven in a microwave means you don't have to heat up the big oven.
Another one is that it can be an extension of your current oven such as for entertaining or holiday meals. Just ensure you check the power consumption required for that feature as it might differ than the power consumption of standard microwave usage.
The Best Above Range Microwave – 2 Price Brackets
After all the microwave over the range reviews, the example model numbers below reference a particular color and width but, it provides enough information that you can select your own specific model in that category.
Winner: Best Microwave Over the Range Reviews – 1st Place ($300-$500)
Samsung ME19R7041FW
Fan 400 CFM
Touch controls, reduced backlit
1.9 cubic feet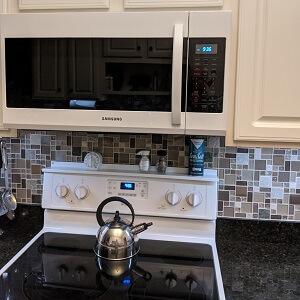 Samsung ME19R7041FW. Winner for low price range.
Biggest reviews complaint is no backlit display beyond the LED clock/timer, as shown. Still has lots of features not commonly found in this price range.
Winner for Mid Price Range – 1st Place ($500-$800)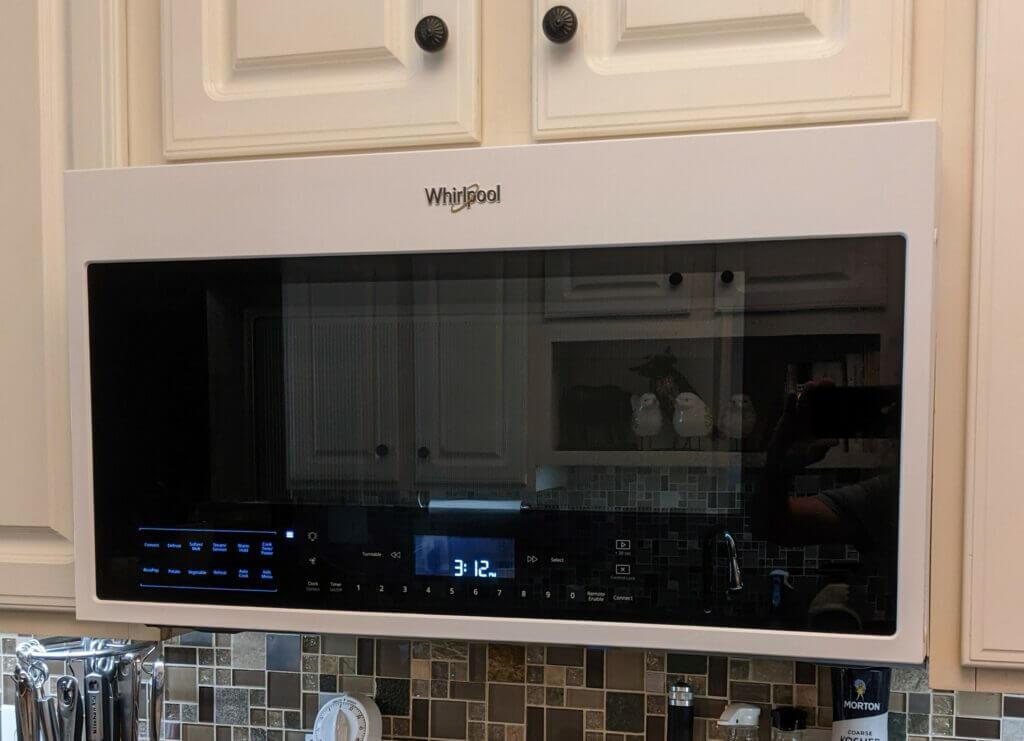 Fan: 400 CFM
Tap touch controls, most are backlit!
Convection Oven
1.9 cubic feet
Winner: Best Countertop Microwave ($50-$200)
Best Countertop Microwave: Magic Chef
This is a bonus addition to this best microwave over the range reviews article. The Magic Chef model HMM1110W is the best countertop microwave for this price.
1.1 cubic feet
1,000 watts power
presets for potatoes
+30 seconds added cook time
turntable
Conclusion
So, if looking for a microwave, whether newly adding or replacing, you have some of the key functions and features to consider. You've learned about a key aspect of the venting fan and speeds that are common.
And, you also know now to think about the future of the kitchen oven, as some of the touted features of microwaves, are trending to also be features of full-sized ovens, in case you might be replacing the oven relatively soon.
Automatic sensors in microwaves are a huge time saver and you are strongly encouraged to consider getting that function.
Visit DarnGoodRecipes.com™ for some Speedy, Easy, and Tasty recipes. Some of our recipes will reference reheating or defrosting in microwaves. And some recipes will reference cooking in the microwave such as these. Here are some you can consider for either.