Make Croutons Oven Recipe Now
This how to make croutons oven recipe in the easiest and most flavorful manner. Following the recipe for croutons from scratch, you'll also see how to ensure the seasonings are more evenly distributed. This is part of our Bakery Recipes Category.
How to Make Croutons Oven Recipe
This recipe for croutons serves well from the oven. It's flavors include herbs & seasonings, olive oil, garlic, and onion.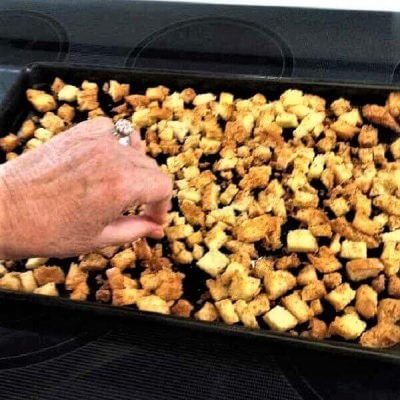 Overall, the process to make these croutons for the oven will be to cutup bread into small cubes, coat them in a bowl with oil and seasonings, spread them out onto a baking sheet, and bake them in the preheated oven. They're ready after cooling for just a few short minutes. Read further for learning what else is good for using croutons besides just on salads.
Make Homemade Croutons From Bread
There are many kinds of breads that serve very well for this croutons oven recipe. Here are some details of each bread make. Croutons are not bread crumbs so, that distinction lends it to some opportunities to make them very flavorful and rich in having a crusty texture.
This recipe is listed on our Dinner Ideas for Christmas Eve article, where you'll also see other traditional and non-traditional fun recipes for main courses, sides, appetizers, salads, and breads.
Croutons with Stale Bread or Leftover Bread
Some people will think that using staled bread for croutons will make them taste stale. However, because of the toasting in the oven that occurs, it's not a consideration. The taste remains fantastic, whether you use old bread, fresh bread, or buns.
But, if you have some dinner rolls leftover in the fridge and want to try to reheat them, check out our guide on "How to Reheat Dinner Rolls in Microwave".
Croutons with White Bread
This is the most popular choice of bread for croutons. Typically, it will be a white sandwich bread but it can also be from Sourdough bread, Baguettes, French bread, Italian bread, or Cuban breads. It's not recommended for breads like Olive loaf, Rye bread, and others that might have a carryover of that particular strong bread's taste.
---
Croutons with Wheat Bread
Using wheat bread for croutons will be somewhat different in both texture and taste. It will still serve well, however.
Croutons from Hamburger Buns or Hot Dog Buns
Croutons made from hot dog buns or hamburger buns is brilliant. We probably have this type of bread more than sandwich bread that we don't have a use for. So, it's a great time to come up with the treat of making croutons.
How to Season Croutons
Seasoning croutons can be tricky. You'll want an even distribution so that you don't have some that have no flavor and others that are too strong. One of the best ways to get an even distribution of the herbs and seasonings is to follow the recipe. These are seasoned with garlic, although you can easily not include that ingredient if you choose.
I've made them in various ways over the decades to get them seasoned just right. You will add the dry seasonings to the cubed bread in its mixing bowl and lift up the bread cubes to dry coat them.
This is repeated usually about 4-6 times, reaching deep to the bottom of the bowl to gather up the dry seasonings. Then, you can gradually pour in the oil as you toss the bread cubes using a large spoon to ensure they're somewhat evenly coated.
Recipe for Garlic Croutons
While this recipe does use garlic as a seasoning, it's shown as optional because some people don't care for garlic in their croutons. We have made this recipe countless times and usually will use garlic powder as it will distribute more evenly than minced garlic.
TIP: However, when I do use minced garlic, I mix it into a small bowl along with the Olive oil and other seasonings, and I add a teaspoon of the garlic juice. Then, it's thoroughly combined to have a good mixture for distributing more evenly across the crouton bread cubes during the tossing process.
Recipe for Croutons with Olive Oil or Substitutes
You can make this oven recipe of croutons with Olive oil or another vegetable oil, as desired. And some will even make it with melted butter in place of, or in addition to, the Olive oil.
Keep in mind that butter has a lower burning point and the oven times and temps for this recipe are based on using only Olive oil.
Uses for Croutons
Croutons add a crunchy texture and a seasoned flavor for salads, soups, stews, and as a snack or appetizer. We'll now cover just a few specifics and tips on some of these.
Recipe for Croutons for Caesar Salad
This Croutons oven recipe actually is a classic addition to a Caesar salad. It enhances the experience with its crusty texture and its herb flavors, if made using Olive oil.
Croutons for Salads
We Americans love having Croutons added to the top of a regular green salad. It's quite the treat and goes well with many popular salad dressings such as Ranch, Thousand Island, Italian, and Blue Cheese.
Croutons Recipe for Soups or Stews
There are a lot of good uses for croutons for soups and stews. Some individuals will prefer a small size. And, still others, will want it not to be put into the soup but to remain on the side for dipping, using the larger sized croutons.
Croutons for French onion soup, Tomato Soup
This is a popular item to add to French onion soup and also atop tomato soup. And some will set it aside in a small bowl for adding as it's eaten.
Croutons Shelf Life
How long will homemade croutons keep? Usually only about 2-3 days and only if they're stored in the thinner bread bags. The thicker bread bags are usually for the softer crust breads so, if you use those the thicker bag, they might lose some of its crustiness, although they'll still taste flavorful. If you used homemade sandwich bread, I've found it to do okay but only for 1-2 days. When asked if croutons can go bad, the answer is yes but it's mainly on how they taste but you can tell by their odor or if they start to mold as well.
Where Do Croutons Come From?
While many of the food historians are unsure due to lack of records, it's felt it originated in France. And, in etymology, the word is French and means "crust". Here's an interesting croutons history and description of uses across the centuries up through today, as explained by Wikipedia.
Croutons Nutrition
The nutritional values are shown in the <Print Recipe> option. You can also opt for using a light oil or salt substitute to advance the nutritional values even better.
Conclusion
Now that you've seen a lot of details on how to make homemade croutons from the oven, try it out. You might never buy croutons again, or as often. Let us know how you made them and what options you chose. And share it with others!
Here are some other related recipes you might like: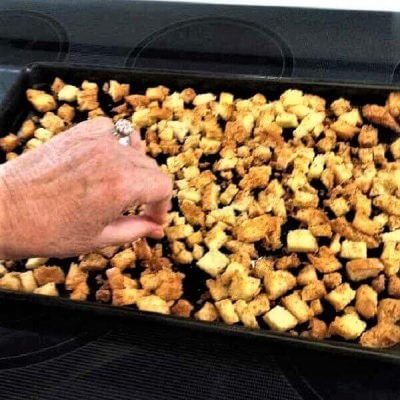 Recipe for Croutons Oven
This recipe for croutons serves well from the oven. It's flavors include herbs & seasonings, olive oil, garlic, and onion.
Print
Pin
Rate
Recipe Resizer
Tap to reduce/increase Servings
Keep Screen Active
Ingredients
6

slices

cubed bread

6 slices is about 4 cups of cubed white, wheat, buns, bagels, etc.

½

tsp

Mrs. Dash

optional

½

tsp

chicken bouillon granules

¼

tsp

onion powder

¼

tsp

garlic powder

optional

⅛

tsp

cayenne red pepper

or just a pinch

¼

cup

olive oil

or vegetable oil or combo of ½ melted butter + ½ oil
Instructions
Preheat the oven to 375°F and set an oven shelf to the middle level.

Cutup the bread of your choice of size into cubes and add them into a mixing bowl. Standard size is about ¼-½ inch. Large cubes are about ½-¾ inch.

Thoroughly combine the seasonings (Mrs. Dash, chicken bouillon granules, onion powder, garlic powder, and red pepper) into a small bowl. Add the seasonings across the bread cubes and toss a few times to dry coat them.

½ tsp Mrs. Dash,

½ tsp chicken bouillon granules,

¼ tsp onion powder,

¼ tsp garlic powder,

⅛ tsp cayenne red pepper

Slowly pour the oil across the bread cubes while pausing occasionally to toss them using a large spoon for a more even coating. When done with the oil, toss them a little more to ensure an overall even coating distribution and evenly place across an uncoated baking sheet.

Bake on the middle shelf in the preheated 375° oven for about 7-10 minutes. Watch closely and remove when appropriately browned. After removed from oven, let cool for about 5-15 minutes.
Nutrition
Calories:
158
kcal
|
Carbohydrates:
14
g
|
Protein:
3
g
|
Fat:
10
g
|
Saturated Fat:
1
g
|
Polyunsaturated Fat:
1
g
|
Monounsaturated Fat:
7
g
|
Trans Fat:
0.01
g
|
Cholesterol:
0.02
mg
|
Sodium:
267
mg
|
Potassium:
43
mg
|
Fiber:
1
g
|
Sugar:
2
g
|
Vitamin A:
18
IU
|
Vitamin C:
0.1
mg
|
Calcium:
36
mg
|
Iron:
1
mg
SOURCE: DarnGoodRecipes.com™