White Bread in Bread Machine
Make your own white bread in bread machine. Optional ingredients are identified for varying the recipe.
Bread machine recipes can vary quite a bit, but this one is a winner. The best solution is having the perfect list of ingredients, the balanced quantities of each, and knowing which are optional. The rest is how you store your bread for future usage.
You can make this white bread in bread machine and use it for sandwiches, toast, or plain eating for its homemade taste. If properly stored in a heavy (thick) food bakery bag, it will keep and stay soft longer.
---
White Bread in Bread Machine
Bread machines have become an increasingly popular choice for baking bread since they don't require a lot of ingredients or mixing time.   This article is about how to make your own white bread using a bread machine. And, it's also how to have a number of ingredient optional changes for having a variety.
This method of making white bread in multiple ways is quick and easy, with no kneading required.
---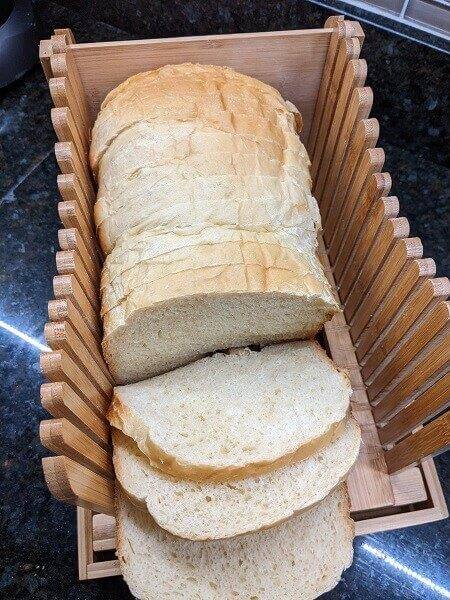 ---
Recipe for White Bread in Bread Maker
When you follow this recipe, discover the many options you can have. If you are out of something, you can find an alternate path in the recipe choices. If you want to try adding an optional ingredient, you can. I have worked with literally all these options multiple times for great results. Also, the amounts of all ingredients, including the optional ones, have been worked out and tested.
White Bread in Bread Machine
You can make this white bread in bread machine and use it for sandwiches, toast, or plain eating for its homemade taste. If properly stored in a heavy (thick) food bakery bag, it will keep and stay soft longer.
Equipment
1 Bread maker
example shows Zojirushi brand
Ingredients 
1¼

cups

milk

Lukewarm (2% milk is preferred) or water

4

tbsp

milk powder (only if using water)

optional

1

large

egg, beaten

optional but, is recommended

1¼

tbsp

olive oil or butter (softened)

or other vegetable oil

2

tbsp

sugar

or honey

2

tbsp

lecithin

optional (and only use if no egg)

3

tbsp

vital wheat gluten

optional (for more fluffiness)

3

cups

bread flour

2

tsp

active, dry yeast

or instant yeast
Notes
There are many options shown in the ingredients which give you extreme flexibilities and different recipes, in a sense.  Find your preferred way.
My primary, preferred way uses 2% milk, egg, olive oil, and sugar. The nutritional values reflect using those ingredient choices and no other options.
If using water, you can use lukewarm tap water.  If using milk, you can microwave it for 30-45 seconds to become lukewarm.
If using water and milk powder, they should be mixed together before adding.
I have made this using 2% milk, whole milk, and almond milk (unflavored and unsweetened) with successful results.  Using skim would work well also, as it is approaching near the water only option.
You can use less than the suggested amount of milk powder.  It just represents a more full flavor and approaching some nutritional values of whole milk.
The egg is optional.
The "Lecithin" is for lighter bread and more preservative.  It is optional and not added if you are using egg(s).
The Vital Wheat Gluten is for adding more fluffiness.  It is optional.
SOURCE
DarnGoodRecipes.com™
White Bread in Bread Maker
There are many topics of interest to improve on making your own white bread in bread maker. We'll explore those many areas now.
Best White Bread in Bread Machine
I have made many types of white bread from scratch and with dough makers over the decades. I have modified countless recipes to get it to the best amounts of each ingredient so that each loaf resembles close to the same size as a store bought loaf.
Food experts have spent years trying to perfect the art of making bread. One of the most popular types of bread that is made in a bread machine is white bread, which can be baked quickly and efficiently.
How to Make White Bread in Bread Machine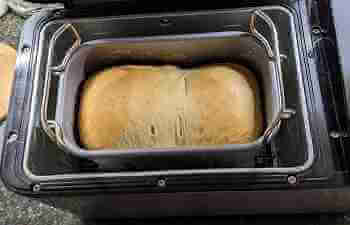 ---
As with most breads, making white bread in a bread machine is very easy. You will need to follow the instructions on the package for your specific bread maker but, most modern day bread machines follow similar principles such as adding all wet ingredients first, add dry ingredients next, and conclude with a crater of yeast. You then choose the code to make a loaf of bread and press the Start button. In the old days, they would only manage making the dough. Fortunately, over the decades, the inclusion of baking the bread loaf has become a standard feature in all competitive brands of bread machines.
Ingredients for White Bread in Bread Maker
When deciding the ingredients for white bread in bread maker, there are quite a few options. Each ingredient has its own unique purpose and impact. Another benefit of having the multiple options of ingredients in this recipe is that, if you're out of something, you can sometimes use another ingredient. Another reason is that different options changes the recipe a little bit. Adding an optional ingredient might make the bread more dense, softer, sweeter, or preserved longer.
Also, if you're looking for some of the additional, specialty ingredients, you'll see them shown. Don't worry, these are options. Examples are the use of vital wheat gluten or lecithin.
White Bread Recipe for Bread Machine with Milk
White bread is the most popular bread in America. If you are baking a loaf of white bread, there are many different recipes that can be used to achieve this desired texture and flavor. This white bread recipe for bread machine with milk will demonstrate how to create a loaf of white bread using milk, as several of its ingredients options.
White Bread Recipe for Zojirushi Notes
There are some who say to take the bread out of the Zojirushi bread machine about 5-10 minutes before it's done. I've tried that at times and sometimes it does seem to improve its duration of softness. However, there have also been times to where the top wasn't brown enough so I just left it. Overall, I make no recommendations on this topic as there are several options that might be changed regarding its ingredients that can have multiple impacts on outcome. So, I generally leave it for the bread maker and its default times.
Aligning both Zojirushi Paddles
---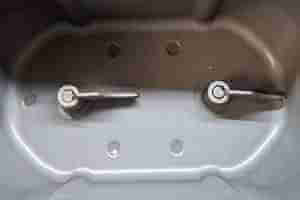 ---
If you have the double paddles, it is important to ensure they're aligned in the same direction at the start. They can point in any direction as long as they point the same. So, I will remove the basket, align the paddles, and won't tap them while adding ingredients. That way, I can be reasonably assured of their alignment remaining in place when reinserting the basket after all the ingredients have been added.
After the Bread is Baked
---
Slicing Bread After 30 Minutes Cooling Period
---
I will remove the loaf container immediately when the entire cycle has completed and the bread has been baked. I will then carefully dump the loaf from the container for cooling. After about 30 minutes of cooling (and it's still very warm), I'll slice it and enclose it in its thick bread bag.
Regarding slicing, some people will choose to only slice the bread when needed.  This aids in keeping the slices more fresh and soft.
Also, some have been known to wait until the bread is fully cooled down to room temperature (about 1-2 hours) before slicing to aid in reducing excess moisture in the bread bag, which also reducing the chance of molding.  In South Carolina, I have not experienced any molding issues that happen before the bread loses its acceptable softness.  Your location, altitude, humidity, and time of year may offer different experiences.
When the bread gets to lose its softness after several days, it's still great as toast or for usage on grilled sandwiches such as these:
---
---
Nutritional Values of Homemade White Bread
Nutrition Facts
White Bread in Bread Machine
Amount per Serving
% Daily Value*
* Percent Daily Values are based on a 2000 calorie diet.
Nutrition Facts
Conclusion
In conclusion, with these ingredients and their shown options, you can make your own white bread in a bread machine. Try out the different options to find the one that you like the best. My preferred options are mentioned in the recipe so, your have a good starting point for a great default white bread recipe.
Regarding nutritional benefits of homemade bread versus store bought bread, read the article.
Now, enjoy a fresh, homemade loaf of white bread that you made yourself. Finally, you can control what goes in your bread. And, you can control what goes in your pizza dough also using the bread maker.