Salad With Romaine Lettuce
This salad with Romaine lettuce recipe is extremely easy and quick to make. There are several options shown for additional items if a heartier salad is desired.
Ingredients
½

head

Romaine Lettuce

1

cup

shredded carrots

or ½ qty of diced carrots

2

stalks

celery

diced

3

tbsp

Mrs. Dash

⅓

cup

Sunflower Seeds

salted
Notes
This salad is good with any type of salad dressing with common preferences being like Italian, 1000 Island, Balsamic Italian, Ranch, and so on.
Nutrition
Calories:
94
kcal
|
Carbohydrates:
8
g
|
Protein:
4
g
|
Fat:
6
g
|
Saturated Fat:
1
g
|
Polyunsaturated Fat:
3
g
|
Monounsaturated Fat:
2
g
|
Sodium:
2596
mg
|
Potassium:
420
mg
|
Fiber:
4
g
|
Sugar:
3
g
|
Vitamin A:
12257
IU
|
Vitamin C:
6
mg
|
Calcium:
53
mg
|
Iron:
1
mg
SOURCE
DarnGoodRecipes.com™
---
---
Salad with Romaine Lettuce
Any salad with Romaine lettuce and these suggested ingredients will be noticeably better than a plain iceberg lettuce salad. The Romaine lettuce offers the soft texture from the dark green leafy end, while the base side offers its crunchy experience. It's nutritional value is well above just good. Read more from a dietician's article on Eating Well. The article is titled "Is Romaine Lettuce Healthy?". Also, big on the healthy aspects, is an article from the World's Healthiest Foods organization here on Romaine Lettuce.
Salad Recipe with Romaine
In this salad with Romaine, these particular vegetable additions work together exceptionally well for their crunchy texture as well as their nutrients offered. The Mrs. Dash makes it easier for adding in the right balance of added seasonings for that great flavor not usually found in a regular salad.
And topping the salad off with Sunflower Seeds gives it a meaty impact. Not everyone wants those seeds so it's shown as an option to be left out of the main salad serving bowl and is suited for individual preferences during serving time.
---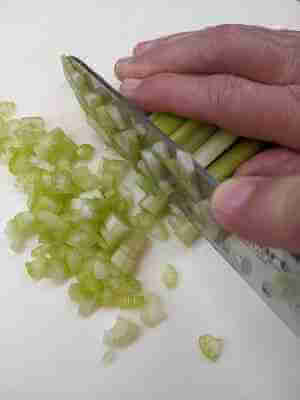 ---
Romaine Salad Recipe Ideas
Here are some other ideas for additional items. These items to be added are intended as individual collections of items that can be successfully added to the pre-existing recipe. Adding more than one bulleted collection is not a consideration to pursue, as the result has not been confirmed as being a favorable mix. Also, all additions are considered without Sunflower Seeds being added; however, that remains as an option to retain, if desired.
Add 20 Spanish green olives
Add 3 diced green onions, 2/3 cup Feta Cheese, 1/3 cup sliced/diced black olives
Add 1-1/2 diced fresh tomato
Add 1-1/2 diced fresh tomato, 1/2 cup shredded cheddar cheese
Add 1-1/2 diced fresh tomato, 8 slices of (diced) salami, 5 slices of (diced) Provolone cheese
Add 1-1/2 diced fresh tomato, 1/3 cup grated Parmesan cheese, 1 tsp ground black pepper
For a Chef's Salad: Add 8 slices of (diced) deli ham, 2/3 cup of cubed cheddar cheese, 1-1/2 diced fresh tomato, optional 3 diced hard-boiled eggs, 1/2 tsp salt, 3/4 tsp ground black pepper
Add 8 slices (crumpled) cooked bacon, 1-1/2 diced fresh tomato. Instead of any dressing, use 3 tbsp. Mayo and 3 tbsp. Sour Cream. Optionally, add any croutons.
Here's a Green Salad Recipe that has no added ingredients beyond Blue Cheese. It uses Romaine Lettuce and Spinach Leaves.
---
After this Salad with Romaine Lettuce, other popular salads are also shown.
---