About this Recipe for Chicken Fajitas on the Grill
Any boneless chicken is good for this chicken fajitas grill recipe. This explains further details regarding how to make the chicken fajitas on grill recipe. It's easily cooked on a grill outside or inside. And, it can be cooked in a skillet on your stove or by your broiler in the oven, if you choose. This recipe focuses on being cooked from a grill outdoors and its instructions are clearly defined. You can prepare and cook the chicken whole or sliced into chicken strips, as shown in the recipe.
Jump to Recipe
---
---
---
Recipe for Chicken Fajitas on the Grill
This is the authentic chicken fajitas grill recipe – fajitas de pollo Mexicanas. It has natural flavors that meld together perfectly. You'll serve it either as a main course or on a tortilla as a sandwich.
Equipment
1 Perforated Grilling Pan Optionally used for chicken (only needed if you made chicken strips). You can cook vegetables in this or in a regular pan.
Ingredients
Chicken Fajitas MARINADE Recipe
MAIN INGREDIENTS
2

lbs.

Chicken Breasts, boneless

2

peppers

Bell Peppers

Cut into at least 8 strips each. Discard inner contents and seeds.

1½

large

sweet onions

Cut into 1-inch wide ring sections; then halved.

10

each

Tortillas, white flour

small 6-7-inch. These are the white flour, soft ones.
OPTIONAL COMMON ADD-ONS per Tortilla
Instructions
PREPARING Meat, Vegetables, and Marinade
Choose only 1 of the following methods (method 2 is the easiest and quickest):Method 1: With the whole chicken breast, cut 3-4 deep cross-sectional slits (halfway deep) on each piece. Method 2: Cut the chicken breast(s) into long strips about ¼-inch thick all around (like French fries).

2 lbs. Chicken Breasts, boneless

Add the chicken, bell pepper, and onion pieces into a bowl or plastic food bag.

2 peppers Bell Peppers,

1½ large sweet onions

Add the marinade ingredients to the meat and vegetables. After all are added, mix well together to combine everything.

⅔ cup lime juice,

¼ cup olive oil,

¼ cup cilantro,

2 tbsp honey,

2 tsp ground cumin,

1 tsp paprika,

1 tbsp chili powder,

1 tsp onion powder,

1 tbsp minced garlic

Cover the bowl or seal the bag closed and place it in the refrigerator. Let it set for 45 minutes to overnight. If cooking soon, go ahead and consider when to start to preheat the grill.
GRILLING the Meat and Vegetables
Discard the marinade.

Place the chicken pieces on direct heat of the preheated grill. If you had cut the raw chicken into strips, you'll need a perforated grilling pan. Flip it over once after about ½ to 1-minute each side to sear it. It might flame up initially due to the oil. Move meat to indirect heat and finish cooking (well done) with a closed grill cover. It usually takes about 15-35 more minutes (strips vs whole meat). Grill temp can be about 375-450°F. If less, it may take longer to cook.

When the chicken is done (165°F), set it aside for about 10 minutes before carving.

While the meat is set aside, you can now cook the marinated vegetables.

Cook the vegetables for about 5-ish minutes on direct heat at a medium high temperature. It will flame up temporarily. Consider using a perforated grill pan (or cook them on a burner in a regular fry pan or skillet).

When done cooking, bring in the chicken and vegetables. If you cooked whole breasts, slice the meat into strips about ¼-inch thick each. Cut long-wise this time. Because of the previous cross-sectional cuts, some strips will be short or fall apart, which is expected.

If having sandwiches, the soft tortillas should be slightly warmed (consider 30-45 seconds for all in microwave) Fajitas are now ready for serving! Choose one of the following 2 methods.

SERVING METHOD 1: Build the Fajitas as Sandwiches

Here's the recommended sequence of items to go onto each tortilla. All add-ons are optional.

– guacamole and sour cream are spread across the center of a tortilla.

– 1 or 2 full-length (equivalent pieces) chicken strips

– Pico de Gallo mixture

– Vegetables (onions, 2 bell pepper strips)

– Shredded Cheddar Cheese

Then, fold (or roll up like a burrito) and enjoy!

2 lbs. Chicken Breasts, boneless,

2 peppers Bell Peppers,

1½ large sweet onions,

10 each Tortillas, white flour,

1 Tbsp. Guacamole,

2 Tbsp. Pico de Gallo,

1 tbsp. sour cream,

1 Tbsp. shredded cheddar cheese

SERVING METHOD 2: Serve Fajitas as self-serve Main Course

In this serving method, you will serve the chicken mixed in with the grilled peppers and onions. Also, add in the Pico de Gallo (1¼ cups per 2 lbs chicken) all mixed together from a large salad serving bowl. Everyone makes their own from out of this bowl and the side dishes described next.

These bulk self-serve side items are as follows:.

– Sour cream (is thinned with cream, half-and-half, or milk to make it as a sauce consistency)

– Guacamole (as an optional ingredient or topper for individuals)

– Shredded cheddar cheese (as an optional topper for individuals)

– Tortilla chips

– Salsa as a chip dip

– Warmed flour Tortillas (for those who choose to make a sandwich).

2 lbs. Chicken Breasts, boneless,

2 peppers Bell Peppers,

1½ large sweet onions,

1 Tbsp. Guacamole,

2 Tbsp. Pico de Gallo,

1 Tbsp. shredded cheddar cheese
WHAT TO SERVE WITH FAJITAS
Serve tortilla chips with salsa as a side. Also Mexican rice, black beans, refried beans, and black bean soup are very good optional sides.
Notes
To make sour cream easier to use for guests, you can optionally place some in a separate serving dish and add in some half-and-half or milk to make it like a thick sauce (or dressing).  Actually, there's a traditional cream sauce called "Mexican crema" and this was a way to achieve that.
Nutrition
Calories:
205
kcal
|
Carbohydrates:
11
g
|
Protein:
21
g
|
Fat:
9
g
|
Saturated Fat:
2
g
|
Polyunsaturated Fat:
1
g
|
Monounsaturated Fat:
5
g
|
Trans Fat:
1
g
|
Cholesterol:
60
mg
|
Sodium:
156
mg
|
Potassium:
462
mg
|
Fiber:
1
g
|
Sugar:
7
g
|
Vitamin A:
445
IU
|
Vitamin C:
9
mg
|
Calcium:
40
mg
|
Iron:
1
mg
SOURCE
DarnGoodRecipes.com™
---
What are Chicken Fajitas?
Chicken Fajitas are more of a Tex-Mex cuisine actually. It's a combination of grilled marinated chicken, onions, and bell peppers. It's served on a warmed flour tortilla along with a few add-ons like a guacamole, pico-de-gallo, soured milky cream. The marinade has a lot of particular spices but they are covered in the chicken fajitas marinade recipe under its own grouping in the primary recipe.
When shopping for ingredients, this recipe calls for 2 specialty items and we have those recipes as well. They are Pico de Gallo and Guacamole. Feel free to get those at the store initially and then later graduate up to making your own. Also, the traditional item for sour cream is actually Mexican crema.
Fajitas de Pollo Mexicanas
That's Mexican Fajitas of Chicken. The traditional, more authentic dish is to serve the main course from a large serving bowl and everyone digs in. The normal add-ons are either mixed in with the chicken or they're set aside as individualized options. Usually, the bell peppers and onions are mixed in with the chicken. Sometimes, as in this recipe, the Pico-de-Gallo is mixed in as well. The others are considered very optional to individuals so they're set as side bulk dishes for everyone's choosing. One of them is the Mexican Crema, which is a thinned version of our sour cream.
How to make Mexican Crema
In our recipe, we use sour cream. So, sour cream is very thick and the authentic thing is to spoon some of the Mexican crema onto your fajita. To achieve this, if you choose to make it, you just get some of your sour cream and mix in some milk, half-and-half, or cream. You do just enough to make it more of a sauce, or dressing. That's it!
Chicken Fajitas Marinade Recipe
This chicken fajitas marinade recipe is easy to make by just adding about 9 ingredients into the chicken. Following the recipe guides you into what quantities of each are to be used. Some important ingredients you can't do without are the cilantro, lime juice, chili powder, and cumin. Those 4 give it the distinctive flavor minimally required. The other ingredients meld everything together to create the ultimate fajita flavor.
Chicken Fajitas Calories and Nutrition
Here is the nutritional label for chicken fajitas calories and other values.
Nutrition Facts
Recipe for Chicken Fajitas on the Grill
Amount per Serving
% Daily Value*
* Percent Daily Values are based on a 2000 calorie diet.
Chicken Fajitas Dinner
When you want to serve a chicken fajitas dinner, you'll want to consider the same recipe for chicken fajitas but will also include some side dishes. The absolute easiest and quickest is to serve tortilla chips with salsa on the side. Also Mexican rice, black beans, refried beans, and black bean soup are very good optional sides.
---
A Visual Overview of Recipe for Chicken Fajitas on the Grill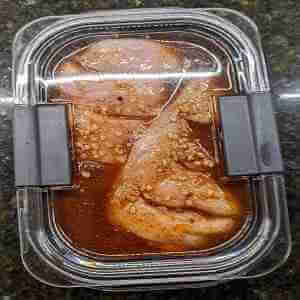 ---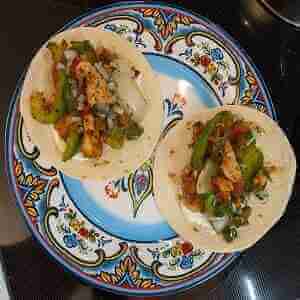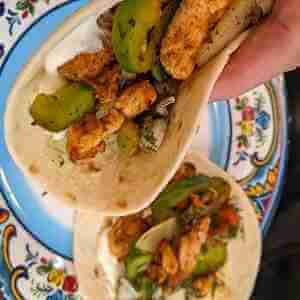 ---
When is the Chicken Safely Cooked?
Basically, it's about the innermost temp and how long it maintains that temp. We commonly look for 165°F for chicken white meat and 175°F for dark meat. The dark meat higher temp is only due to desired tenderness results. There's a good ThermoBlog article to explain that further. Read here about Safe Chicken Temperatures.
Other Good Chicken Recipes
---
---
Outdoor Grills
When you're grilling, e.g., chicken fajitas, there will be a time one day where you're going to consider a grill replacement. We did a ton of research and found the best methods for you to consider for locating one best suited to you. Here's our article on the best BBQ grills of today. It includes lists and links to the top selling ones, reviews, and most popular brands of today. And it covers a broad spectrum of cooking heat sources such as gas, electric, charcoal, and pellets. It covers regular covered grills and smokers as well as the favored Kamado grills.
---
Concluding With Other Related Recipes
You'll discover that once you make all of this recipe in its entirety, you might also want to make the steak fajitas on grill, if you haven't already. And, when you're done with grilling fajitas beef, check out this great Ribeye Steak recipe on the grill that uses a great steak marinade. And for lots of veggies with meat, try this super Shish Kabobs on the Grill recipe or an authentic Greek Gyro Chicken some time.
---