How to Make Baked Cheesecake EASY
This is how to make baked cheesecake in EASY steps. Gourmet flavor like Cheesecake Factory. 10 minutes prep.
How to Make Baked Cheesecake
After a sizable number of differences made over the decades, this is the best way of how to make baked cheesecake. It is unbeatable and full of flavor. This cheesecake easy recipe is comparable to fine servings from the Atlanta Cheesecake Factory (we lived in Atlanta for 20 years). This is a true gourmet recipe without the difficulty. It is hands down, a simple make-and-bake recipe and is significant in taste.
This homemade cheesecake only takes 10 minutes to prepare. Then, you bake and let it set in fridge. Very easy and gourmet taste. See the site article for variations!
Recipe for Cheesecake with Philadelphia Cream Cheese
This homemade cheesecake only takes 10 minutes to prepare. Then, you bake and let it set in fridge. Very easy and gourmet taste. See the site article for variations!
Ingredients 
16

oz.

Philadelphia cream cheese

softened (1 brick = 8 ozs.)

½

cup

sugar

½

tsp.

vanilla extract

or double amt vanilla flavoring

2

large

eggs

1½

tbsp.

lime juice

1

each

Keebler ready made graham cracker crumb crust

6-oz = 9-inch size
SOURCE
DarnGoodRecipes.com™
How to Make Cheesecake with Graham Cracker Crust
You definitely want to save time and retain flavor by using a Keebler Ready Crust (a Graham Crust). They have changed how they're marked so you'll want to be careful about picking up the wrong size or type. The brands are similar among all of them so, variations of what type you're getting can be way off. For example, some brands also make a low-fat, low-sugar, and other kinds. Regarding the size, some brands will not display the number of inches in diameter any more. So, you'll have to go by the ounces. In this recipe, the ounces and the inches are mentioned so you'll be able to know exactly what size to use.
---
---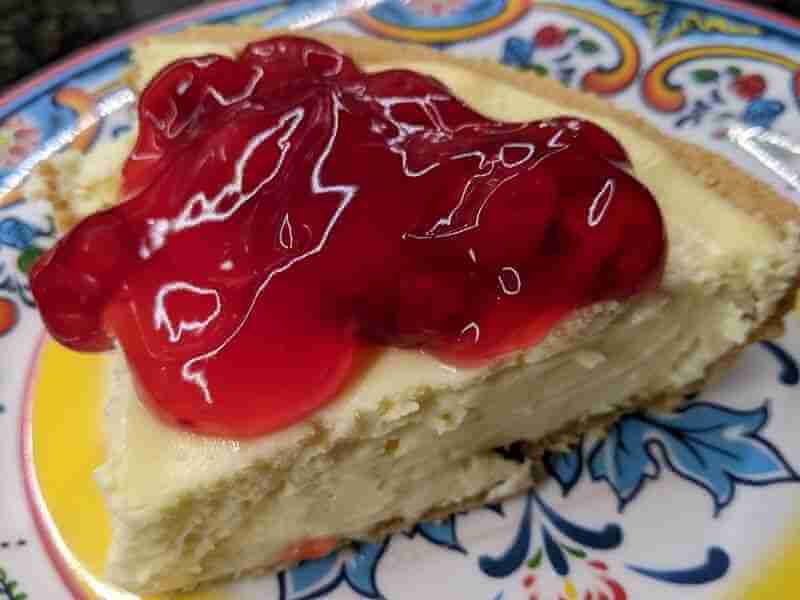 Homemade Cheesecake with Cream Cheese
This recipe is how to make cheesecake with cream cheese. In following the ingredients, you'll find it's an excellent recipe for cheesecake with Philadelphia Cream Cheese.
You'll absolutely need to soften the cream cheese prior to blending it with a mixer. This ensures that everything is blended and distributed evenly together. If you use a microwave to soften it up, don't forget to remove it from its metallic wrapping first! It works easier if you put it in a small bowl with a paper towel as a covering. If you don't use a microwave, you can set the wrapped cheese cake block in a pan of hot water for about 10 minutes. Just ensure it's off the burner and not left in it too long.
After baking, how long does cheesecake need to set? After it's baked, you can sit out for about 15-30 minutes before placing in the fridge for about 2-3 hours. It can be sliced in about 1-1/2 to 2 hours but it won't yet be cool enough for some.
---
---
How to Make Different Cheesecake Variations
Recipe for Cherry Cheesecake
The recipe for cherry cheesecake is actually the example given in this recipe above. You can apply the cherry topping as shown.
How to Make Lime Cheesecake
How Much Lime Juice for Lime Cheesecake
For how to make lime cheesecake, just double the amount of lime juice that's called for. It's very easy, as the default recipe has just a hint of lime. If you're wanting a stronger lime flavor, it's best not to exceed 3 times the amount of lime. Two times the original recipe quantity of lime juice is commonly plenty.
Topping for Lime Cheesecake
Skip any fruit topping. Instead, you can optionally decorate the top with an outer ring of 8 evenly spaced, thinly sliced lime circles. This coincidentally defines the slice sizes to make so that each serving will have a centered lime circle as a more personalized décor. Lime Cheesecake does do real well with a small squirt of whipped cream topping per serving. It helps soften the tartness by adding a creamy melding of flavor.
And, if you're serving larger slices, just use 6 lime circles. It's just a light-hearted example of applying the food management principle of where "less is more".
Strawberry Cheesecake Recipe Easy
You have 3 various options (or a combination of them) to make your strawberry cheesecake recipe easy. Here they are:
After making the above cheesecake recipe, the only topping you have can be freshly sliced strawberries (no sugar added). You can then drizzle just a slight bit of chocolate syrup over the strawberries topper.
You can mash up about 8 fresh strawberries (top stem caps removed) and add them into the cheesecake recipe along with the cream cheese. Then, the only topping can be freshly slice strawberries.
You can make your topping be the canned strawberry topping. Then, apply a good squirt of whipped cream atop each served slice.
There is an ultimate major variation you can make for a change to the strawberry cheesecake recipe. And that is to use an Oreo pie crust instead of graham cracker. They're readily available. Just ensure you use the correct size of 9-inch = 6 ounces.
Nutritional Values of This Cheesecake
Nutrition Facts
Recipe for Cheesecake with Philadelphia Cream Cheese
Amount per Serving
% Daily Value*
* Percent Daily Values are based on a 2000 calorie diet.
Nutrition Facts
Conclusion
In conclusion, this simple bake cheesecake is a delicious dessert that can be made easily at home with just a few ingredients. There are many different variations of cheesecake, so you can actually choose your favorite toppings or have it plain. Whether you prefer fruit or chocolate, there is a cheesecake for you. Definitely make for Thanksgiving or Christmas dinners alongside this Turkey Recipe in Oven.
Learn more about how cheese is made.
Another comparable easy dessert that tastes gourmet, is our Pecan Pie recipe, which uses no corn syrup!