How Do You Make Chili Dogs
How do you make Chili Dogs good and easy like the fast food restaurants? Make Chili Cheese Dogs in 10 minutes…
How To Make Chili Dogs Easy Recipe
The most simple way is to cook the hot dog in a microwave for 45 seconds, put it on a bun, and pour some heated canned chili over it. Done. Want more options and want it to be super good? Read on.
How to Make Good Chili Dogs
There are a ton of ways to make a good chili dog and there's a simple process. You have 3 key tasks to perform in order. They are:
Select and cook the hot dogs and chili.
Prepare the buns and add a few ingredients on them.
Add the hot dogs, chili, and key toppings to the buns.
Let's cover all of these and you'll see the different ways to handle each area, as you choose.
1. Select and Cook the Hot Dogs & Chili
Select the Hot Dogs
Selecting your hot dog has a lot of variety. You might choose a hot dog that's named a wiener, frank, or hot dog. Or, you might get something a bit more fancy like a quarter pounder all-beef hot dog, bratwurst, kielbasa, or something kosher. Whatever you choose, be sure they're fully cooked.
Select the Chili
We have tried many kinds of chili for hot dogs and regular Hormel Chili is our preferred choice. We usually get the kind with beans but you can also use a chili without beans. Some will choose to make their own. Others might choose to make or buy a specific Coney sauce to use instead of chili.
Cooking the Hot Dogs & Heating the Chili
The common hot dogs, franks, and wieners, are generally ready-to-eat so you're just heating them up. Here are a few different ways to cook/heat them up.
Microwave them (wrapped in paper towels). Usually, it's about 45 seconds for 1 or 2 and about 60 seconds for 3-4.
Boil them in water. Doesn't take long and you can put them in the water while it's heating up. You want to remove them from the water to manage any over expanding and splitting of the hot dogs.
Broil them in an oven for about 1-2 minutes, roll them and repeat.
Grill the hot dogs on a grill or in a skillet with oil on medium heat. You roll them around a bit to gradually brown them. There may be some blackening but that's okay if not too much.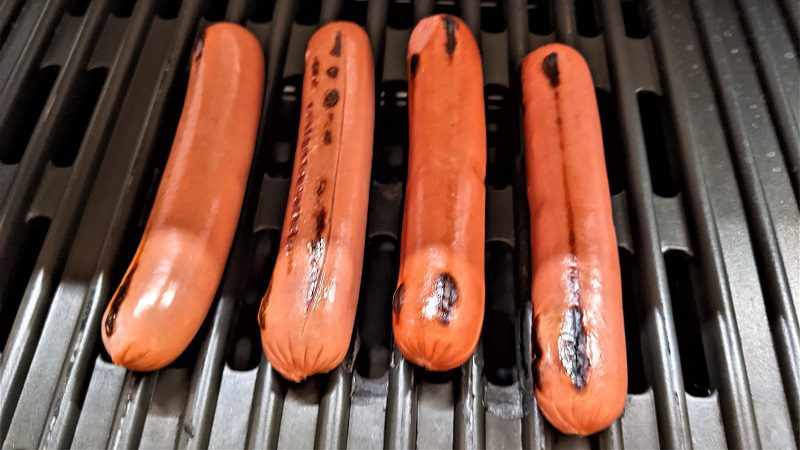 Put them into a pot of heated peanut oil (not to deep fry). Yes, you heat the oil up and drop the burner down to medium low for maintaining. Takes about 3-5 minutes. Then, you add the dogs for about another 7-10 minutes. Make sure they're not sizzling. The oil temp can be around 200 degrees Fahrenheit.

The idea is you don't want the oil too hot, as you're not deep frying them. When you remove them, the oil will drain off. The dogs won't get plump. The benefit is that the hot dog nutrients don't spill out and they don't swell up and split, like they do in water and other methods.
Dog n' Suds, Sonic, and other fast food chains have used this method for decades. Another reason is they can stay heated in the oil for up to 2-4 hours without impact.
The Chili can be just heated up in a small pot on medium heat, scraping the bottom, and later reduce to simmer. Sometimes, we will put it in a bowl, cover with a paper towel, and microwave it on a reheat cycle. You can optionally spice up the chili a bit more by adding in some browned ground beef.
2. Prepare the Hot Dog Buns and Ingredients
Here is a variety of ways to prepare your hot dog bun.
Do nothing. This is best when you're in a hurry.
Wrap the buns fully in paper towels (or cloth) and microwave them briefly to soften & warm them up. 2 buns for 15 seconds, for example.
Open each one up and toast them.
Open each one up and brush some melted butter (or olive oil) on the inside surfaces. Then, sprinkle a little garlic powder on each. Finish by lightly grilling them (face down) in a skillet or broiler oven (not in a pop-up toaster).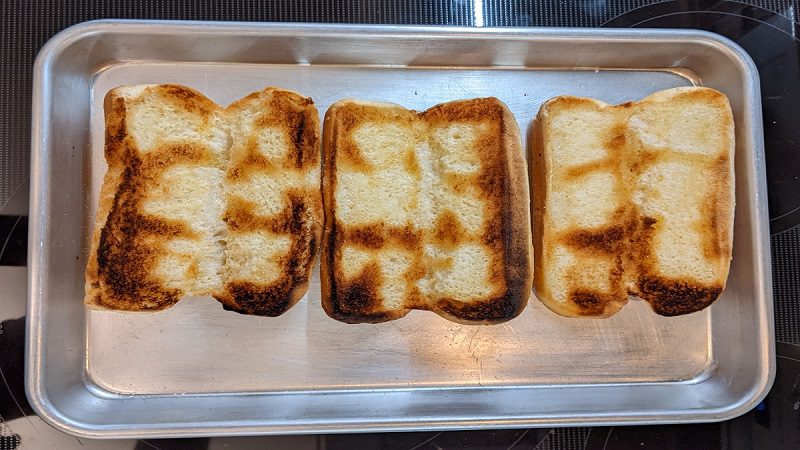 Some people will optionally want to put some ingredients on the bun before the hot dog. Some of those items might be some of the condiments like relish, mayo, catsup, or mustard. It's just about preference.
3. Add the Hot Dog and the Toppings
Add the hot dogs in each bun.
Usually, you'll pour over a desired amount of the heated chili at this point to cover the entire hot dog and bun. Some prefer to just pour enough across the length of the hot dog.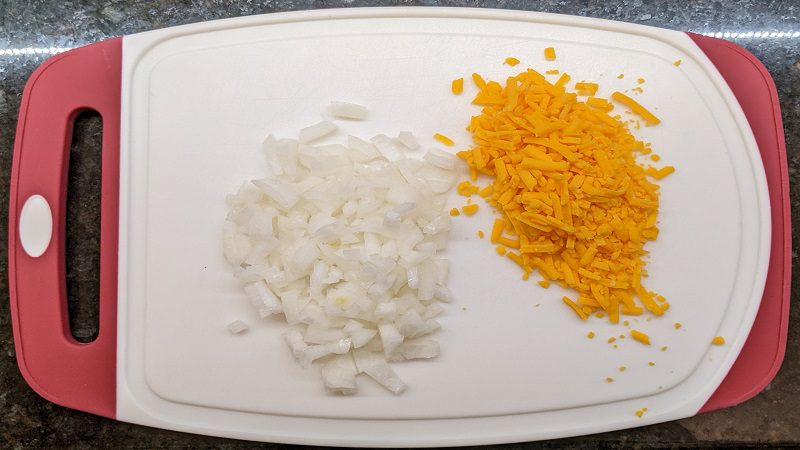 After the chili, you can now add some chopped onions, shredded cheddar cheese (or American Cheese slices, in strips), crumbled bacon, and finish with mustard.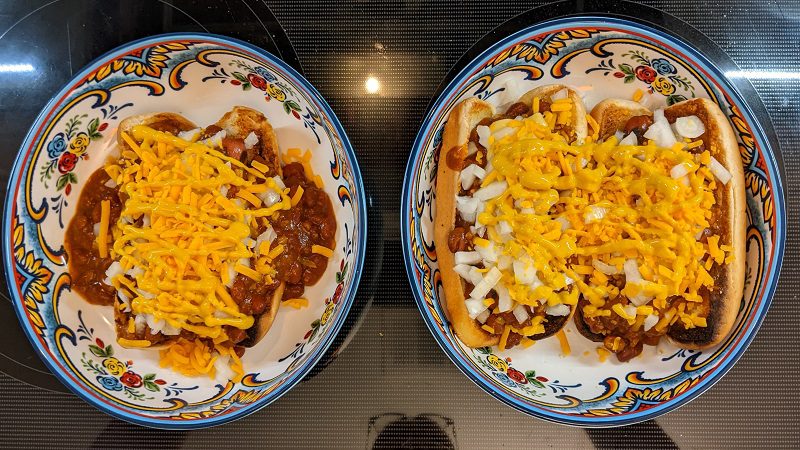 Now, to melt the cheese, you add each dish in the microwave for about 30-45 seconds.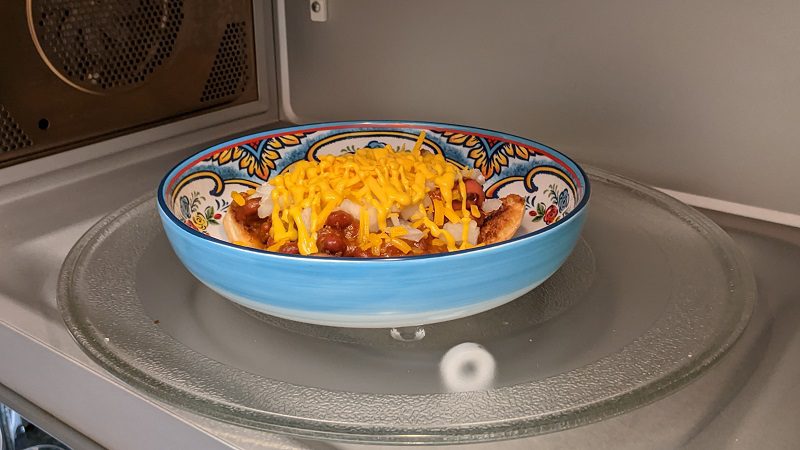 Some will then add on additional toppings such as prepared coleslaw, sauerkraut, split cherry tomatoes, roasted red bell pepper strips, and countless others.
An alternate method is to prepare the entire hot dog, bun, and toppings as individual servings laid out on a greased baking sheet. That's about 4-6 servings. You bake them for about 10 minutes in a preheated 350⁰F oven, middle shelf, uncovered.
What to Have with Chili Dogs
Hot dogs are great with all kinds of sides. Here are a few ideas.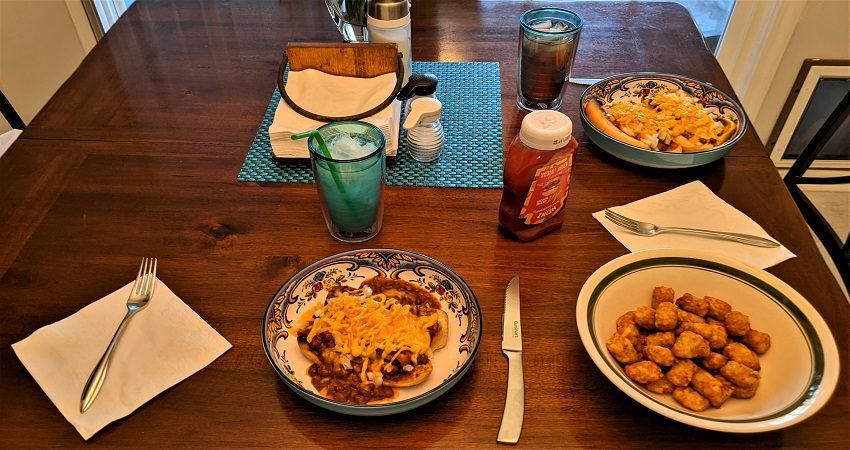 potato chips
tater tots
fries
While you're enjoying eating your chili dogs meal, you can read more about National Chili Dog Day on the Hot Dog Organization's site.
Conclusion
Now you've seen all the organized ways of cooking and preparing chili dogs. You've just read of the many different ways of cooking the hot dogs, their buns, and a great variety of toppings and side dishes to have with them. Add the chili dog and side dish items to your grocery list and plan on making them!