Recipe for Shish Kabobs
This flavorful chicken or beef recipe for shish kabobs on the grill or oven will answer your most detailed questions.
Overview of this Recipe for Shish Kabobs
This particular recipe has been perfected over a 15 year period. It's very flexible in that it can use any of 3 meat types: chicken, pork, or beef. This recipe is great for shish kabobs on charcoal grills, shish kabobs on gas grills, and shish kabobs in the oven.
This fantastic seasoned shish kabob recipe will answer your most detailed questions about how to cook them on the grill or in the oven.
The pictures show on the grill but the recipe shows how to cook on the grill or broiled in the oven. There is, however, an emphasis of cooking shish kabobs on the grill, as that is more to describe.
Gourmet Seasoned Shish Kabobs on the Grill or Oven
This fantastic seasoned shish kabob recipe will answer your most detailed questions about how to cook them on the grill or in the oven.
Equipment
5 skewers for kabobs

12-16 inches long
Ingredients
Main Ingredients
1½

lbs.

boneless, skinless Chicken Breasts

Usually 2 breasts. Alternate options: beef or pork

2

medium

sweet onions

1

medium

Squash

green and/or yellow

½

lbs.

mushrooms

whole

2

medium

tomatoes

1

medium

bell pepper
Seasonings & Oil in a Measuring Cup
¼

cup

olive oil

or other cooking oil of your choice

3

Tbsp.

Worcestershire Sauce

1

Tbsp.

onion powder

can be heaping Tbsp.

1

Tbsp.

garlic powder

can be heaping Tbsp

2

tsp

salt

2

tsp

Ground Black Pepper

⅛

tsp

Red Cayenne Pepper
Instructions
Preparing the Meat

Cutup the meat in large chunks as illustrated. As an example in cutting sizes, for chicken, you might get about 6-8 pieces per breast. Place into a very large mixing bowl.

Either start the charcoal grill or the preheating of the oven.

Preparing the Vegetables and Skewers

If using bell peppers, cutup in 8 pieces, discarding the seeds and interior contents.

If using (yellow and/or green) squash, you can optionally peel off some of the exterior skin. Cut the squash in slices about ½ to ⅔ of an inch thick and add them into the bowl.

After removing the ends, cut the tomatoes into 4 pieces and add them into the bowl.

After peeling the onions, cut them into 4 pieces each and add them into the bowl.

If using mushrooms, rinse them off rather well and place them into the bowl.

Prepare a measuring cup with the oil and seasonings. Then, pour the mixture over the cutup food items. Toss/mix everything to become coated.

Prepare each skewer with meat and vegetables. Usually, you alternate 2 different vegetables and 1 meat chunk, and then repeat. After you've added about half the skewer, you'll want to pull them together. Leave at least 1-inch on the skewer end. As you prepare each skewer, place them onto a large (ungreased) baking sheet. This will be later inserted into the oven or carried outside to the grill.

Now, perform only 1 of the following cooking options.

Cooking Option 1: If On The GRILL

Be conscious of the skewers heat and how it retains heat. Use an oven mitt or other heat protection every time you need to turn, grab, or hold a skewer.

Initially, the skewers are placed on the hot grill (400-450°F) on direct heat for about 2 minutes to sear, turned once, and repeat. Manage any flare-ups for any needed adjustments.

Move the skewers to indirect heat for the remainder of time for about 25-30 minutes with the grill lid closed. Maintain a temp of about 350-425°F. For kettle grills, the top and bottom vents should remain open to the point of maintaining that recommended temp. Remove skewers when meat is done (can check by tearing or cutting into a piece).

Cooking Option 2: If Broiling In The OVEN

Preheat the oven broiler (make the temp around 425° to 450° Fahrenheit) and have a shelf in the middle.

Be conscious of the skewers heat and how it retains heat. Use oven mitts or other heat protection every time you need to turn, grab, or hold a skewer.

About every 3-5 minutes, turn the skewers so a different side is facing the top heat. This may be repeated about 4-6 times, until each "side" is browned or slightly browned a bit. It might take about 25-30 minutes total.

After Cooking – SERVE the Shish Kabobs

Serve the Shish Kabobs. To eat, hold the skewer tip to the plate, use a large serving fork and push off about 1/4 of the food items from the skewer end. Then, repeat the process until the skewer is emptied.
SOURCE: DarnGoodRecipes.com™
---
Meat Choices for the Shish Kabobs: Chicken, Beef, Pork
Shish Kabobs Chicken
If you use chicken, you'll want to stay with boneless chicken breasts. You also will want to remove any skin or excess fat, if present.
Shish Kabobs Beef
If you use beef, the best to use will be ribeye steak. According to butchers, that's the easiest meat to use when grilling and it remains reasonably tender. If you use another cut of beef, you'll want to tenderize it before cutting into its pieces.
Shish Kabobs Pork
If you use pork, it's open to just about any kind. The simplest is some thick boneless pork chops but any kind of a large pork should or roast will be fine.
Shish Kabobs All Vegetables
And yes, vegetarians can go meatless, as there's a wide variety of available vegetables that go super on a skewer.
Shish Kabobs Marinade
You can always opt to use a marinade for your meat. Click her for a marinade for steak, if you're using that for your shish kabobs.
FAQ about the recipe for shish kabobs
Frequent questions are answered and shish kabob grilling tips are given via the preparation and cooking instructions such as:
Use a combination of both but mostly indirect heat. As the recipe advises, you'll put them on direct heat for a brief period but mostly you'll have them on indirect heat with the grill cover in place as if you're baking them.
Do you cover the grill or leave the top open?
You cover it when cooking on indirect heat. That's the unattended time. When you're cooking directly over the heat source of your grill, you'll have the grill lid off or opened while your tending to them. Most of the time for shish kabobs will be on indirect heat with the grill lid closed and vents open.
What is the Shish Kabobs Cooking Time?
It usually takes between 25-35 minutes. The skewers, if metal, will speed up the interior cooking of the chicken or beef so, it will be surprisingly fast. The longer times are dependent on the thickness of the meat you're using, as well as the temperature of your grill or oven. Every grill and oven is different so, each time you take off the grill cover or open the oven, it takes longer to recover the heat for continued cooking. Although the oven recovers quickest.
How big do I cut the meat and vegetables?
Usually in large 1-inch size chunks. They're not intended to be bite-sized but this 1-inch size is intended to balance out the cooking time of the skewered vegetables as well.
How do I serve a skewered meal?
It's illustrated in the recipe. But, basically you use touch the plate or bowl with the skewer tip and push them off with another utensil like a serving fork. Another option is to let your guests have their own skewer but the concern is the heat of handling the skewer. Some skewers cool down enough to handle and others don't.
Can squash be included?
Yes; green/Zucchini or yellow squash are best and you want to partially or fully peel them when prepping the vegetables. Squash does good fast and sometimes tends to get a bit mushy but not as bad as tomatoes. You'll want to ensure they're cut about 3/4-inch thick.
Can shish kabobs be cooked in an oven?
Definitely, when the recipe refers to covering a grill, that's when you're baking them. When referencing direct heat on the grill, that's when you can switch over to broiling them. The actual recipe references how to cook shish kabobs from the oven.
Tips for Shish Kabobs Preparations and Cooking
Regarding some vegetables becoming too mushy on the skewers, tomatoes are the biggest culprit. If you compress the items together on the skewer, at least the softer vegetables, like tomatoes, won't fall off during the cooking process. I have experimented cooking them separately and it avoids them getting too soft. However, the loss of the melded flavor of those vegetables, alongside other items on the skewer was too great, in my opinion. So, I continue to skewer all vegetables knowing this.
Another option that a few people will do with tomatoes is they will discard the soft inner seeded part of the tomato and will only skewer on the outer thick part of the tomato (like the bell pepper).
When you add a mushroom, you'll want to skewer it down the center (through the mushroom stem). When you add an onion, some of the layers might start to fall apart, especially at the start of the piercing. You can just do your best to pierce them through the layer centers. There might be some unusable pieces that could potentially be cooked in a pan later.
For rectangular grills, both vents on one side should be open, e.g., top cover left and main charcoal cavity left side. If you're losing some noticeable heat (or air for charcoal burning), open up both sides. And, of course, if you're very familiar with how your grill handles ventilation and you have your own preferences, it's more important you go for it.
---
Summary of Visual Steps for Making Shish Kabobs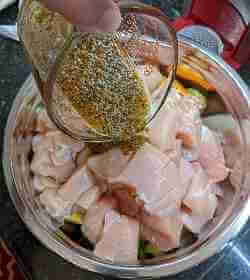 ---
Nutritional Values of Shish Kabobs
The nutritional values are shown in the <Print Recipe> option.
Conclusion
I hope this was helpful in your ventures with Shish Kabobs on the grill. Let me know how you did with your shish kabobs. Just leave a comment!
Visit DarnGoodRecipes.com™ often to see the frequently added new recipes. Try these on your grill.