Stir Fry Pork Recipe Overview
This stir fry recipe for pork is a great addition to your dinner menu collection. Its steps for preparations and cooking are spelled out in a time-saving manner and is very easy to follow. There are two aspects of focus regarding its ingredients. The focus is on the Pork and then the Vegetables. We cover both beginning with the pork.
This stir fry pork recipe is a great base addition to your dinner menu collection. It explains all the steps in sequence from chopping the veggies to cooking on low to finish it up for serving.
---
---
Stir Fry Pork Recipe
This stir fry pork recipe is a great base addition to your dinner menu collection. It explains all the steps in sequence from chopping the veggies to cooking on low to finish it up for serving.
Nutrition
Calories:
710
kcal
|
Carbohydrates:
40
g
|
Protein:
30
g
|
Fat:
47
g
|
Saturated Fat:
14
g
|
Polyunsaturated Fat:
9
g
|
Monounsaturated Fat:
20
g
|
Cholesterol:
109
mg
|
Sodium:
639
mg
|
Potassium:
648
mg
|
Fiber:
2
g
|
Sugar:
14
g
|
Vitamin A:
139
IU
|
Vitamin C:
18
mg
|
Calcium:
88
mg
|
Iron:
3
mg
SOURCE
DarnGoodRecipes.com™
---
Stir Fry Recipe With Pork
If you have some pork leftover from pork chops, a tenderloin, or a pork roast, you could cut up the meat and easily use those cooked pieces in this recipe. I actually use this recipe often for making good use of leftover pork. On the recipe steps, you start with cutting up the leftover pork. You only change the pork cooking step to focus on reheating the pork cubes or strips, instead of actually cooking it, and the time for that is reduced by half. There are no changes after that. There is a step you will do later where you add the cooked pork back into the pan or wok. That's where you toss in the leftover pork and it will heat up just fine during the remaining steps.
The biggest advantage is you can easily add, remove, or change out any of the vegetables. We started out this recipe with the more common kitchen vegetables that are excellent for stir fry that I use often. If you wanted it to be more Asian, here are some of the changes you could make this stir fry recipe with pork that I have also done.
---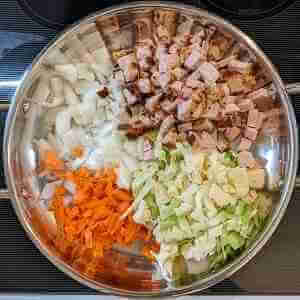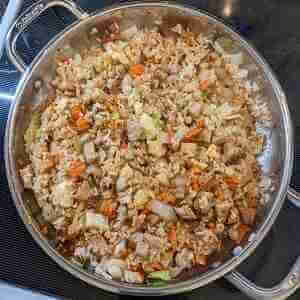 ---
Stir Fry Recipe Pork Vegetables
This stir fry recipe pork vegetables uses diced celery, shredded carrots, and chopped cabbage. If you wanted to change something out you can. In place of cabbage, you could use chopped bok choy, for example.
If you didn't have any celery or didn't want to use it, just leave it out. And, regarding the carrots, they can be shredded or diced. Also, if you wanted, you could exchange the onion for leeks instead. Be aware that leeks are a bit stronger.
And, if you wanted to add something you've had before with stir fry recipes, go with it. You could add in bean sprouts, as one example.
---
How To Make Stir Fry Pork
Here are the summarized steps used to make the best stir fry pork recipe. The recipe shows these steps in detail and includes an organized sequential order to make it for saving steps and time.
Make the white rice.
Pull out all the food ingredients.
Cut or chop the meat and vegetables for their portions needed and set aside.
When the white rice is done, stir fry the meat.
Then, add the veggies, rice, spices, and cook on low for 10 minutes.
Ready to serve your recipe for stir fry pork with vegetables.
---
About Soy Sauce and Sesame Oil
Soy Sauce: The Kikkoman Soy Sauce is very popular as a quality soy sauce for your soy sauce usage. If you cook Asian foods or stir fry often, you might want to consider getting a larger container of it to save a lot of money.
Sesame Oil: Sesame oil in fried rice is the common way to stir fry white rice. Consider getting the "roasted" or "toasted" type of oil. If it's a light color, it's usually not that kind. The roasted sesame oil is a dark brown color and it has a much more noticeable sesame flavor. Unfortunately, the containers don't always say if it's roasted (or toasted) or not.
As sesame oil is costly, it too is a consideration for a larger container of it. I've tried a lot over the past three decades from the Asian stores in Atlanta, and have ended up staying with the Kadoya brand. It's extremely cost effective and the flavor has always been consistently great. I'm in a smaller city now, so I always order it from Amazon for about the same price and still save a ton, compared to those small bottles you get from a regular grocery store. WebMD has an article here on the health topic of sesame oil.
---
---
Salads that go well with this Stir Fry Pork Recipe
---