Make The Best Baked Mac n Cheese Southern Recipe Now
This Baked Mac n Cheese Southern Recipe is a beloved comfort food that has been a staple in the South for generations. Also, this 1980s country baked casserole is a dish that can be served as a side or a main course. However, it's a part of our Sides Recipes Category.
This is real easy to make after the macaroni is cooked. It is a very gourmet tasting side dish and can also be served as the main course; it's that good.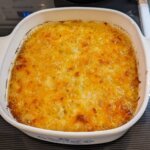 Homemade Baked Mac n Cheese Southern Ingredients
While these baked Mac n Cheese Southern recipe ingredients are listed in the recipe, this will give you more details on them when you make this mac and cheese. Also, we do have a section for various ingredients changes you can make. And we have another section for what cheeses you can substitute or change out. So, if this is your first time making baked mac and cheese, you're in for a treat as this happens to have a gourmet nature without the added work!
This recipe is listed in our Christmas Dinner Meals and Holiday Dinner Suggestions articles. You'll also see other traditional and non-traditional fun recipes for main courses, sides, appetizers, salads, and breads. Also, it's good for Thanksgiving sides.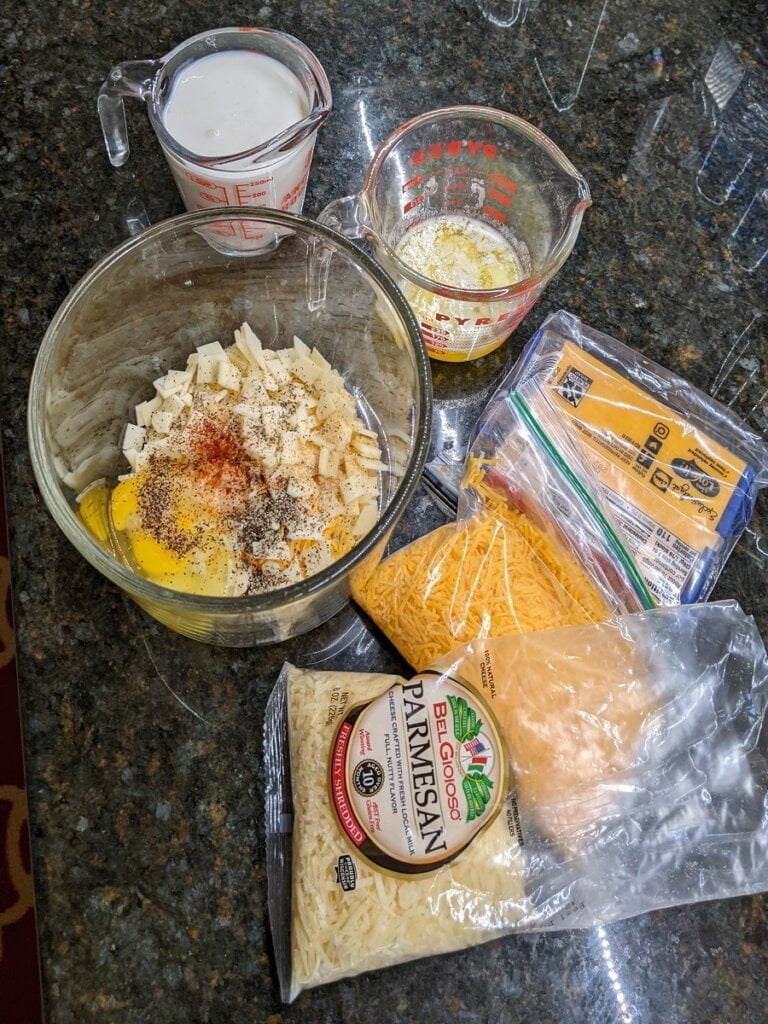 Baked Mac n Cheese Southern Ingredients with No Flour
This is a no flour baked mac n cheese Southern recipe and, therefore, it's a macaroni and cheese no roux casserole. Hurray! Also, while the focus of the cheese is the best, you don't have to warm up any cream cheese because it doesn't use it! If you've made homemade mac and cheese before where you had to make a cheese sauce, you'll discover this leaves out those steps. This is much easier to make and less to watch over so, you might make this your go to mac and cheese dish.
Best Pasta for Baked Mac n Cheese Southern Recipe
When selecting the best pasta for this baked Mac n Cheese Southern recipe, choose the classic elbow macaroni. If you're thinking of which brands, an Italian name is often a best pasta. However, most of the time, even the default store brand is just fine.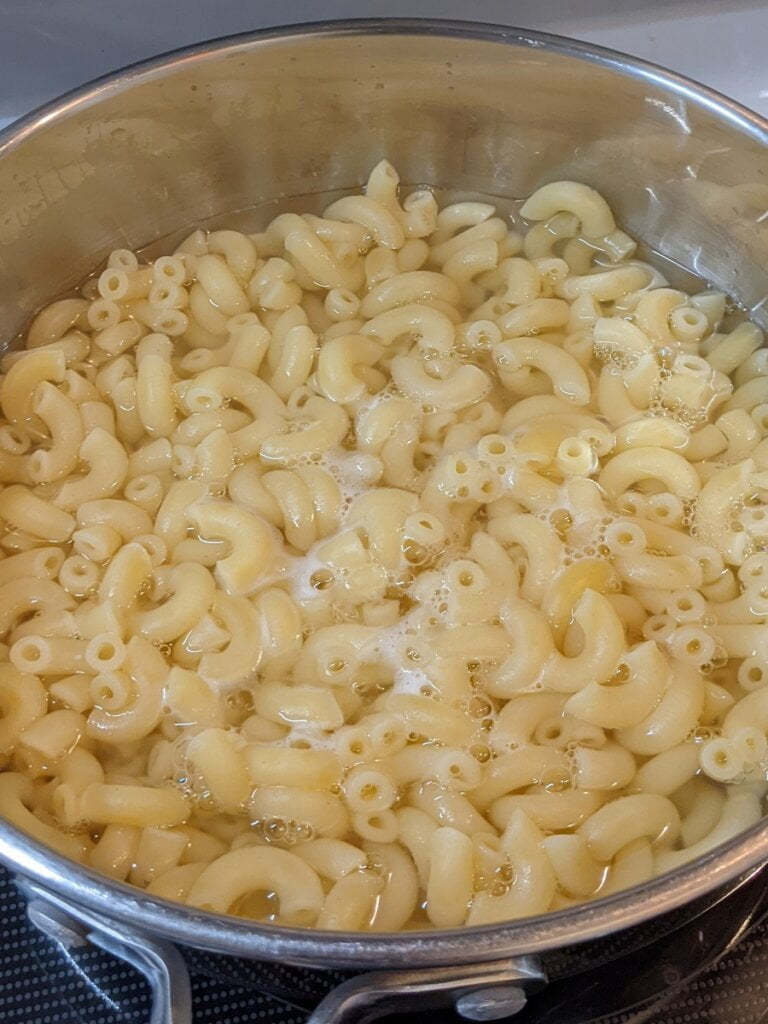 Making it more Creamy
If you need to make this recipe more creamy than it already is, you can do something that chefs do in restaurants. You can retain some of the pasta water to add into the mixing bowl with the other ingredients. Also, you can start with adding about 1/4 cup. Another thing to improve the creaminess has to do with the cheeses used. If you've substituted some, the chosen cheeses might not be naturally as creamy. Also, if you're using packaged, already shredded cheeses, that is a little reduction for creaminess.
Best Variations for Baked Mac n Cheese Southern Recipe
Here are some things you can consider adding in to your macaroni and cheese to enhance it more. However, these are individual add-ons. So, that means you might not want to include several of these additions into one casserole.
1-1//2 cups ham, diced or cubed
2 tomatoes, diced
1-1/2 tomatoes, diced and 1/4 medium, sweet onion, diced
2 cups chopped broccoli
6 slices bacon, cooked and crumbled
Cheeses for Baked Mac n Cheese Southern Recipe
Below I've listed the best Mac and Cheese CHEESES that work well for this recipe. The most common will be Cheddar, Colby, and Longhorn. Over the decades, there have been many kinds of cheeses in baked mac and cheese I've ever been served and made. Below, there are cheeses to consider as options. Also, none of these have to be a smoked cheese and any level of sharp cheeses is based on your own preference.
Cheddar cheese (sharpness based on your preferences)
Colby cheese
Longhorn cheese (this is a type of Colby)
Monterey Jack cheese
Colby-Jack cheese (is a combination of Colby and Monterey Jack)
Parmesan cheese (often found to pair up with Cheddar)
Gruyere cheese
Havarti cheese (it's mild so pair it with a stronger cheese)
American cheese (it's mild so pair it with a stronger cheese)
Asiago cheese (use very sparingly, as it's extremely strong)
Velveeta (not a cheese type but is a process of cheeses that a lot of people like; it's handy if you're out of real cheese. Doesn't pair well with any except Cheddar, American, or Parmesan)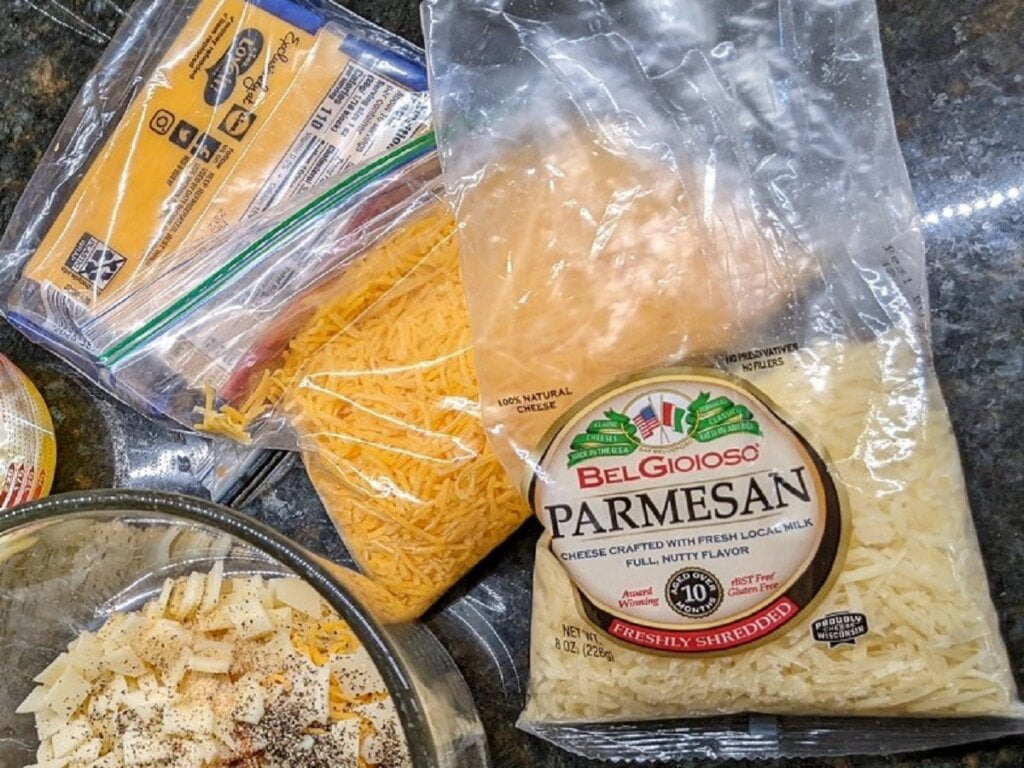 Best Cheese for Baked Mac n Cheese Southern Recipe
The best cheese for homemade Mac and Cheese is from a very specific list. However, that's if you're going to use just one cheese. And it's the best cheese for baked Mac and Cheese. Because of this, the harder cheeses are not recommended for stove-top mac n cheese. Remember, you're choosing just one. Also, from this list, it's best to choose the one that you and your family will prefer the most, which might be Velveeta, American, or Cheddar cheese.
Cheddar cheese
Colby cheese
Longhorn cheese
American cheese
Velveeta
3 Cheeses for Mac and Cheese
If you're going to use 3 cheeses for Mac and Cheese, the the top 3 will be Cheddar, Longhorn, and Parmesan. However, if you want it to taste cheesier, swap the Parmesan for Velveeta or American cheese.
What to Serve Best When You Make Mac and Cheese
It's an excellent side dish for many main courses. But, this one is an excellent alternative to rice or potatoes when serving, for example, fish, chicken, or meatloaf as a main course. So, here are a couple of those incredible main course recipes:
This Southern homemade mac n cheese recipe may also be a good complementary side to add along with this recipe for sugar snap peas.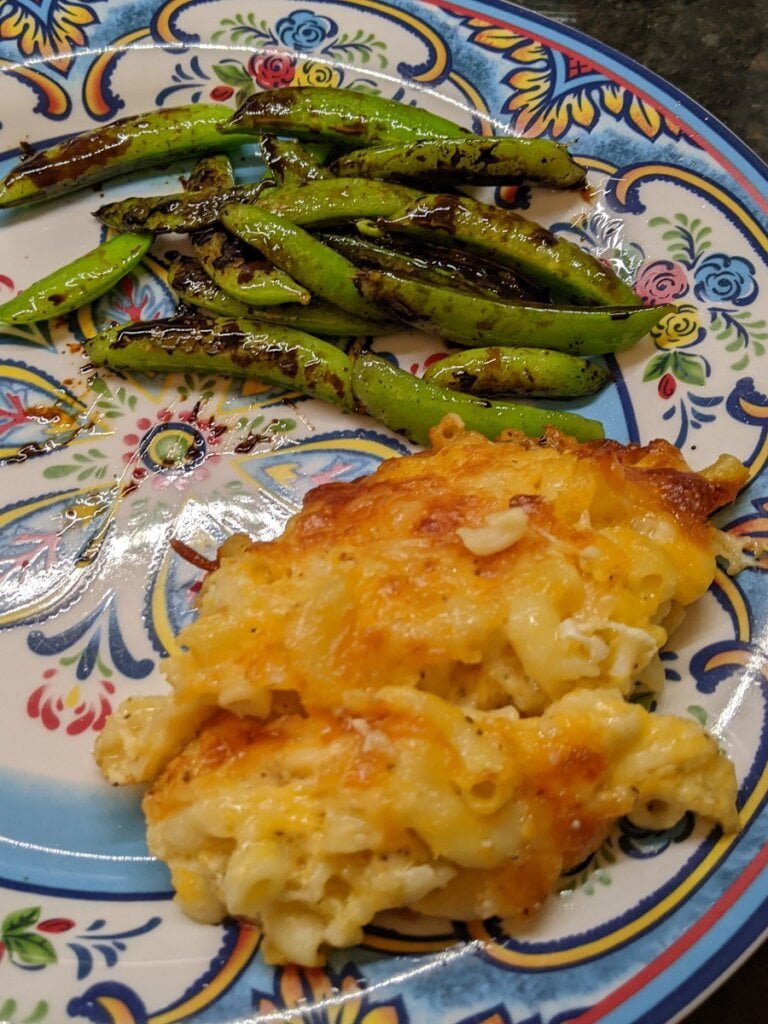 Home Made Baked Mac and Cheese FAQ
This is the best home made baked Mac and Cheese casserole. With that said, there are many popular questions like making it ahead, increasing the quantity for an event, and so on. So, here are those popular questions along with their answers.
How long is mac and cheese baked for?
A little under an hour, depending on the oven temperature. So, in this recipe, it's baked for about 50 minutes total.
Is mac and cheese baked covered or uncovered?
Both. It's baked a little more than halfway covered and then it's finalized for about 20 minutes uncovered for cooking further and also for browning the top.
Can this be made ahead and baked the next day?
Yes but only if you leave out the milk and the half-and-half until ready to bake.
Can this recipe for my family be increased?
Definitely! Just use the <Recipe Resizer> and increase it to be 1-1/2 or double the volume. As an example, I've doubled the recipe and baked it in a larger casserole dish, like a 13×9.
Can you use buttermilk in Mac and Cheese?
You can definitely use buttermilk in Mac and Cheese, as long as it's the baked recipe. The one shown below calls for buttermilk. And, in case you don't have it, this homemade macaroni and cheese Southern recipe has an alternate method using milk instead.
Mac and Cheese Calories
A serving is a little under 300 calories. More detailed nutritional values are shown in the <Print Recipe> option.
History of Macaroni and Cheese
Both Italians and English enjoyed different variations of macaroni and cheese dishes in the 14th century. In America, it's often considered as a "comfort" food. Here's some Wikipedia info on Macaroni.
Like many, I used to have made mac n cheese using Velveeta and baked it in the oven or else made the all-in-one packaged box for the pot on the stovetop. With little time left in the day for making dinner, I though both were the best mac and cheese recipes.
Then, I became deeply involved in management in the food service industry. After a few years, I began to work for Morrisons. Their delicious mac and cheese was one of the most popularly demanded side dishes in New Orleans. So, I've made this recipe slightly modified due to other Southern foods experiences and it has since remained unchanged from the 1980s.
Other Cheese Related Recipes
Conclusion: Make This Macaroni and Cheese
Make this baked macaroni and cheese casserole. Then, ensure others see it come out of the oven. They will be in awe. Buttermilk makes it a great experience for a mac n cheese dish. And the cheese combinations are the ultimate heart of this gourmet delicious mac. Plan ahead and have this baked mac n cheese recipe all the time! Finally, this side is great on a holiday as shown in our Thanksgiving Dinner Meals Ideas article.
Homemade Macaroni and Cheese Baked
This is real easy to make after the macaroni is cooked. It is a very gourmet tasting side dish and can also be served as the main course; it's that good.
Print
Pin
Rate
Recipe Resizer
Tap to reduce/increase Servings
Keep Screen Active
Ingredients
Main Ingredients
1

cup

elbow macaroni

uncooked

3

tbsp

butter

melted

1

large

egg

beaten

¼

cup

half-and-half

¾

cup

whole buttermilk

or ¾ cup regular milk and 2 tbsp. sour cream

¼

tsp

salt

½

tsp

ground black pepper

⅛

tsp

garlic powder

or double amt. minced garlic

⅛

tsp

cayenne red pepper

1½

cups

cheddar cheese

shredded or cutup small

½

cup

longhorn cheese

shredded or cutup; or Colby or Monterey Jack

¼

cup

parmesan cheese

grated or shredded; or Provolone Cheese
Topping Ingredients
½

cup

cheddar cheese

shredded
Instructions
Cook the macaroni in water first.

Prepare a greased, square (9", 2½ qt. or similar) baking casserole dish.

When macaroni is nearly cooked, preheat oven to 375° F.

Mix together all the main ingredients (except macaroni) in a medium sized mixing bowl.

When the macaroni is done, drain in a strainer, run cold water over to cool a bit, shake to strain excess water, and then fold them into the bowl's mixture. Combine thoroughly to coat macaroni.

Pour the macaroni mixture into the baking dish. Sprinkle the toppings ingredients across the macaroni mixture. Cover the baking dish with lid or foil.

Bake (covered) in center rack or a little higher for 30 minutes.

Remove cover and finish baking for 20 more minutes (or until browned on top).
Notes
Can also bake at 350°F but add 10 minutes to the uncovered baking time.
Nutrition
Calories:
289
kcal
|
Carbohydrates:
16
g
|
Protein:
13
g
|
Fat:
19
g
|
Saturated Fat:
11
g
|
Polyunsaturated Fat:
1
g
|
Monounsaturated Fat:
5
g
|
Trans Fat:
0.2
g
|
Cholesterol:
56
mg
|
Sodium:
422
mg
|
Potassium:
119
mg
|
Fiber:
1
g
|
Sugar:
2
g
|
Vitamin A:
606
IU
|
Vitamin C:
0.1
mg
|
Calcium:
333
mg
|
Iron:
0.4
mg
SOURCE: DarnGoodRecipes.com™