Best Way How To Cook Salmon In A Pan On The Stove – 15 Minutes
This is an easy recipe that shows the best way how to cook salmon in a pan on the stove in just 15 minutes. It is a healthy and easy-to-cook method providing many nutritional benefits. Also, this is part of our Seafood Recipes Category.
This method of searing and frying salmon is the fastest known method. We add some seasoning. It's also the most popular way to cook salmon.
Best Way How To Cook Salmon In A Pan On The Stove
Let's now cover the absolute fastest and best way to sear and cook salmon in a pan in 15 minutes or less. You can use a cast-iron skillet, a nonstick skillet, regular fry pan, or any of your choice. We'll also be using some oil and seasonings for the best flavorings. First, we'll briefly show the ingredients and then we'll go over the process to sear and cook the salmon.
Pan Fried Salmon Seasoning
We'll only season this fish with Mrs. Dash. You don't need any salt and pepper. We'll also use a little olive oil. That's it! Now, we're ready to start.
Steps How To Cook Salmon In A Pan On The Stove
Initially, we proceed with preparations to cook and sear the salmon. So, here are the steps to follow.
Rinse salmon and pat somewhat dry.
Apply and rub in olive oil or other vegetable oil.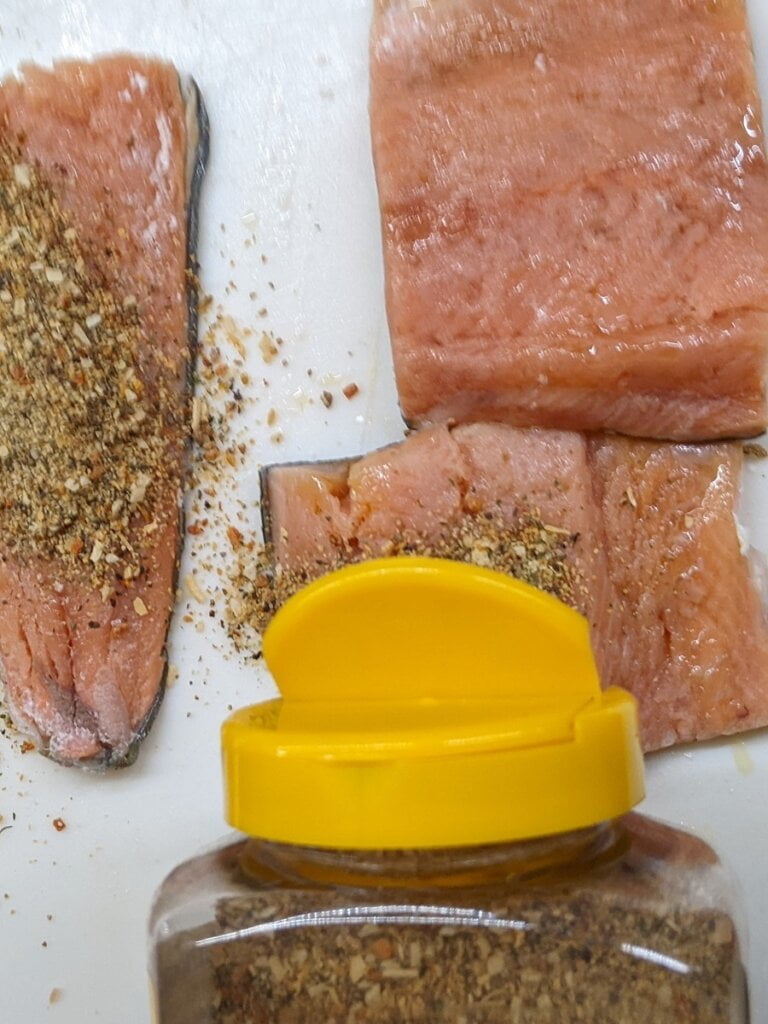 Apply and rub Mrs. Dash onto salmon.
Preheat pan with a little oil and cook salmon in a pan with skin side down for 1-2 minutes.
Turn salmon over, optionally remove skin, lower heat to medium, cover pan, and cook about 5-7 minutes or until done.
Here are more details of the previously shown pictured steps.
Right before cooking, preheat the pan or skillet over medium-high heat.
Rinse the salmon off and pat it somewhat dry with paper towels. Press inward to soak up extra moisture.
Lightly, rub in some olive oil on both sides, including the salmon skin. You can use any other vegetable oil as an alternate to olive oil.
Rub in some Mrs. Dash to season the salmon on the skinless side.
Add just a little olive oil to the pan and place the salmon fillets skin side down. Cook initially using a higher heat to ensure it gets seared.
Using a spatula or fish spatula, flip salmon over after about 1-2 minutes, lower the heat to medium or medium-low, and cover the pan.
After about 5-7 minutes on the seasoned side, you can turn it over one more time to finish cooking the skin side.
Optionally, you can now easily remove the skin if you want to. Use a fork or tongs and it will pull off, although it might be in pieces sometimes.
How To Cook Salmon in a Pan With Skin On
When you pan-fry salmon in a skillet, you can easily cook it with skin on. There's no difference in cooking salmon with this recipe if you have or do not have skin on the fish. However, if there is skin on salmon, the recommended method is to fry the skin side FIRST.
Cook Salmon in a Pan With Skin OFF or How To Remove Salmon Skin
The recipe doesn't change how to cook salmon in a pan that has no skin when you started. However, if you have skin on the salmon and you want it off, it's very easy. To begin with, cook it first with the skin side down. After you turn it over, just scrape or pull the skin off lightly and loosely with a fork or tongs.
However, it might not always come off easily just yet. If that's the case, just wait until you cook salmon in the pan more fully. Then, it always comes off easily. After you pull the skin off, turn it over and cook that peeled side a little more. But that's only for appearance and ensuring some crispness on that side.
Time To Cook Salmon in a Pan
Salmon pan cook time depends on the thickness of the salmon and the burner's temperature. With this in mind, I recommend 5 to 7 minutes with a somewhat thick salmon of about 1/2 to 3/4-inch at the thickest part.
The times of how to cook salmon in a pan will vary, depending on the thicknesses. So, salmon is more commonly thin when bought packaged from a grocery store. If the salmon is less than 1/2-inch, then cook a shorter time like about 3 minutes per side.
Toppings for Salmon Fillet
The considerations of toppings for your salmon fillet is a small amount. Firstly, your salmon is seasoned well. So, you might consider no toppings. On the other hand, you might prefer some lemon juice as a topper. However, more commonly, tartar sauce is a popular topping for salmon. So, you can make one of our very easy homemade tartar sauce recipes. There's a very filling homemade Tartar Sauce and then there's our Dill Tartar Sauce recipes.
Good Sides for Pan Cooked Salmon
When you want to know what are some good sides for salmon fillets, it can sometimes be difficult. So, for some excellent ideas for pan fried salmon sides, here is a good starting guide. To that end, these are some popular choices and they might help in triggering your own ideas as well. Most will also have convenient links to their individual recipes.
This recipe is listed on our Christmas Dinner Meals and in our Holiday Dinner Suggestions article, where you'll also see other traditional and non-traditional fun recipes for main courses, sides, appetizers, salads, and breads.
More Related Articles
Here are several topics regarding salmon as a fish and regarding food recipes.
Nutritional Values of This Salmon Recipe
A 6-ounce service of salmon is about 365 calories. It also has about 34 grams of protein and 25 grams of fat. I show more detailed nutritional values in the <Print Recipe> option.
Conclusion
In conclusion, this how to cook salmon in a pan recipe gives you a quick seafood dinner. It's an extremely simple and fast way to cook this healthy fish. In summary, you oil the fillets, season them with Mrs. Dash, and finish by cooking in a hot pan for a few minutes per side. You'll have a delicious and nutritious meal in no time! Finally, this is a great alternative main lighter course on a holiday as shown in our Thanksgiving Dinner Meals Ideas article.
Salmon in a Pan Recipe
This method of searing and frying salmon is the fastest known method. We add some seasoning. It's also the most popular way to cook salmon.
Print
Pin
Rate
Recipe Resizer
Tap to reduce/increase Servings
Keep Screen Active
Ingredients
24

oz.

Salmon

filets skin on

2

tbsp

olive oil

for salmon

2

tbsp

olive oil

for frying pan

3

tbsp

Mrs. Dash

original
Notes
The skin side will remove easily, if desired, after turning.
The spices will create a darkened (blackened) appearance.
Nutrition
Calories:
365
kcal
|
Protein:
34
g
|
Fat:
25
g
|
Saturated Fat:
4
g
|
Polyunsaturated Fat:
6
g
|
Monounsaturated Fat:
14
g
|
Cholesterol:
94
mg
|
Sodium:
2626
mg
|
Potassium:
834
mg
|
Vitamin A:
68
IU
|
Calcium:
21
mg
|
Iron:
1
mg
SOURCE: DarnGoodRecipes.com™