Recipe for Southern Fried Fish
This low oil recipe for Southern fried fish is the absolute best, organized method of fast cooking of flavorful fish filets.
Recipe for Southern Fried Fish Introduction
Knowing how to prepare this Recipe for Southern Fried Fish is important for every cook. The secret to making this delicious is by dipping the filets in the individual bowls of egg, buttermilk, and finish with the seasoned flour & cornmeal mixture before frying it. You can, of course, use all flour or all cornmeal or any combination of the two.
This pan fried fish recipe uses the right amounts of both flour and cornmeal for an authentic Louisiana recipe for you to try. This is the perfect example of how to cook Southern fried fish. We love seafood, and any time we get the chance to make us some fish at home, it's always special! 
This Southern fried fish recipe is the best method of country cooking in the South. It uses easy, common ingredients, minimal oil, with a well-organized method to cook up quickly. Can be tilapia, swai, flounder, catfish, trout, whiting, or other preferred filet.
---
Southern Fried Fish
This Southern fried fish recipe is the best method of country cooking in the South. It uses easy, common ingredients, minimal oil, with a well-organized method to cook up quickly. Can be tilapia, swai, flounder, catfish, trout, whiting, or other preferred filet.
Ingredients 
1

lb

fish filet

6-8 ozs per filet such as tilapia, whiting, flounder, etc.

1

large

egg

beaten

1

cup

buttermilk

or substitute 1 tsp lemon juice with each cup regular milk

¼

cup

all-purpose flour

½

cup

cornmeal

yellow

1

tbsp

Old Bay seasoning

or ¼ tsp each basil & parsley flakes, ½ tsp paprika

¼

tsp

salt

⅛

tsp

Ground Black Pepper
SOURCE
DarnGoodRecipes.com™
The Process Flow to Simplify this Southern Pan Fried Fish Recipe
The recipe describes the prep process workflow but here it is explained and shown in detail. Basically, you will have 4 areas to run the fish filets through in order to end up in the frying pan. As is shown , from left to right, you'll have these areas prepared in advance to make it a very continuous method.
Fish fillets
Beaten egg(s) in a bowl
Buttermilk in a bowl
Flour-Cornmeal-Spices on a sauce
---
---
Types of Fish for Recipe for Fried Fish Filets
You have many choices fish filets to use towards this recipe for fried fish filets. We used tilapia specifically for the recipe ingredients but have also used it for other types of fish. You can use catfish, swai, flounder, trout, and white fish as just a few examples.
Recipe for Pan Frying Fish
When you use any recipe for pan fried fish filet, there will be some common questions regarding cooking. Here are some of those questions with some pretty good responses to guide you.
How long should you pan fry fish?
How long should you fry fish is always a very good question that will depend on the thickness and burner temp you use. In our example, each filet is about 1/2 pound and the burner is about medium heat. It takes about 5 to 7 minutes on each side.
What temp for cooked fish?
The best and safest way is to cook it until it's considered done based on internal temp fish is cooked. You can check the internal temperature with a food probe temp tool. The FDA recommends 145°F for fish.
You can manually check for doneness levels based on the pan fried fish flakiness. Just insert a regular fork about halfway into a thick area and gently twist it. You'll be able to tell if it separates easily and if it shows strong signs of flakiness. This is another way you know when fried fish is done and ready, based on texture.
Fried Fish Ingredients
So, fried fish ingredients involve the fish filets, seasoning, 3 containers of dunking & dredging items, and a little oil in the fry pan. That's pretty much it in a nutshell. All the ingredients are very common in the kitchen, in addition to the Old Bay Seasoning. It's setting up and following an organized process that makes it rather simple to prepare for frying in the pan.
Fried Fish Seasoning
Old Bay, salt, and pepper are going to be your classic fried fish seasonings. We use it all the time in the South. Sure, we have our individual, special sets of alternate homemade or branded seasonings. But, most of us also still have and use Old Bay. I have seen some kitchens and restaurants in New Orleans when I worked in foods management there for Morrison's Cafeterias. Everyone had Old Bay on the shelves, along with some other fancy spice mixtures for all kinds of seafoods.
Frying Fish With Cornmeal and Flour
There are most recipes for pan fried fish that will use either all flour or all cornmeal as a breading ingredient. So the challenge is making the fried fish cornmeal vs flour decision. So, the big questions is: Can you mix flour and cornmeal to fry fish? The answer is a resounding "Yes"! This recipe of pan fried fish shows you how to fry fish with flour and cornmeal. But, there are those who also want to know: Can you fry fish in flour instead of cornmeal? And others who ask: "Can you fry fish in cornmeal"? We address both in the next sections.
How to Fry Fish in Cornmeal
In response to the question of "Can you fry fish in cornmeal?", the answer is, Yes. In the shown recipe, you simply substitute all or some of the flour with cornmeal. However, some might ask how to keep cornmeal on fish when frying. Fortunately, due to the dunking that takes place before the cornmeal, it will stay on pretty good. However, to be sure, when dredging the filets in the cornmeal, ensure you apply a bit of downward pressure across the filet while in the cornmeal. This will ensure you experience a successful Southern fried fish with cornmeal.
Fried Fish Using Flour
And there are those that don't like fish in cornmeal so, you can definitely have your fried fish using flour. Just like it was mentioned in the above cornmeal section, you can reverse it. In other words, you can replace the recipe ingredient of cornmeal to use all flour instead.
Sauce for Fish Filets
---
Adding homemade tartar sauce to Country fried fish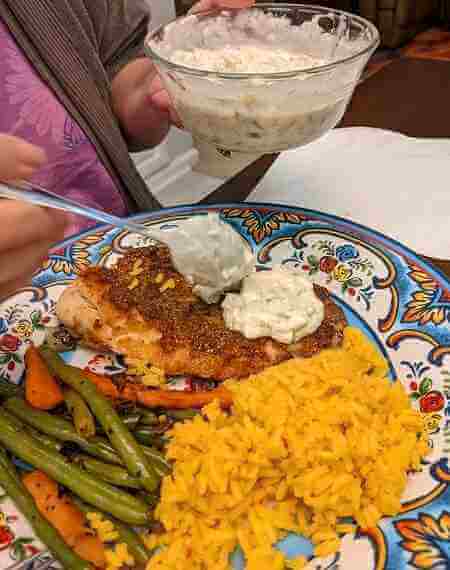 ---
Accompany this fish by making one of our homemade tartar sauce recipes.
Or, just use a mixture of 2 tsp lemon juice with 2 tablespoons of melted butter for every 2 fillets. It's a 1 tsp lemon juice for 1 tablespoon butter ratio. You can also optionally add in 1/4 tsp of dill.
Sides for Fried Fish
There are choice sides with fried fish. Not all random side dishes will pair well with filets so, here are some ideas for fried fish sides.
---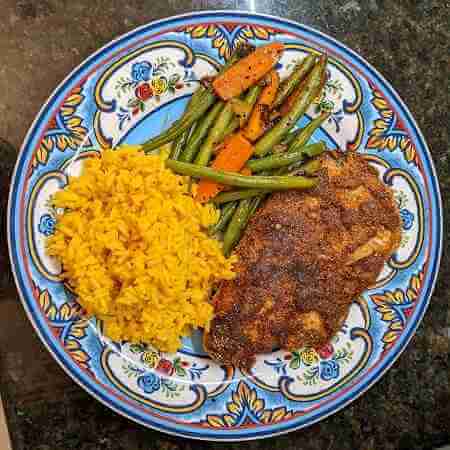 Southern Fried Fish Dinner with Saffron Rice and Green Beans
---
Ideas of Hot Sides for Fried Fish
Saffron rice
French fries
Tator Tots
hash browns
onion rings
baked beans
---
---
Ideas of Cold Sides for Fried Fish
coleslaw
jello
pineapple with cottage cheese
tomato slices
cucumber salad
potato salad
simple green salad
---
---
Nutritional Values of Fried Fish
Nutrition Facts
Southern Fried Fish
Amount per Serving
% Daily Value*
* Percent Daily Values are based on a 2000 calorie diet.
Nutrition Facts
Conclusion
In conclusion, you can learn more about tilapia, including its health benefits and nutrition. The varieties of ways you can have pan fried fish are numerous. Some options for changing the recipe for experiencing those variations were given. I hope you have a good experience in trying this recipe. I think you will find it can be a quickly prepared main course for dinner. And it does hold some health benefits as it also includes a method of minimal use of oil.