Olive Oil Dip for Bread
SIMPLE olive oil dip for bread recipe comes from restaurants experiences. Common ingredients, gourmet taste.
About Olive Oil Dip for Bread
This olive oil dip for bread recipe is an extremely tasty dipping oil for bread, like at Carrabba's Italian Restaurant. Making it is extremely easy; details are all shown in the recipe below. It uses a lot of spices; the good thing is they are commonly found in your pantry or grocery store. Also, there's info on storage and nutritional values. And, it doesn't have to be just for Italian bread.
This gourmet olive oil dip recipe for bread is incredibly flavorful and matches or exceeds those found in fine dining.  Use the Recipe <Resizer> button to scale it up or down on how many servings you want.
Olive Oil Dip Recipe for Bread
This gourmet olive oil dip recipe for bread is incredibly flavorful and matches or exceeds those found in fine dining.  Use the Recipe <Resizer> button to scale it up or down on how many servings you want.
Ingredients 
⅛

tsp

Rosemary

1

pinch

Red Cayenne Pepper

or red pepper flakes

¼

tsp

Salt

½

tsp

Ground Black Pepper

½

tsp

Oregano

½

tsp

parsley flakes

½

tsp

Garlic Powder

½

tsp

Thyme

½

tsp

Basil

¾

tsp

Lemon juice

or vinegar

¾

cup

Olive oil

Add more oil if desired.
SOURCE
DarnGoodRecipes.com™
What is Bread Dipping Oil?
When you have a loaf of French or Italian bread (for example), they are often sliced in a thick manner (like for Garlic bread or Texas toast). Then, an individual tears off part of a thick slice and dips it into their own individual dish of dipping oil. As the oil contains some spices, the flavor is melded quite well and enhances the flavor of the bread with the meal.
Best Olive Oil for Dipping Bread
The most commonly used oil is going to be Extra Virgin Olive Oil (EVOO), which is cold pressed. And that oil is going to potentially have been made in Europe, surrounding countries, and California. And, yes, some of the big grocery chains do distribute olive oils that were made there, e.g., Wal-Mart, Publix, and Kroger both have one. Just look on the label to see where it was manufactured or produced. To cap costing, I usually buy it around the 3 quart or gallon sized containers as it's significantly cheaper per ounce than the smaller bottles.
To read more about the best oil to use for dipping breads, check out the experts at OliveOil.com.
Recipe for Bread Dip with Olive Oil
You can also just make the dry ingredients amount to have a dry mix for keeping in a spice jar, a little baggie, or other container for future quick use. You can store it along with your other spices. It will be handy for having if ready for the next time you want this dip recipe for bread. For future use, just use about 1/2 tsp per serving. Add a splash of lemon juice (or vinegar), followed by the desired Olive oil amount and mix it up well. Ready to dip!
---
---
Dip Recipe for Bread
This dip recipe for bread is great for several kinds of bread. They're mentioned briefly in the next sections. Just keep reading.
Dipping Oil Recipe for Italian Bread
This dipping oil recipe for Italian bread is the perfect combination. It'll go great with any many main courses that go with Italian bread such as spaghetti, pasta with marinara, and others.
Dip for Baguette Bread
This also is a fantastic dip for Baguette bread. The crust and chewiness has both a great flavor and texture when served with any meal suitable with such bread on the side.
Use the Recipe RESIZER for Amount Adjustments
Use the Recipe <RESIZER> button to adjust the servings amounts you want to use. This example shows changing the servings to "24".
The recipe is great for entertaining. Six servings are enough for about 25-60 slices of Italian Bread or French Bread. It's a wide variance because people differ a lot for how much they use of this gourmet dipping oil and also the thicknesses of bread slices will vary.
---
What Best Breads to Use for Olive Oil Bread Dip
The classic bread to have bread dip with olive oil is Italian Bread. But, you can have it also with others like Baguettes, French Bread, or even Sub Rolls.
---
---
Dinners to Serve with Olive Oil Dip Bread Recipe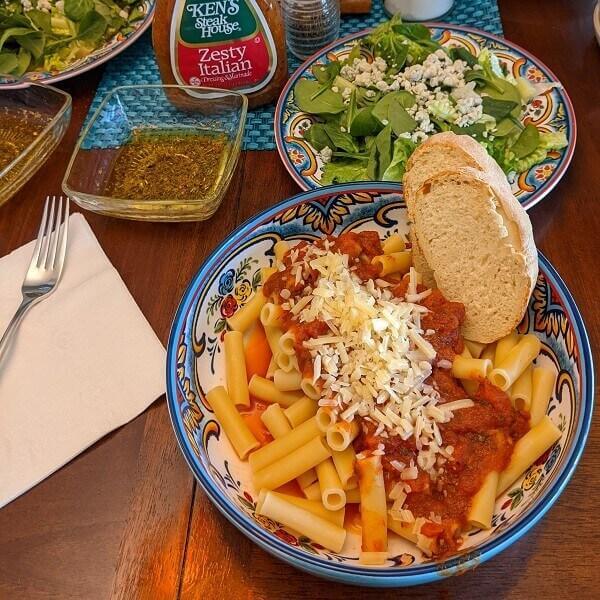 ---
Many Italian dishes, as well as other cuisines, go with having bread along with this recipe for dipping bread in olive oil. Here are some ideas:
Storage for this Italian Bread Dipping Oil Recipe
The reason for the initial quantity for this recipe is so you can make the entire bread dip mixture now, and serve it right away. In order to save an incredible amount of prep work time for future making of this recipe, go here for the larger quantity (the seasonings) that can go into a spice jar.
---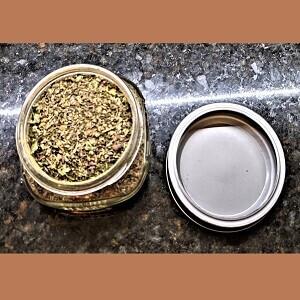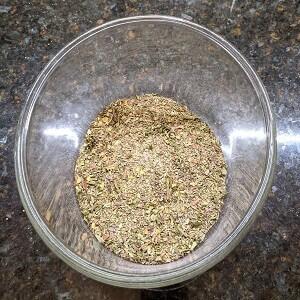 ---
Regarding storage, I've tried this countless ways over the years. Once you've added lemon juice or oil, it will need to be stored in the fridge.  When serving again, you can set it out for about 1/2 to 1 hour since room temperature is best for consistency.  With the wet ingredients added, it will keep for about 5-7 days in the fridge. The dry ingredients mix will keep as long as you generally keep dry spices. I've kept mine for about 1-2 years in a tightly sealed mason jar.
Also, after some time, there will be some settling in the spice jar you're using for storing this dry ingredients mix. So, you'll want to mix them up a bit before using again, at times.
Regarding storage of Olive oil, you'll want to ensure the container it's in is dark or opaque. For example, I store mine on the counter in darkened glass dispensers and, on the pantry shelf, as the original oil comes as large metal containers.
Nutrition of this Olive Oil Bread Dip Recipe
Here are the nutritional values regarding this recipe. Also, here's an article on the "Bioactive Compounds in Olive Oil". It's an excellent and informative explanation behind some of the particular health benefits of Olive Oil by Stephanie Eckelkamp.
Nutrition Facts
Olive Oil Dip Recipe for Bread
Amount per Serving
% Daily Value*
* Percent Daily Values are based on a 2000 calorie diet.
Nutrition Facts
Conclusion
When you make this recipe and have it with some crusty bread, you're going to cross a huge threshold that goes way beyond appetizer. It has all the popular dried herbs and spices like rosemary, basil, garlic powder, thyme, black pepper, and others. Make this restaurant-style seasoned blend, serve it with some warm artisan bread, and enjoy the compliments.
---