Homemade Yeast Rolls in Bread Machine
This recipe of Homemade Yeast Rolls in Bread Machine was written so you can make creating them much easier. We've found all the shortcuts. The process goes from bread maker to rolled out and pieced, and then into the oven. It is the ultimate dinner addition. Also see how to partially bake them for freezing for future meals, just like in your grocer's freezer section. Keep on reading below. This is part of our Bakery Recipes Category.
This recipe of Yeast Rolls for Bread Machine is the ultimate dinner addition.  See how to partially bake them for freezing for future meals, just like in your grocer's freezer section.
Best Homemade Yeast Rolls in Bread Machine
These really are the best dinner bread servings. What makes them that way? Well, for starters, they're homemade. And, the procedure to create them is simplified and more efficient with the use of a bread maker. The flavor is incredible. I've seen too many eyes light up when they're uncovered from the bread basket on the dinner table.
This recipe is listed on our Dinner Ideas for Christmas Eve article, where you'll also see other traditional and non-traditional fun recipes for main courses, sides, appetizers, salads, and breads.
Easy Yeast Dinner Buns
This is a very easy bread recipe as we've reviewed all the steps several times and have it narrowed down to the minimum. If you enable to show the instructional pictures in this recipe, you'll see how simple they are to make.
Dinner Rolls From Scratch
In the old days, making dinner baked goods from scratch was an incredible chore. Yes, in the days before the Internet, I had to make a number of dinners rolls from scratch and the only bread machine we had in the restaurant was this big, bulky mixing machine with a gigantic dough hook. And it wasn't anything on auto-pilot by any means. And, just like all dough type recipes, you had to go through many procedures of kneading the dough, letting it rest, punching it down, a little more kneading, and letting it rise again while covered. So, fortunately, all those steps are automated for making yeast rolls in a bread machine. But, we do have the few manual steps after the dough is made, and we make the individual piece servings. That's what we'll cover next.
Recipe for Yeast Dinner Buns
This recipe for Yeast Rolls for Bread Machine is easy enough to follow. You basically have 2 phases. You have the first phase of putting the ingredients for the yeast dough in the bread machine. And the second phase is how to cut and shape it into the individual servings and baking them. We'll cover both of those phases next.
Yeast Dough for Bread Machine
So, with the first phase, yeast rolls for bread machine, we start by pulling the ingredients together. And, those ingredients are designed to go in the bread maker in order. Basically, the wet ingredients go in first. The dry ingredients go in next. And the yeast goes in last.
---
And the yeast goes in last.
---
Bread Machine WET Yeast Roll Ingredients
Bread Machine DRY Yeast Roll Ingredients
As you can see, the ingredients are all simple, regular items you normally have at home for baking things from scratch. The only 2 specialized items are the bread flour and the yeast. And, if you're baking at home, you'll ensure you have those items routinely.
How to Make Dinner Rolls
So, the 2nd phase is about how to make bread rolls individually. It's here you'll handle the dough, divide it up, let them rest, and bake to finish.
---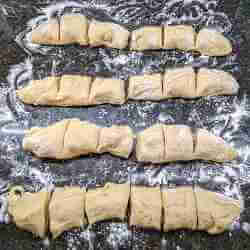 ---
After dough is done, you put it on the floured countertop.
With it being a simple dough pile, You cut it into 4 somewhat even dough chunks. Then, in order to begin to be a type of roll, you shape it into 4 loaves, and cut each one into 6 pieces.
Roll up each dough piece into a ball and put them all onto a couple of baking sheets.
Cover the dough balls for them to rise after 45 minutes and you bake them.
So, the details are covered in the actual recipe. And there are also some notes on how to par-bake (partially bake) some of them for storing in the freezer. That saves you having to make this recipe a lot of times when you might only want a handful in the future.
What Goes With Dinner Rolls?
You can serve butter and sometimes honey to be available for dinner rolls. However, what main dish goes with this kind of yeast dinner roll? Yeast Rolls don't necessarily go with all dinners, although they can go with a tremendous amount of main courses. For example, I wouldn't serve them with Fajitas, Subs, or Hamburgers. So, just for a change, here are a few dinner ideas that do serve well for having dinner yeast rolls.
---
---
Popular Questions About Yeast Rolls
How many calories in dinner rolls?
They vary but this particular recipe has them at approximately 137 calories.
How to shape dinner rolls
The bulk dough is divided up initially into 4 large chunks. Then, each chunk is hand managed to roll and shape it into a small bread loaf appearance. That cylindrical shape is the cut into 6 even pieces. You'll pick up each dough piece and roll it between both hands to form a shape similar to a ball. You can optionally pinch any parts of the dough ball to better form that shape. Then, you'll place it on the baking sheet seam side down.
How many dinner rolls per person?
Typically, it is 1 or 2 dinner rolls per person. However, it's best to plan to have extras ready as the flavor and texture is strongly desired for repeated helpings. Another option is to announce how many are available for each person, such as is proper for advising children.
What to brush dinner rolls with before baking
This recipe calls for brushing them with melted butter. There are other recipes that might call for brushing with water or milk but we don't follow that mantra. We brush them with butter before baking and then sometimes again after they're out of the oven for a few minutes.
At times, following this method, many will find they don't need to add any more butter to the rolls. In practice, the individual tends to consume less butter in this fashion because they're not later adding a full, thick butter slice during the meal.
How to store dinner rolls
The most common methods available for storing dinner rolls is in a plastic food storage bag at room temperature, in the fridge, or in the freezer. Knowing that if they're store at room temperature, as these are homemade, there is a higher tendency to have mold in about 2-3 days. So, with that said, it's often a good idea to store them in the fridge if you feel they might be consumed relatively soon but not within the next couple of days. If not planning to be eaten any time soon (longer than a week or two), the freezer is the next best option.
How to freeze dinner rolls
You can store dinner yeast rolls in a food storage bag that seals tight and then put them in the freezer for later reheating.
---
You can store Yeast Dinner Rolls in a Food Storage Bag that seals tight.
---
If you're going to leave them frozen for quite some time then it's a good idea to ensure they're either in a food storage bag that's marked as a freezer bag or you can put the rolls in a thinner plastic food bag (or wrapped in plastic wrap) and then put into a regular food storage plastic bag.
If I've partially baked these and stored them in the freezer, how do I use them later?
Preheat your oven to 350°F, place on ungreased baking sheet, optionally brush melted butter on tops, and bake uncovered for about 10 minutes.
How to Reheat Dinner Rolls
If you have fully baked rolls left over, you can reheat them in one of 3 ways. You can use the microwave, the oven, or a frying pan or skillet. Both are more than just popping them into the equipment. Here's how to maintain good quality of reheating this dinner yeast rolls.
Reheat Dinner Rolls in the Microwave
Most people aren't sure of a good way to reheat bread in a microwave and still have a good bread quality without getting it dried out. A proper way is to wrap the yeast rolls in paper towels, sprinkle with some water, and heat them for about these times mentioned below.
5-15 seconds (1-3 rolls)
10-20 seconds (4-8 rolls)
20-30 seconds (9-15 rolls)
If they were frozen, you'll want to typically leave them out on the counter (still wrapped in a food storage bag or wrapped in plastic wrap) for about an hour before it's time to reheat them. The best overall strategy is shown in our guide of "How to Reheat Dinner Rolls in Microwave".
Reheat Dinner Rolls in the Oven
With a preheated oven of 350°F, you can wrap the rolls in foil and bake for about 5 minutes. Another way is that you can skip the foil if you sprinkle some water drops all around the rolls (a fair amount), and bake them for the same amount of time of 5 minutes.
Reheat Dinner Rolls in a Skillet or Frying Pan
The final method of how to reheat dinner rolls is using a skillet or frying pan that has a lid. You first heat up the empty frying pan on medium heat (for about 5 minutes). Then, you place the rolls in the hot pan. You have a small amount of water nearby, about a tablespoon. You then turn off the burner, toss the water into the pan, and place the lid on it immediately. Move the pan off the burner but leave it closed for about 4 or 5 minutes. The steaming effect will gradually heat up the yeast rolls but only if you don't remove the lid.
Will regular yeast work in a bread machine?
If you use regular yeast instead of instant, you'll need to activate it first in very warm water for about 10 minutes. Also, you'll need to increase the regular yeast amount by an extra 25%.
---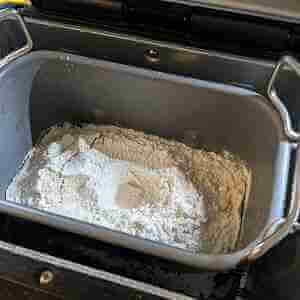 ---
Does it really matter what kind of yeast I use in a bread machine? Can I use instant yeast that doesn't say it's for bread machines?
You can use any instant yeast, rapid rise yeast, or if it says it's for bread machines.
What makes dinner rolls light and fluffy?
If you want to ensure your dinner yeast rolls are light and fluffy, here are some cause of why rolls fail. The yeast could be too old. The dough might have been sitting out too long after having risen (before going into the oven). There are other possible causes but those are the most common.
Why didn't my rolls rise double in size?
They might have. The doubling refers to volume doubling, not the length or height. If it appears they're about 1/3 bigger overall, that's good. However, usually the number one hindrance to increasing in size is if the yeast is no longer reasonably fresh since opened. Sometimes, humidity in the air can have an impact, as well as the area where they were set to rise should be a little warm, like near the oven.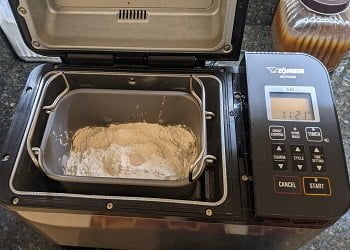 Nutritional Values of Yeast Dinner Rolls
The nutritional values are shown in the <Print Recipe> option.
Related Posts
Below are some other bakery related recipes. And, for food education, here's an educational article about yeast.
Conclusion
Did you enjoy this recipe for homemade dinner yeast rolls for bread machine? It's an absolute hit for holiday meals alongside this Turkey Recipe in Oven. Leave a comment and share your experience.
Easy Yeast Rolls for Bread Machine
This recipe of Yeast Rolls for Bread Machine is the ultimate dinner addition.  See how to partially bake them for freezing for future meals, just like in your grocer's freezer section.
Print
Pin
Rate
Recipe Resizer
Tap to reduce/increase Servings
Keep Screen Active
Ingredients
1

cup

milk

warmed (30 seconds in microwave)

½

cup

butter

1 stick, softened

¼

cup

sugar

2

large

eggs

beaten

1½

tsp

salt

4

cups

bread flour

2

tsp

active, dry yeast

or instant yeast or bread machine yeast

1

tbsp

butter

melted for brushing on tops
Instructions
Add ingredients in order to bread machine, concluding with yeast being added in a flour "crater".

Run the bread machine using the "dough" setting. On Zojirushi brand, consider the course number to be #11 for "dough".

After dough is done, lay it out on a large floured surface such as a countertop.

Divide it into 4 equal parts and shape them roughly into 4 loaves.

Cut each "loaf" into 6 parts (or 4 parts for larger rolls at a count of 16).

Roll up each part into a ball and place them seam side down, about 1½" apart on an ungreased (13×9) baking sheet. It will take 2 sheets.

Cover the rolls with something like a cloth and let them rest to rise in a warm area for 45 minutes, until almost double in size.

Preheat oven to 350°F and bake for 13-15 minutes in middle shelf. See notes for par-baking.

Optionally, brush tops with melted butter and serve.
Notes
If you want to set any aside for the freezer, you can opt to par-bake (partially bake) them for only 8 minutes, let them cool down for about 15 minutes, and put them in a food storage freezer bag.  Consider to mark the bags:  "Bake at 350ºF, middle shelf, for about 10 minutes".
If you've increased the amount of this recipe quantity, ensure you remember to adjust the instructions accordingly, e.g., if you doubled it, you'll need to make 8 individual ft-long "loaves" (instead of 4) but still cut each one into 6 pieces, to end up with 48 rolls.
Nutrition
Calories:
137
kcal
|
Carbohydrates:
18
g
|
Protein:
4
g
|
Fat:
5
g
|
Saturated Fat:
3
g
|
Polyunsaturated Fat:
1
g
|
Monounsaturated Fat:
1
g
|
Trans Fat:
1
g
|
Cholesterol:
28
mg
|
Sodium:
195
mg
|
Potassium:
51
mg
|
Fiber:
1
g
|
Sugar:
3
g
|
Vitamin A:
172
IU
|
Vitamin C:
1
mg
|
Calcium:
19
mg
|
Iron:
1
mg
SOURCE: DarnGoodRecipes.com™