Homemade Easy Tartar Sauce
This recipe for Homemade easy tartar sauce is a great accompaniment to any fish dish. It can be hard to find good-quality tartar sauce from the grocery store. And making tartar sauce from scratch will also save you a lot of money. This Southern homemade version comes from a recipe from Morrison's Cafeteria. This is part of our Sauces & Marinades Recipes Category.
This homemade, easy and hearty tartar sauce is unique and is a fantastic addition to any fish recipe.
Homemade Tartar Sauce Key Ingredients
This recipe for scratch tartar sauce is without lemon juice. It is a recipe of tartar sauce that does contain some key ingredients such as mayo, pickles, and even sour cream. The most special ingredient is cabbage, as this is adapted from the Morrison's Cafeteria tartar sauce recipe.
Alternate Options for Ingredients of Tartar Sauce
You don't always have some of the ingredients on hand so, it's good to have other options for replacing those missing items. Here's a few ideas on that for this tartar sauce recipe.
⅓ tsp onion powder for every 1½ tbsp. diced onions
½ tsp dill or lemon juice for every 2 tbsp diced dill pickles
diced sweet pickles or gherkins in place of sweet pickle relish
slaw (dry) is mainly cabbage so it serves as a natural replacement for cabbage
How to Make Homemade Tartar Sauce for Fish
This recipe shows you how to make homemade tartar sauce for fish. It's easy to make because you simply chop up a little bit of onion and cabbage, and combine them with some common ingredients.
It's a great condiment to have at home because it goes perfectly with all kinds of seafood.
---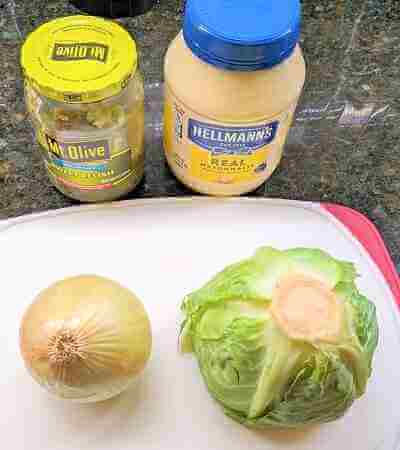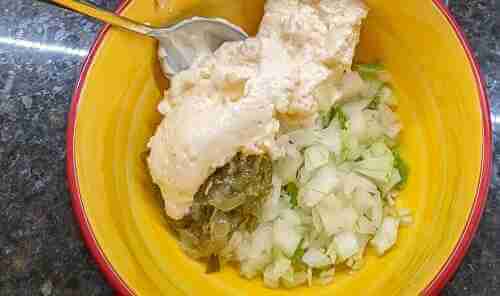 Tartar Sauce for Fish, Crab Cakes, and More
When you make this quick and easy homemade tartar sauce, you can use it for all kinds of seafood like crab cakes, fish tacos, fish fillets, fish sticks, salmon, and fried shrimp. Some will even use it on French fries, if they add a little bit of hot sauce.
Morrisons Tartar Sauce Recipe
This homemade easy tartar sauce recipe is very unique and adapted from Morrisons Tartar Sauce recipe. It is a fantastic addition to any fish recipe. If you ever used to eat at Morrison's Cafeteria Restaurants in the old days, you'll love this filling topper for your seafood. It uses common ingredients with a rich, filling flavor. It will serve extremely well with Southern Fried Fish, Crab Cakes, Salmon Patties, and Pan-fried Salmon.
It has a few unique but common ingredients such as cabbage and onions. You can still make it without the cabbage, as it is used as a healthy filler and does add some crunch. It can be made up quickly and easily while preparing a fish dinner. It's not just mayonnaise and pickle relish so, it's very filling and has very fresh flavors.
Homemade Tartar Sauce Shelf Life
How long will homemade tartar sauce keep? If it's tightly closed in its storage container, it will often last for at least 1 week and a maximum of 2 weeks. You should stir it up prior to usage. The short duration is because it doesn't have the chemicals and preservatives found in store bought sauce.
Can homemade tartar sauce be frozen to keep it longer? No. This is mostly due to the mayonnaise and cabbage. They don't do well when thawed back out.
Just like any other fresh food product, once it starts to have an odor or bad taste, it's time to discard it. The usage of a refrigerator in everyone's home is different. If there is a lot of activity and lots of people, the fridge door is opened many more times per day. So, the life of those refrigerated items will be shorter than a fridge that isn't used as often in a smaller household, for example.
Conclusion
Tartar sauce is easy to make and tastes even better than store-bought! This recipe only takes 5 minutes to put together. Once you learn how to make homemade tartar sauce, you'll never want store bought again!
And, if you love dill, here's an excellent easy to make Dill Tartar Sauce.
Recipe for Homemade Tartar Sauce
This homemade, easy and hearty tartar sauce is unique and is a fantastic addition to any fish recipe.
Print
Pin
Rate
Recipe Resizer
Tap to reduce/increase Servings
Keep Screen Active
Ingredients
½

cup

cabbage

coarsely chopped

1½

tbsp

onion, diced

2

tbsp

dill pickles, diced

3

tbsp

sweet pickle relish

¼

tsp

salt

⅛

tsp

ground black pepper

2

tbsp

mayonnaise

or Miracle Whip

1

tbsp

sour cream
Instructions
Notes
Alternates for Ingredients:
⅓ tsp onion powder for every 1½ tbsp. diced onions

½ tsp dill or lemon juice for every 2 tbsp diced dill pickles

diced sweet pickles or gherkins in place of sweet pickle relish
Nutrition
Calories:
73
kcal
|
Carbohydrates:
5
g
|
Protein:
1
g
|
Fat:
6
g
|
Saturated Fat:
1
g
|
Polyunsaturated Fat:
3
g
|
Monounsaturated Fat:
1
g
|
Trans Fat:
1
g
|
Cholesterol:
5
mg
|
Sodium:
350
mg
|
Potassium:
36
mg
|
Fiber:
1
g
|
Sugar:
4
g
|
Vitamin A:
183
IU
|
Vitamin C:
4
mg
|
Calcium:
12
mg
|
Iron:
1
mg
SOURCE: DarnGoodRecipes.com™