Recipe Ideas for Salmon
These are all kinds of great ideas and flavorful recipes from various sources that we like.
About Recipe Ideas for Salmon
These recipes are the kind that we like. We reviewed several dozen and didn't need to just put up a long, mindless list. We reviewed about 50 or more, and these are our favorites. These are not tedious recipes. They are using popular ingredients and are very flavorful.
At the very bottom of this article, there are some interesting educational things to learn about Salmon.
So, here's our list, and come back every now and then, as we may update it.
---
---
---
---
---
---
---
---
---
---
---
Easy Pan Fried Salmon Recipe
This pan fried salmon recipe is absolutely the easiest recipe for salmon filets known. You literally coat in in olive oil and rub it with some simple spices. See the recipe to see the details. It's ready to serve in under 10 minutes.
---
---
What Sides Go With Salmon Meal Recipes?
---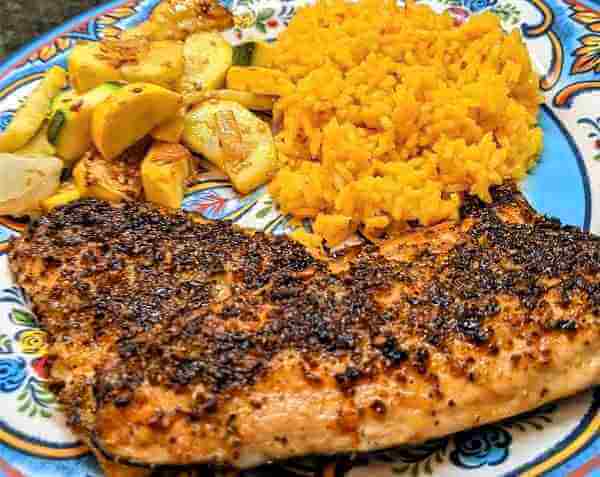 ---
Many will choose items such as these. You can try cooked vegetables like asparagus, corn, or even tomatoes. Or you can try cooked sides such as rice variations, baked potatoes, or macaroni and cheese. And, for raw veggies, you can try some salads or individual items like sliced tomatoes. Of all those items, here are some of them as recipes below.
---
---
---
Facts About The Salmon
1) Salmon are considered a health food, as they are high in protein, vitamin D, & Omega-3 fatty acids.
2) Salmon are born in fresh water, migrate to salt water, and return to fresh water to spawn.
3) Even though there are about 1,500 to 10,000 eggs in a female, only about 0 to 10 will survive to adulthood.
4) Salmon live 2 to 7 years.
5) The largest salmon can achieve a little under 5 feet long and around 125 pounds. The pink salmon grow to about max of 30 inches and 12 pounds.
And, here's some final Salmon facts and pics info from Canada's largest International conservation organization.